Best Small Business Software for Your Business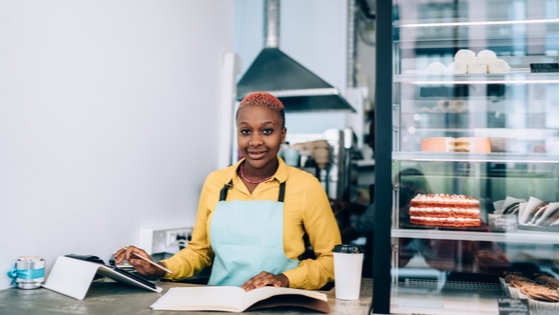 Automating aspects of your small business can make it easier to run. Automation can also reveal new opportunities for growth. With small business software, you can do simple things like calculations. It also assists with routine tasks, such as organizing your business documents, paying bills or invoicing.
The day-to-day operation of most businesses involves tasks that software can handle. If you're able to match your business to the right software, your business can run more efficiently. Small business software can also free you up to spend more time on business outreach and less time on some of the more mundane tasks. For example, instead of spending hours compiling, organizing and entering receipts, you can use small business accounting software to do all these in minutes. You can then focus on nurturing relationships with new customers. In this way, the software can pay for itself.
What Is Small Business Software?
Small business software is software designed to help small businesses succeed. It is typically less expensive than enterprise-level software. The right small business software allows smaller organizations to run better. It seeks to cut costs in various ways, including:
Doing a job a paid employee would otherwise perform
Making tasks easier to give owners more time to focus on the business
Simplifying operations so time isn't wasted managing complex tasks
Reducing the amount of paper and paperwork
Small business software can help organizations perform a vast number of tasks. Some of the most common are those related to:
Accounting
Business communication
Human resources
Customer relationship management (CRM)
Office productivity
Marketing
List of Best Small Business Software
The top options for small business software offer all of the above cost-saving benefits and more. The right software solution can pay for itself several times over as you improve efficiency and free yourself up to invest more time growing your business. Here are some of the best small business software options to consider.
Accounting
FreshBooks
An intuitive, attractive interface makes FreshBooks a useful accounting tool. It can help with estimates and keeping track of projects and employees' time. FreshBooks integrates several facets of the accounting process. Because of this, it's easier to see how one aspect of your business impacts another.
FreshBooks can also help you generate proposals. You enter information about the client and job and FreshBooks does the rest. You can use it on mobile devices as well. The FreshBooks app allows you to do your accounting even when you're away from your computer.
QuickBooks
In many ways, QuickBooks sets the standard for small business accounting software. With a 30-day, no-risk trial, it is also one of the best examples of free accounting software for small businesses. Users can do all their accounting either on their computer or via the cloud. This makes on-the-go accounting easy with a variety of devices. Many consider QuickBooks the best small business accounting software because of its numerous features and functionalities.
You can track expenses, produce invoices and generate reports on the health of the business. You can also take advantage of its comprehensive cash flow management system. This system lets you enter bills and pay them when they're due. You can also schedule recurring payments right inside the app.
Sage 50cloud
Sage 50cloud's origins predate QuickBooks. As an original player in the business accounting software game, it comes with a lot of features. Everything Sage 50cloud does is cloud-compatible, which makes it a strong, mobile solution. Sage 50cloud also integrates with Office 365.
To simplify the onboarding process, there's a setup wizard. After users enter their business' information, they are ready to go. Even though the interface is somewhat dated, it features comprehensive accounting capability. You can organize accounts according to categories of work performed or customers. This makes the accounts receivable process more intuitive than with other tools.
Business Communications
8x8 Express
8x8 Express allows users to integrate their communications across several devices. You can use iOS or Android devices and enjoy calling, texting, video and voice meeting capabilities. Further, you can make unlimited calls in the US and Canada. Its call handling features include call forwarding, ring groups and an auto attendant.
8x8 Express gives you the option of holding voice and video meetings in high definition (HD). During meetings, you can share your screen with clients and team members. It integrates with Google Calendar and Office 365/Outlook. This means you can keep track of calls and appointments using your existing calendar. 8x8 Express is compatible with Poly desk and conference phones.
Slack
If all you need is messaging and very basic calling, Slack may be a good option. Slack doesn't have a full communications system like other software options. But it has helpful messaging features that integrate with your smartphone. You can text members of your team no matter where you are—as long as you have an internet connection. Slack also gives you several options for alerts so you can customize how and when you get notified.
Human Resources
Gusto
Gusto is a good entry-level app to assist those new to payroll automation. Users have the ability to set up reports showing important details about employees. On one screen, you can see a person's title, employment status, salary and overtime worked. You can also see helpful contact data such as address and phone number.
Gusto gives you the ability to see the payment history, too. This allows you to examine normal pay stubs as well as bonus payroll information.
BambooHR
Many users turn to BambooHR for its simple user interface and solid assortment of features. With it, you are able to manage employees' work schedules and vacation time. Employees have the ability to log in and request time off. They can also see how much time they've already taken and the category of each time away request.
An employee tree makes it easy to see organizational structure at a glance. BambooHR groups employees according to their manager or team leader. With this feature, HR can visualize the organization and brainstorm adjustments.
Customer Relationship Management
HubSpot
You can get started with HubSpot for free and enjoy several features that power sales. With HubSpot, users can organize potential customers according to a variety of categories. This makes it easier to connect with them and maintain meaningful contact. HubSpot also helps you assign projects to different team members. You can then track the progress of deals as well as the performances of employees.
HubSpot also keeps team members in the loop by giving each one a dashboard. This gives them a view of what the company is doing as a whole, which can help them play a more meaningful role. HubSpot offers users extra tools, such as HubSpot Marketing. This aligns the CRM with the organization's marketing initiatives.
ZohoCRM
ZohoCRM is a good option for those getting started with CRM small business software. It is free for up to 10 users. ZohoCRM uses a series of easily accessible dashboards. Users can choose which dashboard is best based for the type of analysis they want to do. For example, there are dashboards that track leads, accounts, contacts and campaigns. There are also dashboards for Google AdWords, products and inventory.
ZohoCRM integrates with Google G Suite and comes with customizable graphs and charts. You can use these to track specific data, such as sales for each rep or the results of specific initiatives.
Office Productivity
Apple Shortcuts
If you already have an iPhone or iPad, Apple Shortcuts is a free, versatile productivity tool. You can create automations to help your day move smoother. For example, you can instruct your device to provide an alert when you reach a destination. You can also have certain content played or displayed depending on where you go or the time of day. Exploring its flexible features may reveal some helpful ways to streamline your workflow.
Dragon NaturallySpeaking
Dragon NaturallySpeaking is a speech-to-text software solution that helps you compose text without a keyboard or a mouse. You can write quick notes or compose long emails. If you spend a good part of your day writing, Dragon NaturallySpeaking may save you time and improve your workflow.
RescueTime
If you've ever used a calorie-counting app, you have an idea of how RescueTime works. It keeps track of your activity so you can analyze it and find ways to become more productive. RescueTime classifies each app and website you visit into categories. The classifications depend on what you use the site for. Some of the categories are reference and learning, business and communication.
The app can then use the categories to tell you how much time you spend on each type of task. If you find yourself getting sidetracked, you can have RescueTime block distracting sites. The software also gives you a rating according to your level of productivity. It gives you a score, called a productivity pulse. This helps you understand how you use your time without getting into the details.
Strict Workflow
Some people function better when they have small breaks interspersed throughout the day. Strict Workflow automates your breaks and general workflow for you. It uses the principles behind the Pomodoro technique, which became popular in the '90s. When your mind gets periodic rests, it can return to attack tasks with renewed vigor.
Strict Workflow can also block distracting websites while you're working. You can pick and choose how you use it based on your work style and productivity objectives.
Marketing
Constant Contact
One of the earlier players in the automated email game, Constant Contact is a strong marketing tool. You can send a welcome email to a new or potential customer with only a few clicks. Constant Contact also allows you to aim certain messages at specific people. You also have the ability to automate an entire series of emails. All these features help generate and nurture leads.
Constant Contact is also known for its customer support. You can reach out to them for assistance with any of its features. The company provides webinars that you can access at any time. You can communicate through chat or over the phone to get help. If you prefer to learn on your own, you can use their online training system.
Campaigner
Campaigner enables you to communicate with subscribers using autoresponders, which are triggered by key actions. For instance, if someone submits a form, you can program Campaigner to send them an email. You can also use it to send emails only to certain categories of customers. For example, those who have shown interest in your website or advertisement will receive an automated email. Established customers can get a different message, and new leads can receive another.
The software displays helpful data about several campaigns at once. It also presents data about the growth of your contact list over time. Campaigner organizes its tabs and features in a simple, straightforward user interface.
Save Money as a Small Business
The expression "time is money" applies to small business better than most areas of life. As a small business owner, the more time you spend on being productive, the more money you make. Saving money using small business software is a worthwhile endeavor, as you have more to invest in growth. When you save money, you can dedicate more funds to marketing or finding new partners. You can also devote some of the money you save to educating yourself about the business sector or your specific niche.
The development of new products and services often requires significant investment. Using business software to save money upfront leaves you with more capital for expansion. Saving gives you the option to use the money you save for the research and development of new facilities.
It's also prudent for a small business to maintain a cash reserve. You never know when you may need cash to handle an emergency. Have some extra funds saved for a rainy day and cushion yourself from financial ruin. Whatever your reason for saving, the first step is to choose the right tools. With the right company, technology can be a powerful partner.
8x8 Express: Make the Right Impression
Get the easiest and most affordable phone system for your small office or home-based business. 8x8 Express provides you with unlimited calling, HD audio and video conferencing, business SMS and more. Start your free 30-day trial today!