How to Create the Best Call-Back Experience for Your Virtual Call Center by 8x8
Virtual Call Center Feature Tip: Call-backs
No one likes to jump through hoops to return a phone call. It can be frustrating and time-consuming to wade through a series of IVR menus or get passed from person to person—or department to department—just to reach someone who asked you to call back.
By properly configuring your contact center's caller IDs and using Virtual Contact Center's Outbound Phone Codes, you can create a great callback experience for your customers and also collect useful call metrics.
Customize Your Caller IDs for Easy Call-backs
8x8 Virtual Contact Center lets agents apply an appropriate caller ID for each outbound call, to facilitate a good call-back experience. This is indispensable in a contact center environment where agents service multiple needs.
Virtual Contact Center achieves this functionality through Outbound Phone Codes. Using these codes, not only can you offer agents a choice of caller ID numbers, you can track the purpose of each outbound call. You can also collect better outbound metrics to track outbound call volumes handled by each channel and agent.
Virtual Contact Center offers complete flexibility in setting up caller ID options such as:
Default tenant caller ID
Specific channel numbers
Agents' personal channel numbers
A Real-world Example
Let's say your contact center manager has designated separate phone channels for Customer Support and Customer Satisfaction Survey calls, and wants to track the volume of calls in each area. When agents servicing both of these channels dial out, they must take care to choose the right channel. Also, if an agent is following up on a high priority case, he has the flexibility to route the call through his personal channel so the customer can contact him directly.
How to Configure Outbound Phone Codes
Configuring outbound phone codes is a simple process:
First, define multiple outbound phone codes.
Associate each code to a phone channel (Caller ID option).
Select an outbound phone queue for routing.
Assign these codes to agents.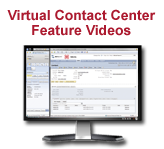 Now while dialing out, agents are presented with these codes. When the agents select an appropriate code, the call is routed via the specified phone channel, identifying the right call-back number. An additional benefit: The outbound phone codes show up in your historical reports, providing statistics on outbound communication for each channel or department.
Virtual Contact Center's flexibility to apply custom calling Line ID not only provides a great call-back experience; it also tracks outbound metrics. For details on how to customize your caller ID to enable these useful features, watch this video.