Become a Superhero with 8x8 Virtual Office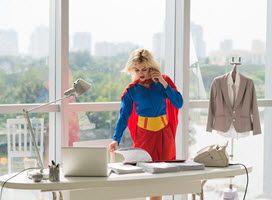 Did you know that 8x8 Virtual Office makes it easy to switch calls between devices? We call this "flipping a call," and nothing could be simpler or faster.
This trick is handy when you answer a call on your desk or softphone, but want to go mobile.  
Let's say you're on a crucial conference call with your boss, your boss's boss, and a very important prospective customer. The prospect is interested–so interested that the call is running long and shows no signs of ending soon.
The last thing you want to do is hang up and call back in, or put the call on hold while you grab your mobile phone. But the clock is ticking and you need to pick up your kids from daycare before the center closes. How do you exit the call gracefully?
With 8x8 Virtual Office, you don't have to exit. There's no need to hang up or put your caller on hold. Just grab your mobile phone, flip the call, and quicker than Clark Kent can don his Superman cape you're on the run with the Virtual Office mobile app. It happens faster than a speeding bullet. Now, if only your superhero cape could help you fly over rush-hour traffic…
8x8 Virtual Office Makes it Easy
With Virtual Office, here's how to flip a call:
With a call active on your desk phone or soft client, open the Virtual Office mobile app on your mobile phone 

Select the dial pad icon, and enter *88 (Star-8-8)

Press Call

The call will become active on your mobile phone, and drop from your desk phone
Your caller will never know that you've switched devices because there's no hold music or dead air. Mission accomplished!
Want to see how it's done? Watch the free training online at 8x8 Academy.