Ask the Pros How to Cope When Bad Weather Strikes
When disaster strikes and outages happen, how do the pros keep businesses going? Just ask the people whose job it is to MAKE it happen, no matter WHAT happens. They'll all tell you that it's critical to have reliable communications that can be rerouted or adjusted—without the need for someone to risk a trip into the disaster area.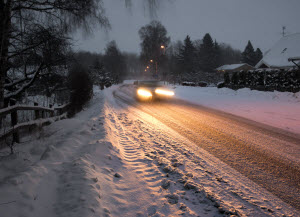 Businesses Used VoIP in Hurricane Sandy Recovery
"Two years ago, after Hurricane Sandy ripped through New Jersey, we had to close for two weeks due to no power and no phones lines," says Joel Green, VP at E&A Supply, which started using 8x8 cloud communications right after the hurricane, as part of its recovery efforts.  Because 8x8 had redundant servers across the country that were backed up, 8x8 subscribers did not generally experience the long outages that those who had PBXs or local service did.
"We needed to find a better solution to keep our company up and running for the next big catastrophe, and 8x8 fit our needs perfectly, helping us to reroute our incoming calls to other phone lines, cell phones, iPads, and even computers!," says Green.
"The ability to get notifications of voicemail after Superstorm Sandy helped to get us back on track and to prepare for our future success!"
Everyday Communications Conveniences: A Business's Lifeline in Bad Weather
When winters are severe, cloud-based communication services like 8x8's can keep people informed and working—without risking life and limb.
"Last winter, we had ice here in Texas, and the roads were a mess," says Jonathan Rangel, who is in support at Datascan LP.  "There was no way we could make it to the office during this time. In previous occasions we'd take our IP phones home with us and plug them with the Ethernet and power cables."
"But this past winter we couldn't even get to the office to pick our phones up," he says. "Thank goodness the 8x8 Virtual Office app was super easy to install on my Android, and I was taking calls and helping my clients in no time."
Communicate Important Changes to Customers Quickly
Benjamin Sebrowski, director of technology at Commerce Township Community Library, agrees. He says the same cloud technology that lets him make changes on the fly in everyday conditions, helps him communicate changes in hours and plans whenever there's an outage.
"In the past, we've had to close our facility because of a power outage," he says.  "But with 8x8 VoIP, I can now quickly change our automated attendant to redirect calls, change the greeting, and much more. It's so convenient."
To find out how to use 8x8 VoIP-based unified communications to keep the people in your organization safe, productive and communicating, click here.