Are You Sending YOUR Repeat Business to Your Competitors?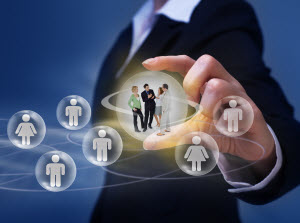 If you're in finance, insurance, medicine, law—or any other service industry where people care about exactly whom they work with—you might be losing customers whenever a popular person in your organization leaves. Or, you might even be losing business when people can't get to the last person who helped them—the one they really, really liked.
Here's How You Can Lose Business
I'm old enough to remember when mortgage rates were over 15 percent. I've owned a house recently enough to get my current mortgage rate below four percent. I've refinanced my current house at least four times, and every time I've done it, I've worked with a guy named Adam.
I don't know whether it was Adam or his company that was smart enough to call me each time interest rates dropped. But every time it dropped another point, I'd get a call from Adam.
For Some Customers the Representative IS Your Business
Adam conditioned me to think of him whenever I thought of refinancing. He'd essentially set up an equation in my head:
Refinancing = Adam
So for the most recent refinancing, I called Adam on his cellphone—on the same number he had given me years before. Adam happily set it up. It wasn't until a couple of weeks into the process that I got some of the paperwork and realized that Adam had moved to a different company.
Great for Adam! But what an opportunity lost for his previous company!
Don't Lose Customers at Their Moment of Decision
Sometimes, customers get all fired up and ready to buy, but they cool off when they can't reach someone at that critical moment of decision. That's happened to me before when working with Adam.
I like Adam. But Adam is very hard to reach. When he gets busy, it can be two, three or even four calls before we make contact. This slows down the mortgage process by days and even weeks. I'm busy too, and often would just as soon go on to the next thing than worry about getting through the refi process.
Direct Agent Connect Feature Can Help
At 8x8, we've been thinking about situations like this, and have created something called Direct Agent Connect that we empower with our Direct Agent Routing feature in 8x8 Virtual Contact Center, our cloud-based contact center solution.
With Direct Agent Connect, anytime your company provides the sort of high-touch interactions like those I had with Adam, you can use the Virtual Contact Center to create a high touch, highly personal customer experience that your organization can control.
A Better Way to Handle Customer Connections
Let's replay my experience but assume this company took advantage of Direct Agent Connect. Adam would give me his "direct phone number" but that number would actually be a virtual number known to the 8x8 Virtual Contact Center. Now when I called Adam and he was on the phone, the mortgage brokerage company would have options about what do with my call:
Send me to Adam's "buddy" agent, someone who works closely with him
Send me to a queue of agents who can help me immediately
Send me to a special voice mailbox with a greeting specifically to customers with mortgages in process, and have my message tied to a record in a queue that will send that message to Adam as soon as he is available.
Customize Direct Agent Connect for the Way You Do Business
These are just a few examples of how you can handle the interactions. The rules aren't fixed. There is a simple scripting language that puts you in charge and lets you control the interaction.
Direct Agent Connect logs all of Adam's calls with me, so they're available for report generation and quick access, so Adam's supervisor can always see how things are running.
Think about what would have happened if Adam's former employer had been using Direct Agent Connect when I called Adam on his smartphone. My call to him would have gone to his old company, not directly to him. The company could find a record of my history as a customer, and would have been able to see that my last mortgage was over a point higher than a potential refi rate. Most likely, they would have sent me to one of their best agents to ensure that they kept my business.
All of that is now possible with 8x8's new Direct Agent Connect capabilities.
Support is Easier, Too
One last thing. We also looked at this from a support perspective. With Direct Agent Connect, you can have your customers call your main number and leverage the "Created By" or "Last Updated By" fields within your CRM. If one of those agents are available, you can deliver the call directly to them.
This helps with customers who might otherwise have to repeat their story to several random people during the course of a problem. But your company can get them to the person who helped them before, and show that agent whatever has happened since then. And often when customers don't have to go through the whole story again, they don't have to remember how angry and frustrated they were, all over again, and are therefore calmer and more forgiving.
Take a Lesson from Adam
I had a strong relationship with Adam. If his company had been using Direct Agent Connect, that relationship would have extended to his company as well.
If you'd like more ideas about how to turn your company's sales and customer support department into major brand builders, check out the 8x8 booth at Dreamforce, N2123, or visit www.8x8.com.