Always Win Hide and Seek, with Presence from 8x8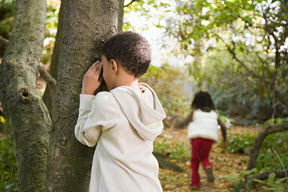 Hello, my name is Jeff and I recently joined 8x8. I came from the software industry and medical field before that. So, unified communications has been an awakening for me. Of course, I've used a lot of meeting applications and some Voice over IP (VoIP). But I had no idea there was so much more I could be doing with these applications. I quickly discovered that not all unified communications is ubiquitous.
I also got to play with some really cool features, such as flipping calls between my mobile, desk phone and softphone and jumping from an IM to a video meeting instantaneously. My personal favorite find is presence. You're probably saying "right, sure." But trust me, as a new employee it has made my life so much easier – I use it many times a day to track down people and connect names and faces. And this is what inspired me to write this blog post.
Where in the world is Carmen Sandiego?
This was a popular video game and cartoon game show from the 1990s that had kids searching the world to locate Carmen. Every episode had the heroes going through incredible efforts and tackling insurmountable obstacles to find a single person. Does this remind you of a frequent scenario in your work life? When you want to locate a contact in your organization, do you feel like you're searching for Carmen Sandiego?
When you need to reach a colleague at work, wouldn't it be nice to know if they're on a call, in a meeting or away from their desk? This concept within unified communications is called presence. It is the ability to determine if a contact is available in real-time. "Available, Away, Do Not Disturb or Offline" are some of the common indicators for presence.
These four options do a fair job of identifying where a person is. But they aren't perfect. What if the person's computer is off? What happens when their cell phone is out of power or on silent–does the solution account for these options? What about when none of the four options apply, like "In training, call if emergency; I'm in the second-floor conference room; in warehouse, etc." Having the ability to customize your presence indicator makes finding or being found a lot easier.  Being able to see and track presence at your desk, on a computer or through your mobile devices eliminates office hiding places.
Also, many organizations contain large directories, but scrolling through them to find a single name is very time-consuming. Do you need to find the accounts payable person in your Spain office? What was the name of that new VP in Austin? Often you may only have a piece of information about the person you're trying to find.
The Best in Unified Communications with 8x8
8x8 offers global cloud unified communications with Virtual Office. Whether via the desktop, web or mobile application, real-time communications services are now always at your fingertips. Virtual Office (VO) is device agnostic, supports BYOD work environments and highly mobile teams. The user interface is simple and intuitive, giving you instant access to all your communications needs. Presence is a fully integrated feature of VO.
Scroll over a contact's name and you'll see their profile with photo, and how to reach them, no matter where they are in the world. It can even show notes and custom preferences, like "please don't call after 6:00PM on Tuesdays." The ability to instant message, call, fax, and invite to a meeting are seamlessly built into the platform.  8x8 VO lets you instantly see the status of other Virtual Office users on your VoIP phone system and likewise allows your colleagues to see your status. You can even see the date of the last time you messaged a user.
VO and presence are a great way to always be on the top of your game. At a company social event? See someone you should know, but can't remember their name? Don't avoid them or awkwardly pause when they call you by name, or worse yet, you call them by the wrong name. Take two seconds and look them up on 8x8's Virtual Office. You can start with just a single piece of information–a first letter of their name, a department, job function, a location– and then look at their profile image to be sure. Quickly, you are informed and not embarrassed to be social.
Be more than social with 8x8 contacts integration. This allows you to simplify your life by consolidating all your 8x8-supported personal and business contacts into the 8x8 VO Desktop application directory platform. By syncing and consolidating your contacts you can now easily search, sort and view all your contacts through a single, simple-to-use interface. 8x8 supports contacts integration from Gmail, Skype for Business, Lync, Microsoft Outlook, Exchange and Office 365.
Virtual Office mobile from 8x8 allows you to check the availability status of other VO users on your phone system and indicate your own availability to your colleagues.
So now, whether your co-workers are in San Diego, Leeds, Bangalore or Pago Pago you won't feel like you're hunting for Carmen Sandiego with 8x8 Virtual Office's presence. Win office hide and seek. See it now at 8x8.