AI & Digital Transformation: An Interview with Bryan Martin, Chairman & CTO 8x8
According to Gartner's 2018 CIO Agenda Survey, nearly half of CIOs plan to deploy artificial intelligence to improve customer experience. I sat down with Bryan Martin, Chairman and CTO of 8x8, and asked him about the recent 8x8 AI announcement, and his thoughts on the future of enterprise communications.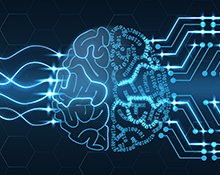 Can you tell the 8x8 community about yourself and your role at 8x8?
BM: Thanks Randy. I'm excited to chat with you today. I am the Chairman and CTO at 8x8 and I have been here since the beginning actually. After graduating from Stanford with a bachelor's and master's degree in electrical engineering, I joined 8x8. My role today is focused on leading the company's drive to patent a range of disruptive and innovative technologies. Over the years, I have worked on numerous patents in the fields of semiconductors, computer architecture, video processing algorithms, videophones and communications.
Why is AI important in the future of enterprise communications at 8x8?
BM: The 8x8 AI and Machine Learning team are helping CIOs win the customer experience battle with these key capabilities:
Context-rich Customer Engagements:

The

8x8 AI

team will enhance the X Series single System of Intelligence Platform

to weave in contextual personalization for omni-channel services.

With our recent announcement on acquiring MIQ, we will be infusing their deep learning capabilities into

8x8's X Series,

contact center agents can have detailed information on previous interactions, complete customer history, and a 360-degree context before they even start a conversation.
Intelligent Call Routing:  

8x8's AI capabilities will bring intelligent call routing to call centers. As a critical component of the customer experience transformation, intelligent routing will identify the caller and the reason for the call to assign the customer

to the right agent, executive or subject matter expert.

This significantly speeds first-call resolution and transforms the overall customer experience.
Speech Analytics:

Voice of the customer insights enable companies to optimize customer experiences through data-driven decisions.

With powerful Speech Analytics enabled by 8x8, companies can now analyze customer interactions for compliance, deeper insights, and agent performance purposes. 8x8's Speech Analytics powered by Natural Language Processing technology can help agents, inside sales, and customer success teams effectively identify upsell opportunities or escalate at-risk customers to the highest-level of service.
What other industries do you see AI disrupting the daily lives of enterprises?
BM: AI and Machine Learning are disrupting any industry that produces and collects large amounts of data, such as Internet of Things (IoT), videogames, online shopping, etc. The reason for this is that when you have vast stores of data, like we have from the 8x8 X Series platform, machine learning becomes the only technology that can distill and drive context to the data.  AI spots trends and interrelationships amongst the data much faster and more completely than humans will ever be able to process, and by distilling these relationships and patterns into actionable insight, the technology enables tremendous opportunities to use these insights to drive improvement into the underlying processes. This is enormously powerful in the communications space because we are now able to build new applications that always know why a person is calling (before we even engage in the interaction), or that automatically classify interactions as "critical," "important," or "ordinary" and make sure the interactions are routed and prioritized accordingly in real time.  
Rapid Fire:
First job: High school intern, NASA/Ames Research Center

Last book read: The Kremlin's Candidate, by Jason Matthews (Red Sparrow Trilogy)

Favorite sport: Snowboarding

Favorite app on your smartphone that uses AI (besides 8x8 apps): Google Maps

Favorite quote: "I have not failed.  I've just found 10,000 ways that won't work."

Thomas A Edison