After Disaster: How to Say 'Never Again' to Downed Communications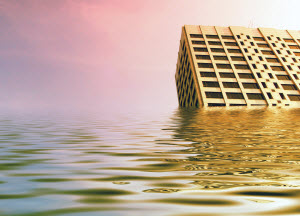 Digging out after a major disaster like a storm or a flood is never easy. But these days, many businesses have already survived more than one "historic weather event"—and they're getting serious about dealing with that risk in their business plans. Here's the story about how one international firm decided to disaster-proof—and followed through, getting more communications power for its global expansion in the process.
How Long Could Your Business Survive Without Phone Service?
Many are now starting to take to heart New York Governor Andrew Cuomo's 2014 observation that weird weather is now the new normal—and make everyday business decisions that will help them weather the next crisis.
That was what media imagery provider Shutterstock did when it lost access to its New York headquarters for three months—including communications—during the aftermath of Hurricane Sandy.
New No-Hardware-on-Premises Rule
The experience showed management how important it was to ensure business continuity for its growing international operations. The company established a "no hardware on premises" policy and decided to move both phone service and contact center operations to the cloud. The result has been much more powerful day-to-day capabilities, plus outstanding resilience during conditions that force other businesses to close or shut them off from their customers and suppliers.
Mobile and Work-from-Anywhere Capabilities Keep Companies Rolling
"Now if something happens at the office, like a storm or a power failure, you just unplug your 8x8 phone and plug it in somewhere else," says David Cohen, director of information at Shutterstock.
"I could see how our agents and colleagues could work from home as easily as if they were in the office. 8x8's disaster recovery capabilities are amazing," he says. "It doesn't matter anymore if there's a problem at one of our offices. When the weather's bad or the network goes down, we just send everybody home to work and maybe have an hour of downtime instead of a half-day of downtime."
The Cloud Powers Global Expansion, Too
8x8's telephony platform was also the only one that could meet Shutterstock's other global requirements. For example, the company wanted ONE communications system for all of its worldwide operations, including its customer service function.
"We have customers in 150 countries and operate in 20 languages with about 60,000 contacts a month," explains Cohen. "It was essential to have a single vendor for our contact center and phones, one that could scale with us."
Many Phone Providers' Cloud Solutions Don't Measure Up
Meeting those requirements proved difficult for many of the vendors under consideration. At one point Cohen thought he had found a match, only to discover at the last minute that the vendor's "cloud solution" included an on-premises PBX. 8x8's online demo, on the other hand, impressed him from the start.
Integration with Salesforce Enhances the Customer and Agent Experience
8x8 now supports almost 400 of Shutterstock's telephone extensions and 93 contact center seats worldwide. Integration with Salesforce via 8x8's Application Programming Interface (API) delivers screen-pops that display account information to answering agents, enhancing the customer experience.
The 8x8 API also passes call data that allows managers to view wallboards indicating queue length, number of calls waiting, and number of calls abandoned, so they can quickly adjust queues and staffing levels. Looking ahead, Cohen plans to use the API more strategically to help predict peak times and forecast staffing needs.
8x8 Enables Fast Onboarding—And Better Business Recovery
With Shutterstock experiencing rapid growth, Cohen is thankful for how easy it is to onboard new agents and colleagues, thanks to 8x8.
"We send them a phone, they plug it in, and it works," he says. "I don't know which office they're in, and I don't have to know, because 8x8 supports our team anywhere."
Similarly, business continuity has become a non-issue for Cohen—because 8x8 easily makes the transition from business-as-usual to emergency communications.
To learn more about how cloud communications can help your company cope with everything from your next power outage to another "historic weather event," visit www.8x8.com.