8x8's Focus on Quality Is Key to Customer Growth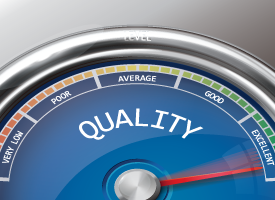 Quality is based on customer perception, which makes me think about my experiences using Lyft versus Uber. Lyft provides me with everything I need when looking for a ridesharing service: an easy to use app, credit card data security, the feeling of being safe with the drivers who passed through a strict background check, great customer service and more competitive prices. This became more important when I began hearing Uber stories about ruthless drivers, poor customer service, passenger safety issues and the millions of credit card records stolen by a hacker. And no, this is not what I like!
When talking about quality, I consider several points such as the product performance, customer service, security, reliability, durability, and the capability to solve problems effectively. Price is less of an issue when I believe I'm receiving a quality product or service because I feel I'm getting value for my money.
Beyond delivering an exceptional world-class customer experience, how does 8x8 focus on quality?
Security & Compliance
8x8
Security and compliance certifications are critical at 8x8. Security starts with our cloud service offerings going through rigorous software code security testing using Veracode tools before being pushed live.
8x8 is one of the only cloud vendors that provides comprehensive compliance certifications, such as HIPAA BAA, FISMA, PCI, CPNI, Privacy Shield Framework, Cyber Essentials, UK Government ATO, ISO 27001 and 9001.
8x8 protects all of our customers' data no matter the size of their business. Remember, even a single security hole can expose an entire organization to unwanted guests getting access to important data.
Competitors
Security and compliance are not necessarily a priority for all vendors. Some only offer certifications in a few areas. For example, one vendor has adopted its own version of HIPAA "Conduit Setting" that limits certain features and may even delete customer information from the system. It also selects which customers are eligible to receive true HIPAA compliance based on their size.
Some vendors have to partner with other companies to deliver capabilities missing from their solutions. The potential issue with this approach is not all certifications or compliances are valid across the "integrated" solution. Customers must make sure the entire solution is secure to avoid security holes.
Other vendors do not enforce high security standards to their services. This leaves them vulnerable to brute-force hacking techniques that allow unauthorized users access to sensitive information such as recorded meetings, phone numbers, MAC addresses, passwords and more.
Continuous Innovation
8x8
8x8 owns and continuously innovates all of its cloud technology. Owning our technology helps us to innovate faster, deliver the security that customers are looking for without leaving security holes across applications, and simplify management and administration. Also any issues are handled by 8x8 so there is no need for the typical finger-pointing between vendors to solve integration issues. And a single solution can be delivered at a more competitive price and value versus integrating disparate point solutions from different vendors.
We have been awarded 150 patents which provide the foundation for innovation, services and tools that allow companies to communicate, collaborate, engage and analyze data from every real-time interaction across the organization, globally, in a seamless, easy-to-manage solution.
Competitors
Some vendors claim to invest a lot of money in R&D but when you take a closer look, you discover that most of their innovation comes from external partners. If your vendor only makes a few updates, bug fixes and maybe adds a new feature here or there, are they truly innovating, especially if most is from third-party efforts?
Voice Quality
8x8
For a cloud communications company, delivering the highest voice quality is a top priority. This simply means a seamless user experience when participating on calls versus living the hassle of "Can you repeat what you said as your audio dropped." With 8x8, customers can choose their preferred mode whether it's desk phone, PC or mobile device, and enjoy a superior voice quality experience even under abnormal network conditions. Tolly Group tested several cloud communications solutions and found that "8x8 delivered the best voice quality in a majority of the test cases (scenarios, clients and impairment conditions)." Listen to 8x8's audio voice quality. /wp-content/uploads/2018/02/8x8-Audio.wav
Competitors
The Tolly Group noted that the other vendors tested had high scores only over a few test scenarios, and actually tripled the number of poor quality scores due to packet loss, jitter and bufferbloat. If you have experienced choppy audio and dropped calls, you know what a horrible experience it is so why tolerate it when communications is critical to business success? Listen to their poor audio voice quality. /wp-content/uploads/2018/02/Competitors-Audio.wav
The main metric for a product or service's quality is the perception of how customer expectations are met. 8x8 provides companies with the highest quality of service in cloud communications, collaboration and customer engagement solutions allowing them to focus on delivering an exceptional customer experience and scaling their business.
"Quality in a service or product is not what you put into it.
It is what the client gets out of it" – Peter F Drucker