8x8's Brand Promise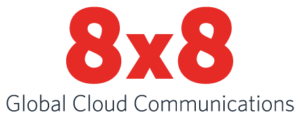 Updating a corporate brand identity or logo is serious business and requires thoughtfulness at multiple levels. After all, a logo is a small but critically important element of a company's brand identity that communicates your brand promise. Some call it a visual shorthand or signature for the brand. At 8x8, as we planned for the next phase of our growth, we had some deep discussions on who we are and what we want to represent as a brand today and into the future.
Our advanced cloud communications technology and true global platform enables employees to communicate and collaborate securely—with each other and their customers—on any device and any connection, anywhere in the world, with dramatic savings. You can communicate using the medium of your choice with the simplicity of having a single business number. That's a powerful and transformative concept for our customers, and the straightforward and bold promise that was the starting point for our new logo and identity.
We asked ourselves: Does our brand identity communicate this position and our value to customers? Clearly we appreciate the brand recognition we have with over 45,000 customers today, but we are also looking towards acquiring our next 45,000 customers and providing them with superior communications services.
In our collective months of discussions, there was final agreement that our logo did not reflect where we are today and where we are going. It represented the image of the original company (founded over 20 years ago), focused on video compression chips with an intricate circuit design connecting the two 8s. In fact, our name originates from compression technology that worked on 8 by 8 blocks of pixels. We've come a long way since then–from video compression we moved to Voice over IP (VoIP), Unified Communications and Contact Center and are now leading the market in Enterprise Communications as a Service.
New Logo
In looking to the future, the new logo brings the name forward, rather than having a logo that needs explanation and requires the company name be included alongside. This better positions us for a mobile-first and app-centric communications world, as the leading provider of Enterprise Communications as a Service – ECaaS. By moving to a wordmark, in the model of Google and Facebook, it proclaims our global reach serving customers in over 114 countries.
The new 8x8 is confident, calm and modern from an aesthetic view. From a functional perspective, it's bold in simplicity and concept and very well suited to a global provider in a digital world, clearly indicating our brand position in Global Cloud Communications. Intricate logos can look nice and work well when used in large formats. But at smaller scale, they can be hard to see and understand if you aren't already familiar with the company.
The new 8x8 wordmark uses a brighter red and reinforces both the intensity and passion of our employees and partners, and the trust that our customers place in us. The 8s have subtle "chat bubble" cues symbolizing the many modes of digital communications in the 21st century. As some of our employees said, they love the simplicity and confidence it projects.  And finally, the new 8x8 wordmark really lets you "Multiply the Possibilities", which is the theme of our new marketing campaign.
New Campaign
The new logo comes with a fresh new color palette and visual style, and also reinforces our new marketing campaign. The campaign proclaims our brand promise in a clever wordplay on our company name:  Multiply the Possibilities.
While we're still in the very early phases with the campaign, over the next year we will be challenging companies to multiply the possibilities with 8x8 global cloud communications. By moving beyond legacy on-premises systems to cloud, they can quickly multiply teamwork, mobility and savings throughout their organizations, as our 45,000 customers have already done.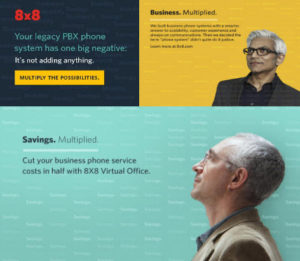 "As we looked at enterprise communications providers, we found that 8x8 offered the highest levels of uptime and security to successfully run our global business. 8x8 offers the critical efficiencies we need from a full-featured desktop and mobile solution that will help us drive a new level of service as we scale our worldwide presence."  Doug Brown, NetSuite CIO.
"We are averaging about 200 new employees per month, and with a number of inter-branch transfers we need to get people up and running with seamless desktop and mobile communications immediately. Our legacy system made it difficult to efficiently handle personnel changes and affected our productivity. When we looked into revamping our communications infrastructure, it was imperative for us to find a partner that had experience supporting businesses of our size and scale, with distributed and mobile workforce requirements. 8x8 fit the bill perfectly." Casey Crawford, Movement Mortgage CEO.