8x8 Sunnyvale Open House Event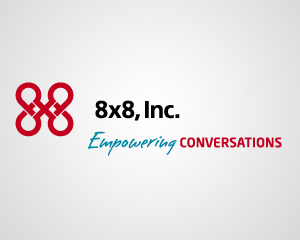 Here's a recap from our open house event to celebrate our move to Sunnyvale, CA.
My prepared remarks from last night's open house event are reprinted below:
8x8, INC. OPEN HOUSE
September 24, 2009
5:00 – 8:00 PM
PRESENTATION SCHEDULE:
5:45 p.m. – Bryan Martin (Welcome; VIP Introductions; Assembly member
Fong introduction)
5:50 p.m. – Remarks from Assemblymember Paul Fong
6:00 p.m. – Bryan Martin (Read letter from Meg Whitman; announce
Stride Center partnership; introduce Barrie Hathaway/Stride video
6:05 p.m. – Barrie Hathaway
6:15 p.m. – Bryan Martin (Introduction of Mayor Anthony Spitaleri)
6:15 p.m. – Remarks from Sunnyvale Mayor Anthony Spitaleri
6:20 p.m. – Ribbon Cutting Ceremony
BRYAN MARTIN
If I could please have everyone's attention for a few remarks? Thank you. Welcome to 8x8's new corporate headquarters in Sunnyvale, California. We are thrilled to be here and want to thank you for joining us this evening to celebrate this grand opening.
My name is Bryan Martin and I am the Chairman and CEO of 8x8. I am joined this evening by:
Mr. Donn Wilson, a member of our Board of Directors;
Dan Weirich, 8x8's President and Chief Financial Officer;
Debbie Jo Severin, 8x8's Chief Marketing Officer;
Huw Rees, 8x8's Vice President of Business Development;
Mehdi Salour, our Vice President of Network Operations;
Garth Judge, Vice President of Research and Development;
Ramprakash Narayanaswamy, Vice President of Engineering; and
A number of 8x8 employees who are also here with us this evening.
Before we begin with our formal agenda, I would like to take a moment to recognize a few special guests that have taken time from their busy schedules to join us today. First, we are pleased to welcome as our honorary guest speaker, Assemblymember Paul Fong, Representing California's 22nd State Assembly District.
Next, I would like to welcome:
Sunnyvale Mayor Anthony Spitaleri;
Sunnyvale City Manager Gary Luebbers; and
Sunnyvale Economic Development Manager Connie Verceles.
I am also thrilled to welcome Mr. Barrie Hathaway from the Stride Center who will be speaking about a very important partnership we announced with his organization this morning.
We are also honored to have all of you with us today—our employees, investors, customers, vendors, partners and friends, without whom this event would not be possible.
Many of the people who become associated with 8x8 are very surprised to learn that we have been in business since 1987, and have been a publicly traded company since 1997. If you look at the historical timelines we have on display here tonight, you will see that 8x8 has executed a number of different business models over our long history, but at the heart of them all is the development of new, innovative and unique technologies that improve the way people communicate. Having been with 8x8 myself for nearly 20 years, I can attest firsthand to the tremendous effort and energy that so many people have contributed over the years to building this company to where it is today – a profitable corporation with $65M in sales last year, with zero debt and more than 17,000 business customers. We currently employ 241 people here in Sunnyvaleand another 104 full time equivalents in Santa Maria, California. Since May 1, 2009, we have added 42 new employees to our payroll, 26 of them in sales. And so I am very pleased to stand here today and report that our business has never been better, which is why we are so happy to call Sunnyvale, and this large facility, our new corporate home.
For 8x8, today's open house event is more than just the opening of a new corporate headquarters. It's an acknowledgement of our growth as a company and the contributions we have made, and continue to make, to technology, theSilicon Valley economy, and the small businesses we serve with our innovative communications solutions. We look forward to many more years of developing the technologies and services that will drive how people communicate in the 21stcentury.
With that, I would now like to introduce our first speaker, Assemblymember Paul Fong, Representative of the 22nd Assembly District for the state ofCalifornia. Assemblymember Fong is the Chair of the Elections and Redistricting Committee, which oversees all issues that relate to voting districts elections. He also serves as a voting member of the Banking and Finance, Higher Education, and Utilities and Commerce Committees. In addition, Assemblymember Fong serves on the select committees on Aerospace, Biotechnology, Community Colleges, Domestic Violence, and Innovation and the Bay Area Economy. Please join me in welcoming Assemblymember Paul Fong.
(Assemblymember Fong)
Thank you, Assemblymember Fong.
Before we continue, I'd like to take a moment to read a letter we recently received from another prominent Silicon Valley figure who, unfortunately, was unable to attend our event this evening due to scheduling issues. Since May of 2009, when Meg Whitman opened two campaign offices here in Silicon Valley and in Sacramento to support here 2010 bid for the California Gubernatorial race, she has been a customer of our business phone services. She currently has approximately 20 8x8 Virtual Office phone lines spread between her two campaign offices. Meg Whitman asked us to read this letter to you at tonight's event.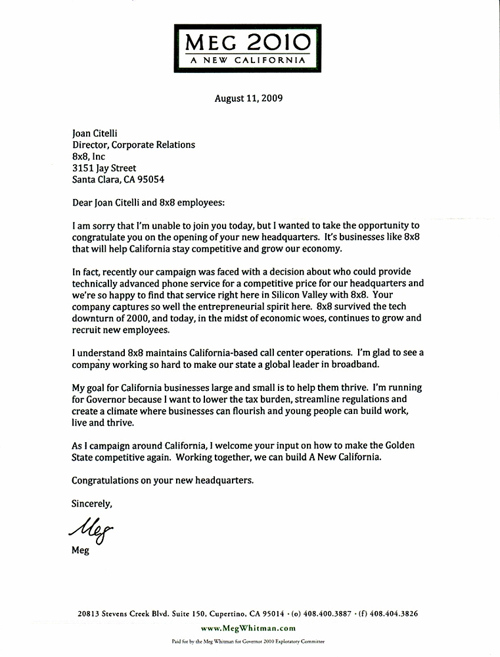 We thank Gubernatorial Candidate Whitman for this letter and wish her the best of luck in her ongoing campaign.
Now, it is my pleasure to formally announce a new partnership 8x8 has formed with a wonderful Bay Area non-profit organization called The Stride Center. As we announced in a press release this morning, 8x8 and The Stride Center have formed a partnership to bring sustainable high tech employment opportunities to graduates of its training programs for deserving adults from disadvantaged communities. Our joint partnership is committed to providing employment to local, highly qualified Information Technology talent from its ongoing pool of graduates for sales and customer service positions within 8x8's organization here in Sunnyvale.
Before Mr. Barrie Hathaway, the Executive Director of Stride Center, addresses you, I would like to play a brief video to introduce you to the mission and, more importantly, the beneficiaries of the Stride Center's training programs.
(Stride Video & Comments from Barrie Hathaway)
Thank you, Barrie. We look forward to a wonderful partnership.
Before I introduce our final speaker, Sunnyvale Mayor Anthony Spitaleri, I would like to express our sincere gratitude and appreciation to the City ofSunnyvale for enabling our move to occur so smoothly. I know that you cannot tell it from the finished results, but we did some pretty major construction and customization of this facility, and every department within the city of Sunnyvale that we worked with, and especially the city's economic development manager, Ms. Connie Verceles, responded quickly and professionally to all of our needs. This is the 4th corporate headquarters that our company has occupied, and I can say that we have never felt more welcomed by a city in the 20 years I have been with this company. I thank the city of Sunnyvale for that, and am pleased to welcome to the podium Sunnyvale Mayor Anthony Spitaleri.
Thank You Mayor Spitaleri. I'd Now Like To Invite Everyone To Join Us In Front Of The Building For The Ribbon Cutting Ceremony followed by more music, food, cocktails, facility tours, product demonstrations and recruiting information after we officially open this new facility. Thank you again for your support and for joining us this evening!