8x8 Shows Off Hosted Call Center Software at ICMI Call Center Demo & Conference
Hi from 8x8 at the International Customer Management Institute (ICMI) show in Atlanta!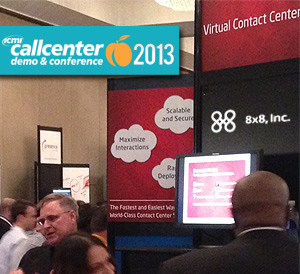 We're here today at the 8x8 booth, demoing the latest features of 8x8 Virtual Contact Center,  our cloud-based call center software solution. It's great to see so many people dedicating their time and expertise toward "getting it right" with customers as often as humanly possible.
From talking with our booth visitors, it's clear that pleasing customers efficiently and quickly is the name of the game at the  show in Atlanta. If we're lucky and have any spare time, we want to to see keynoter Lisa Ford, author of the book Achieving Everyday Excellence in a Complex Environment, offering her insight to the crowd. Chip Bell, noted customer service expert, will also give a keynote, "Wired and Dangerous: How Your Customers Have Changed and What to Do about It."
Note: ICMI also recently posted Inbound Call Center Management and the Tao of Delighted Reps by 8x8 expert on all things customer service, Steve Miyasoto.  In the article, Steve talks about how to create a happy, motivating environment for call center reps that will spill over into the reps' interactions with customers.