8x8 Set to Take Center Stage at Enterprise Connect 2016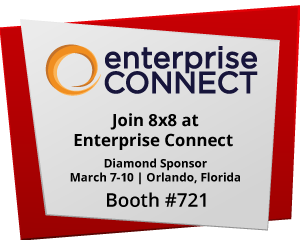 8x8 is getting ready to take center stage as a Diamond Sponsor next month at Enterprise Connect, the premier event for enterprise communications and collaboration technology in North America, March 7-10 at the Gaylord Palms Convention Center in Orlando. Stop by booth #721 for a first-hand experience of 8x8's latest portfolio of enterprise communications solutions, including:
An Exclusive Continuous Communications Experience
Come see continuous communications in action at our booth, where via an integrated cloud platform we deliver enterprise-grade  advanced business voice, video, meetings, contact center and performance analytics capabilities.
Learn how to transform your global business with continuous communications
Check out the latest advancements in cloud communications and collaboration
Improve the customer journey in your contact center
Discover how to go global and mobile in the cloud
Deliver dramatic cost savings for enterprises of any size
Boost productivity and business insights across your organization
In addition, throughout the show, we'll have product and solution experts on-hand to demo 8x8's latest technologies, hourly theater presentations on how to grow beyond the boundaries of your current PBX, and a genius bar to explore innovative capabilities in employee mobility, BYOD and distributed workplaces.
8x8's executives, experts and customers will be featured in six speaking sessions throughout the week. On Wednesday, March 9, you will not want to miss our Chief Marketing Officer, Enzo Signore, and other industry thought leaders from across the cloud communications ecosystem as they explore and debate trends in the cloud market, and when cloud will overtake customer premises equipment (CPE) as the dominant method for deploying enterprise communications.
Here's a sneak peek of 8x8's jam-packed lineup where you can learn more about the company's innovative Enterprise Communications as-a-Service (ECaaS) solutions and major trends in the cloud communications market. Mark your calendars!
8x8 is also honored that its Virtual Contact Center solution was selected as one of seven finalists for the Best of Enterprise Connect 2016 – which recognizes companies who have made significant advancements in the enterprise communications and collaboration industry with new, powerful innovations. Beth Schultz, Enterprise Connect program co-chair and No Jitter editor, commented: "These finalists clearly point to the growing importance of enabling seamless communications and collaboration among employees and their business colleagues, and show how enterprise communications vendors are venturing deeper into the cloud and strengthening their mobile capabilities."
For more information on 8x8 sessions, speakers, event schedule or to book a 1:1 meeting with us, visit our Enterprise Connect web page.
To save $500 off registration at Enterprise Connect, use discount code 8x8 when you register. And don't forget to join the conversation and follow the exciting activity at Enterprise Connect on Twitter at #EC16.
Follow us on the road to Enterprise Connect on Twitter @8x8 and live from the event to get real-time updates from the show floor! Stop by to say hello and qualify to win cool prizes, such as Beats headphones, Amazon gift cards and T-shirts.
We look forward to seeing you in Orlando!