8x8 is 'Leader of the Pack' in Business VoIP, Says Happy Pet Expo Organizer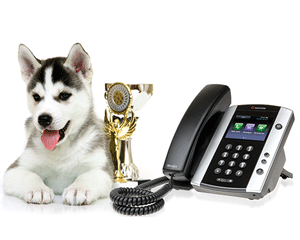 Sometimes, it's best to just get out of the way and let our customers tell their story—and ours. This email comes from Eric Udler with All Show Services, who explains how an emergency switch to 8x8 business VoIP when his PBX system broke, turned him into a longtime 8x8 customer. Eric says he first turned to 8x8 business communication systems running on Voice over Internet Protocol (VoIP) when his PBX system and local phone service provider let him down, jeopardizing a HUGE event that his business was putting on. Here's his story:
"Our company produces public events, including Super Pet Expo and the New Jersey Home Show.
These are large consumer shows which attract 20,000-30,000 attendees apiece. Each show takes place on a Friday, Saturday and Sunday and we can't afford to have our phone system go down. You can only imagine how many people call us leading up to each event—thousands.
And, the best part about 8x8 is that these folks that we do business with never receive a busy signal!
Let's rewind back to 2001. We moved into a new office and needed to invest in a telephony solution. A local provider sold us a $7,000 PBX system and our local phone service was charging us more than $400/per month. Oh, and we were also sold on a $2,000 a year service contract. Ouch!
Fast forward to March 22, 2005.  Two weeks before our largest show of the year, the voice mail card in our PBX went bad. The telephony provider said it wasn't covered under the service contact and we would have to pay $1,800 for it to be replaced.
What could I do? Our largest show was two weeks away.
I quickly started researching virtual PBX solutions and stumbled upon 8x8. I called and was put through to someone who answered every question I had. He gave me detailed information and promised that if I gave 8x8 a try, he would be right there to help me if I encountered any problems.
Man, I love it when a salesperson stands behind what he sells. He even gave me his mobile phone number and said I could call anytime.
Instead of spending $1,800 to repair our system, I spent $800 on new equipment, and my monthly phone bill decreased to $120. Wow! It's been a wonderful eight-plus years.
What has impressed me the most about 8x8 is their service after the sale. It is not too often nowadays that you find a company that stands behind their solutions. 8x8 is one of those unique companies that "gets it." On that rare occasion I call in for technical support, I actually talk to a professional who can help me. What a novel concept!
My new favorite solution is the 8x8 mobile app. It's great knowing that I stay connected even when travelling, including being abroad. Recently, I spent two weeks visiting the in-laws. The 8x8 application worked perfectly. None of our customers knew I was 6,000 miles away.
I have referred many friends over the years to 8x8 and know that they will be in good hands if they choose to join the 8x8 family. When it comes to business telephony solutions, 8x8 is the leader of the pack. And that's a fact!"
So if you're having a "PBX emergency"—or even if you're just tired of its inflexibility, low reliability and costly upkeep—it might be time to call in the "Big Dog" in business VoIP: 8x8. And that's no shaggy dog story!