6 Ways to Tell If Your Company Has Outgrown Its Business Phone Service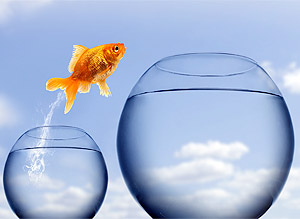 If you've ever been frustrated by your business phone service, consider this: Lots of companies reach a point where they're big enough—and successful enough—that their current service just doesn't meet their needs anymore.
Is it Time for Real Unified Communications?
Here are six warning signs that your business phone service needs an upgrade. It's also the story of how a property management software company reacted decisively to warning signs that it had outgrown its service. The international company switched from  a well-known basic VoIP phone provider to a unified communications service that helped the company grow and earn a 99% customer satisfaction rate from its own clientele.
1. Your business phone system won't let you manage customer service right.
Typically, people start realizing their business phone service is inadequate when they can no longer serve their customers the way they want without capabilities their provider isn't giving them. That's what happened at this property management software company. To provide top-notch phone service, the global company had to replace its very basic hosted VoIP system with true unified communications in the Cloud–including hosted call center software.
When a new call center manager joined the software company as its call center manager in February 2012, his primary responsibility was to assess the company's contact center and ensure that customers were getting the support they need. He found that 31% of contacts came through service tickets, with an in-house reporting tool providing visibility into the customer, product, service issue and other metrics. Another 1% of contacts came through email, providing similar visibility.
2. You can't manage the entire business without one unified communications system.
But the majority of customer contacts—68%—came by phone, and here the picture was less rosy. The company's call center solution was essentially a pieced-together system by a VoIP company with no real track record of contact center expertise. It offered no visibility into who was calling, why they were calling, or how long they were waiting. In addition, the standard "round robin" call distribution meant that customers could not be routed by product or issue.
3. You need real call center software and contact center capabilities.
The call center manager for the property management software company said his call center was "as basic as it gets." His team didn't know how many calls were coming in, when peak times were, how long customers were in the queue, or which product needed support. Essentially, his agents were blind when they picked up calls.
4. You need your business phone system to work well with other software.
The manager immediately recognized that his company needed real cloud-based call center software. He needed the tight CRM integration that could address these unknowns and provide the key call center metrics that great call center software can provide. He had done the same for previous employers while preserving their existing call centers. This time, however, he got a rare opportunity: The company wanted to implement a brand-new call center.
Once he got approval to start fresh, he said he knew a cloud-based call center software was the right choice because it aligned with his company's own product and business strategy.
5. Your business phone system doesn't show enough real-time info to tune call center software.
"8x8's desktop application has built-in ACD that shows you the call queue, number of calls waiting, how long callers have been in queue, which agents are on a call, and how long they've been on the call," the manager explains. "That app is on every agent's desktop, right in front of them. 8x8's visibility sold me tenfold over the other vendor."
"We were starting from scratch and needed to develop brand-new IVR scripts and prompts," he explains. "It was the first time we were able to route incoming calls separately to sales or service," something that 8x8 call center software easily handles.
6. You have to choose between important business functions.
"Salesforce.com provides advanced CRM features along with a computer-telephony interface [CTI] and a softphone," he says. "The problem is, you need a separate app for the call center. With 8x8, you can integrate CRM features into the call center without losing the ACD desktop. That was crucial for us, because otherwise the solution would be useless."
Moving up from business phone service to full unified communications
Management at the software company  engaged 8x8 consultants to configure the contact center so it would pass transaction codes to Salesforce.com. By December 2012, the company had a fully integrated, state-of-the-art 8x8 Virtual Contact Center with advanced CRM features. The launch of the new contact center has dramatically improved operations for management, agents, and most importantly, customers.
Real Call Center Software Easily Shows What's Going On—Fast!
Call center management can now see when the company's busy periods are and adjust call routing accordingly. For example, instead of having customers hold for up to an hour—an unpleasant experience for them and for the agents who bear the brunt of their frustration—the contact center now offers a "red carpet service" that allows customers to leave voicemail without losing their place in the queue.
Using CRM reporting features enabled by 8x8 data, the call center manager is able to accurately forecast and adjust staffing levels. He can also tag the subject matter of calls to better estimate how long they will take and investigate emerging support trends.
Most of these capabilities far exceed a basic phone service. In fact, 8x8 stands out among hosted VoIP business phone service providers for the breadth and depth of its offerings. That's part of what makes it a true unified communications provider, not just a business phone service.
8x8 doesn't just offer features like integration with CRM, workforce management, quality management and other business software. Through its optional Virtual Contact Center, 8x8 is one of the few major cloud business phone service provider to also offer full-featured cloud contact center software.
Don't Get Frustrated—Get Unified Communications
This means that your 8x8 business communications software plays well with what you have now, and is easy to expand to include new, enterprise-ready capabilities whenever you need them. So if you feel that your company has outgrown its basic business phone service, think about moving up—to real unified communications.