5 Ways VoIP Business Phone Service Simplifies Office Moves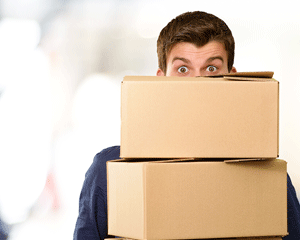 "VoIP has changed my life—seriously!" says Dave Spetrino of Plantation Building Corp. in Wilmington, North Carolina. "When we moved offices, the idea of having to 'start over' with a new business phone service was overwhelming. But the next morning, our VoIP phones arrived. We were up and operating in a few minutes, and the ease and ability of customizing our preferences online was unbelievable. I will never go back to the old way of doing things."
No More Waiting for the Phone Guys
Spetrino is one of a growing number of businesspeople who are losing the dread of moving or setting up new offices—thanks to VoIP-based business phone service. Because the service can operate anywhere there's Internet connectivity—even on mobile devices—business managers no longer have to put "wait for the phone guys" on their list of things to do for a move.
"The service is very handy," says Nayruce Cohen, senior designer at IMES Engineering. "We've been expanding our office and moving people around. With business VoIP it's an easy move. Just plug and play."
Keep Your Phone Numbers, Minimize Disruption
Typical is the experience of Peter Cotton, president of Best Sales Talent, who recently moved from Warwick, Rhode Island to East Greenwich. "I didn't want to give up my phone numbers that I had had for 36 years, since they were published in countless places on the Internet and in all sorts of collateral materials. Since a Warwick telephone exchange doesn't work for an East Greenwich number, when it came time to move my office all I did was unplug my router and phone and plug them at the new office."
Cotton's biggest worry? That his customers wouldn't move with him—or would be put off by more difficult communications. But VoIP-based business phone service made the switch so easy that his longtime customers never knew the difference.
"It was a seamless change and now I am still using the same phone numbers in a completely different town. None of my customers notice any change in my phone numbers or the quality of my calls, and when I am visiting family out of state, I can log onto my account from their computers to make or receive calls, and people think I am still in my office." says Cotton.
Inexpensive VoIP Business Phone Service Clears a Big Roadblock
"I also saved several hundred dollars a year over old land line fees and got many more features that the other telephone service provider couldn't offer, "says Cotton.
Erin Sprinkel of Sterling Social agrees. "The pricing is very fair and cost effective, helping with our transition as we gain more overhead. We are excited to continue to have the system grow help our company grow and keep us connected to clients, vendors and industry colleagues."
Add New Offices and Still Work as a Team with VoIP Business Phone Service
And when they move or expand, businesspeople don't want to lose the small-company camaraderie and teamwork that comes with everyone being in the same office. VoIP business phone service is flexible enough to handle that, with extension dialing and easy forwarding.
"Our office moves around a lot," says Brenda Pires, office manager at David Hall and Associates. "We are constantly changing and growing. I love that I can move my VoIP phone anywhere and still feel like I'm close to the other employees that I need to reach. Our calls can be forwarded to anywhere."
Keep Valued Employees Even When A Move Is Necessary
The flexibility of VoIP business phone service also helps companies keep longtime employees, and helps owners and managers direct work from afar.
For example, Katrina Furrow, senior reservations agent at Jackson Hole Reservations, says she loves it that her VoIP business phone service has helped her live where she wants and keep working for the same firm.
"I love that I can work from anywhere," she says. "I moved from Jackson Hole, Wyoming, where I lived for 12 years, to be close to family in Maine. My VoIP business phone service came with me. Now I work from home, because no one can tell that I am not still sitting in Jackson Hole Wyoming, since all the office calls ring straight in!"
So if business conditions are ripe for a move or expansion, consider a changeover to a new VoIP-based business phone service that can take much of the disruption, anxiety and chaos out of your next move.