5 Questions to Avoid Orphan Tech in the Coming Business VoIP Shakeout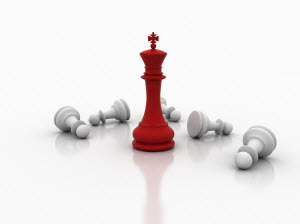 Independent firm Infonetics Research predicts there's probably a shakeout coming soon in business VoIP and unified communications. "The market cannot sustain this large number of providers long term, so we will see further consolidation or providers closing down," writes Diane Myers, principal analyst for Unified communications and IMS at Infonetics, in her recent report, "North American Business VoIP Scorecard."
Don't Get Stuck With Orphaned Unified Communications
And when providers fail, they often leave behind a trail of "orphaned systems," as companies that relied on the fallen companies are stuck scrambling to replace their business phone service and other unified communications systems.
Choose Carefully, and You'll Probably Be Fine
The good news: If you choose carefully, you can probably avoid getting stuck with orphan technology or having to transition to a new fax vendor, business phone system, hosted call center software, or collaboration suite. By looking at Infonetics' rankings, and how they evaluated business VoIP providers, it's easy to understand how to protect your company's investment in unified communications. Here are some questions to ask to help you avoid problems in the approaching consolidation.
1. Does the business VoIP or unified communications provider have a big installed base?
8x8 leads the pack in this regard. Obviously, the more seats a company can sell at a profit, the better the company typically does. Which brings us to the second criterion.
2. What about the business VoIP provider's financial stability?
"Financial stability" usually includes long-term profitability as a measure. Of course, before a company files an intent to do an initial public offering (IPO) with the SEC, financial information is often scarce and unreliable. Even after IPO, one look at the financial statements of a number of business VoIP companies shows they are operating at a loss. Look for many consecutive quarters of profit and growth—and perhaps even cash on hand—to figure out if your provider is likely to survive the coming consolidation.
3. Does the VoIP provider offer a broad range of services?
Having a diverse range of services that appeal to more than the 1-5 user microbusiness segment is healthy. Such a provider is more likely to be able to ride out short-term decreases in demand for a particular type of service. A business VoIP or unified communications provider with a broad clientele is less likely to be vulnerable to a downturn.
4. Does the business VoIP provider have an increasing number of mid-sized or even large customers?
Larger companies often have professional technology evaluators—such as directors of IT or CIOs—whose job it is to understand which services are likely to provide the least hassle and the most bang for the buck. Let them do some of your due diligence for you. Plus, you'll know your VoIP provider can scale up if your firm's communication needs increase.
5. Does the VoIP provider own its technology and do its own R&D?
Business VoIP companies that do their own R&D are not only more in control of their own destiny, but truly tiny, unstable firms usually can't sustain the effort. Also, a focus on continuous development means that the VoIP provider is more likely to meet evolving customer demand, and thus survive a downturn.
The thought of a shakeout in a business so central to so many companies' success can be unsettling. But with a little bit of research and thought, you can make the best possible decisions for your organization.
To help you decide, 8x8 is offering an excerpt of the Infonetics Research Business VoIP Scorecard here.