5 Money-Saving Reasons to Ditch Your PBX for Hosted VoIP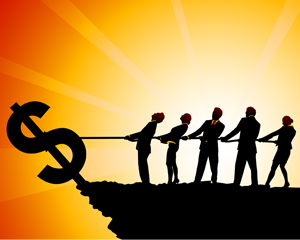 Sometimes, when you're running a business, it seems like the least expensive alternative is to make do with what you already have. So when it comes to small business phone systems —premises-based PBXs or traditional telco services—"If it ain't broke, don't replace it" might seem like reasonable words to live by.
But many businesses are now realizing that business VoIP systems can help recover money they didn't even fully realize they were losing, in ways they never considered. That's why so many are coming out of their PBX closets, turning to Voice over Internet Protocol business phone service, and ditching their existing carriers for the savings.
Here are a few of the creative ways that real companies are using this powerful force to cut costs in businesses like yours:
The True Cost of the Closet:
5 Ways Hosted VoIP Helps with Cost Containment
Eliminate Charges for Calls Between Offices
Businesses that leverage traditional phone services often use a different phone system for each location, which means that calls placed between offices can often rack up substantial charges.VoIP solutions, on the other hand, can unite businesses' multiple locations under one system and eliminate the charges incurred from calling between offices. Ring groups can be set up so that it's easy to have phones ring in multiple offices, or press an extension and be connected, even if those offices are across the country. An added bonus: better company cohesion, as more employees feel connected to their coworkers and managers, no matter where they are."CST is one team with one vision," says the company's chief information officer Yusef Abu-Hatoum. "With 8x8, we can have one phone system that keeps all of us connected." Accountants love the solution too, because they can get one bill for all offices, rather than manage separate accounts.
Eliminate PBX Maintenance Costs
Phone systems that require on-premises PBX equipment (think of that rarely-visited closet in the office with the bulky equipment) also require constant maintenance and IT support. But hosted VoIP eliminates the need for PBX maintenance and IT work, because the hosting company handles all the maintenance and upgrades at its own facilities."Our previous PBX system was behind the times and took at least an hour a day to maintain, sometimes more for repairs and upgrades. With 8x8, we spend almost no time on phone system maintenance," says Allan Berkovitz, Director of Technical Support at OTI America.
Affordable Web Meetings and Conference Calling
Business travel costs add up quickly, so many businesses have turned to teleconferencing or web conferencing services. But separate costs for separate conferencing services costs can add up over time, too. With some VoIP solutions, businesses can consolidate their phone and conferencing services. "By selecting 8x8, we cut our communications bill by over 50%. We also saved by eliminating [additional third-party] web conferencing and conference call services that we no longer needed," says Jon Duke, IT Manager at LSN, Inc.Hosted VoIP solutions offer businesses the benefit of one vendor, one plan and one affordable fee for all communications services, which can add up to significant savings.
Scalability and Ease of Relocation
Moving, or adding phone lines is extremely easy with hosted VoIP—as many companies are discovering—since neither wiring experts nor fancy hardware is required. For example, in 2010,CST moved its corporate headquarters from a manufacturing site to a new, state-of-the-art office building in Lenexa, Kansas, a suburb of Kansas City.Just a week before the move, the IT department discovered it could not migrate the company's existing telephone system to the new headquarters. With only a few days to solve the problem, CST selected 8x8 as its new phone service provider in Lenexa, Kansas. 8x8 came through, and the company has been a big fan of hosted VoIP ever since.
Low, predictable service costs—if you pick the right provider
Finally, hosted VoIP's monthly bills are fairly predictable and low, compared to most other providers. "We replaced our AT&T service and old hardware with the Polycom VoIP phones provided by 8X8," says Michael Applegate, chief financial officer and broker at St. Helena insurance. "Our 8x8 bill is regularly half the cost of AT&T, which paid for our new phones in less than 12 months," he says.
Call 8x8 today and ask about business VoIP solutions to help your company contain telecommunications costs.