5 Scary Cool Things You Can Do With This Business VoIP Mobile App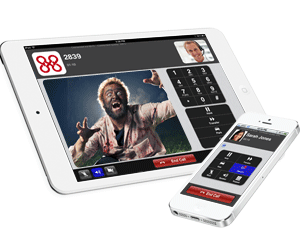 A lot of people switch to 8x8's Virtual Office Phone business VoIP system simply because they want a less expensive business phone system. That's all they want.
If that's you, then that's a great start. But your business VoIP system is also jam-packed with powerful features that let you do things that traditional phones systems can't. Today I want to focus on one of my favorite features of all time: Virtual Office Mobile!
If you haven't used it already, Virtual Office Mobile is a free mobile app that's included with your 8x8 Virtual Office business VoIP phone service. It puts the full power of your desk phone right in your pocket, complete with caller ID, contact integration, and call controls such as transfer and conferencing. But that's just the tip of the iceberg. Let's look at these and some other scary cool features you can start using today to help your business, or maybe just freak out your colleagues and employees.
1. FULL CALL CONTROL
What's scary? Missing a call that could help your business, just because you had to step out of the office. Or having to give out your personal cell phone number.
What's cool? 8x8's Virtual Office Mobile business VoIP app has all the features of your desk phone so you can take, make, and control calls from any location—even internationally—just as if you're at your desk.
2. INTERNATIONAL ROAMING CHARGES
What's scary? When you're overseas and get an email from your mobile provider saying you've racked up several thousand dollars in roaming charges.
What's cool? Using the 8x8 mobile business VoIP app over WiFi connections so you can take and make calls that help bring revenue into your company, without hemorrhaging money on your monthly phone bill.
3. DISASTERS
What's scary? Disasters can make your business location inaccessible for days, forcing you to lose days or weeks of revenue and productivity.
What's cool? 8x8's Virtual Office business VoIP runs in the cloud, so you can continue to take and make calls over your mobile devices, laptops, or even public computers at hotels and Internet cafes. Just because disaster strikes your local area, doesn't mean your business communications have to screech to a halt.
4. CALL FORWARDING
What's scary? Going out and realizing that you left your "do not disturb" setting on, so you could miss urgent calls.
What's cool? Managing your presence and status settings on the fly using Virtual Office Mobile, so you can change yourself back to "available"—even though you've already left—and get those important calls!
5. VIDEO CALLS
What's scary? Answering a call on Virtual Office Mobile and having the video option turn on, with a werewolf on the other end!
What's cool?  Scaring the heck out of your colleagues by donning a werewolf mask and calling unsuspecting co-workers on Virtual Office Mobile—especially those who don't know that the business VoIP mobile app is video-ready.
Have a great Halloween!