4 Ways Enterprise Cloud Communications Help Hot-Deskers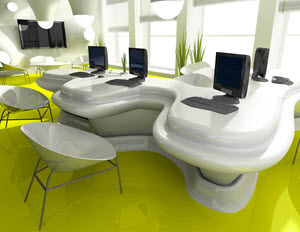 Hot desking—sharing office space and business phones—is, well, a hot trend these days. By 2020, employers are expected to provide just six desks to every ten workers in Singapore, the Netherlands, the USA and the UK. But hot desking also poses several challenges—particularly when it comes to reachability—that only a good enterprise cloud communications solution helps to address.
So experts weren't entirely surprised when the news recently broke that leading office workplace provider Regus had selected 8x8—the leading global enterprise cloud communications provider—for its worldwide network of office-space centers. Regus has benefited greatly from the growing demand for flexible, innovative office-sharing arrangements—and cloud communications are tailor-made for the type of flexibility that Regus's business model is based on.
Andre Sharpe, Chief Information and Innovation Officer for Regus, characterized the choice of 8x8 as an easy decision to make. "We can now offer our customers an innovative and cost-effective communication and collaboration service. As a Gartner Magic Quadrant Leader, 8x8 was a natural choice to give our customers the level of quality and service they expect from Regus."
How an Enterprise Communications Service Can Make Hot-desking Easy
Hot-desking is the most extreme example of flexible office space plans. It can take many different forms, but a good cloud phone service can help with all of them.
For example, a key problem for many hot-deskers is that they want only their own name to show up in the calling party's display—for a professional appearance—and they don't want other people answering their calls. Cloud phone service is flexible enough to handle the situation gracefully, forwarding calls to the hoteling desk phone, or to mobile devices or other phones when, for example, someone moves to another office or goes on travel.  A big plus is that cloud communications can be instantly reconfigured when situations change.
Hot Desk extensions help employees have a more personalized, secure, and convenient phone experience, no matter what the arrangement. Here are some of the most common hot-desking situations, and how cloud communications help to maximize productivity and flexibility for each of them:
Mobile workers often hopscotch from branch office to corporate office, only needing a desk and a phone for a short time in each branch, a facet of hot desking often called "hoteling." Still

, they want to retain the professionalism and the ease-of-reach of having one single work number. Now hotelers can remain reachable at one number with 8x8 Virtual Office on their PC or Mac. Or, if they're in an office that uses

 8x8 Hot Desk extensions, hotelers can easily log in and out of a Hot Desk host device just by entering *43 followed by the extension number and password. Then, when they leave that office, they can easily log out of the hot-desking arrangement, and instead get their calls on their own mobile phones, another land line or desk phone, or on mobile devices like laptops and tablets.
Some companies are doubling up, putting two or more workers together in an office to save money or to avoid acquiring new office space for a rapidly growing workforce. Each worker can get and make calls on the shared phone, forward calls to their own mobile phone, use the find-me-follow-me feature independently of each other, and maintain a personal voicemail box that can't be accessed by the other workers using that phone.
Other companies are running shifts, so several workers share a single phone sequentially over the course of a day or week. This is particularly common in global support and other contact center operations. 8x8 provides support for this situation, too, with agents each getting their own 8x8 extensions, complete with voicemail and all of the other features previously mentioned.
Some companies have converted to softphones only, in which case employees access their calls, voicemails and voicemail notifications on their own smartphones and other mobile devices. This makes it easy for someone to hot-desk, since calls and call notifications simply go to their personal devices, making them accessible anytime and anywhere there's an Internet connection or smartphone reception.
Flexibility You Just Can't Get Without Cloud Communications
Above all, the flexibility offered by cloud communications makes it easy for enterprises to adjust to all kinds of office arrangements, including hot-desking—or no office at all for "pure" telecommuters. That's something that old-style PBXs and other antiquated phone services can't hope to achieve. To learn more about hot-desking, click here.