4 Tips for Increasing Local Government Digital Adoption in the UK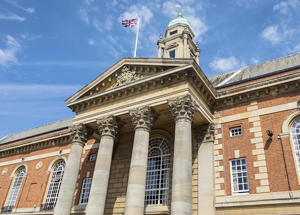 The UK Digital Strategy, implemented earlier this year, is designed to build on the country's success to date in developing a world-leading digital economy that works for everyone. There's no denying the fact that the UK has a healthy appetite for technology, but for the overall goals of the Digital Strategy to be achieved, local government IT leaders need to deliver. Unfortunately, there are a few things holding back local government digital adoption.
8x8 recently commissioned a survey of 1,000 local government staff in the UK – and found one of the top factors holding back tech adoption is budgetary constraints. While most local governments have a perception that new technology means higher costs, in the long run, these organisations are actually saving money. One local council estimates saving over £116,000 by adopting a cloud solution.
Another concern is the perceived security risk associated with technology and switching to a new system. Local government organisations hold a great amount of confidential citizen information – even a slight risk of compromising this personal data is too large. These perceptions do not necessarily match reality however, as only 2 percent of organisations state they had experienced a breach of security when using a cloud service.
While budget issues and security risks act as the primary roadblocks for innovation in local government, 22 percent of officials say certain individuals are holding back tech adoption to preserve the status quo. Why is this "status quo" preventing a highly desired digital adoption?
Maintaining the status quo for reasons of self preservation is not in the interest of citizens. Ultimately, the damage is felt most by residents, who are missing out on improved and streamlined services. IT managers need to do more to explain the benefits of embracing newer forms of technology, such as a shift to cloud communications, and talk the language that the Board and Directors understand.
There are many ways that local government IT leaders in the UK can advocate for new technology solutions and services:
1. Explain how tech can help improve service for citizens
Align the benefits of new tech to the citizens' needs and the goals you're looking to achieve. If you don't know what these are then do your homework first.
2. Test out new tech on smaller projects to prove its worth
Whilst you may be angling for a major transformation to the way your organisation operates, try introducing a smaller, low cost project first. Once you have proven the success of the project and have data that shows how it's benefited the organisation, suggest a bigger phase of change.
3. Check out what other leading local government organisations are doing and using
Few senior leaders want to risk their reputation on something no one else has tried. One way to create a sense of urgency is by establishing that another local government organisation has implemented a similar idea with success. Nobody wants to stand behind the competition.
4. Build your case with objective stats and facts
Senior managers are more likely to listen to consensus than your gut feeling or a single example of success. Make use of the data (e.g. customer satisfaction metrics) your organisation tracks to show the positive impact of pathfinder projects as suggested above.
Local government IT leaders have an opportunity to break down the barriers holding back digital adoption in the UK. Download the full report, Is a cultural change needed to prevent individuals holding back local government tech adoption?, for more tips on how IT leaders can champion the need for newer forms of technology to benefit local constituents.