3 Tips for Building an Effective Quality Management Program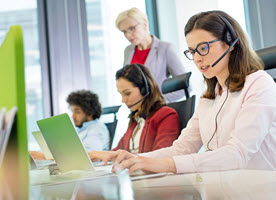 When problems or inefficiencies exist within a company, employees are often faced with a choice between reporting the problem or turning a blind eye, and allowing the problem to continue. This internal tug of war between contributing to the greater good of the company or ensuring job security can hurt businesses in the long-run as critical issues remain unidentified by management. One area where business can often be improved through increased communication and transparency is the contact center. This post is the first of a three-part series that will help your company improve quality management in the contact center, leading to improved customer experience and satisfaction.
Because all companies face this issue to some extent, it is crucial that companies build a good quality management (QM) program for their contact center agents if they want to deliver an exceptional customer experience. Companies that can successfully craft, implement and sustain an effective QM program are able to maintain and even improve their overall company image and customer service while solving issues that occur on an individual employee or department level. Below are some tips to building an effective quality management program:
Modernize the evaluation form
Align scoring criteria with desired behaviors: Resist building a rote checklist (i.e. did agent greet the customer, etc). Instead, test on desirable behavioral characteristics such as ability to establish rapport, conflict management, upsell ability.

Incorporate post-call survey data: If available, include data from a post call survey to capture a 360 degree view of the interaction and not just the evaluator's opinion.
Make consistency a Key Performance Indicator (KPI)
Use multiple evaluators per interaction; capture results across calls: Ensure agent scores reflect opinions of more than just one evaluator. And when reviewing aggregate results, capture data across many interactions to capture trends and identify true strengths and weaknesses.
Use examples as a training tool
Capitalize on Ideal Examples: Positive employee actions can serve as examples for others to follow. In the call center for example, managers should identify exemplary calls from top agents to guide new or struggling employees.

Utilize Self and Third-party Evaluation: Mini case studies on specific past experiences can provide a useful tool for employees to evaluate their own strengths and weaknesses. Furthermore, others within the company, including supervisors and peers, should have access to a few examples to offer feedback and tips.
Quality management is crucial to maximizing employee potential and improving contact center effectiveness.To learn more about how to build an effective QM program, check out the ICMI Tool Kit: Quality Management in the Contact Center, which has everything you need to know on training evaluation as well as quality management in the contact center.