3 Tips to Keep Customer Journeys from Going Off the Rails
When it comes to customer journeys, is your company inadvertently driving your customers to desperate measures, like going to GetHuman.com?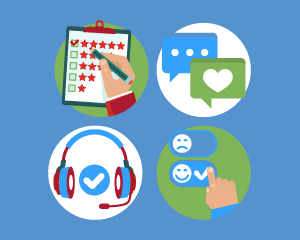 Maybe. The way customers experience products and services is changing, and companies that fail to provide the right customer service paths will eventually chase their customers away. The very existence of GetHuman.com—a site where disgruntled customers share phone numbers and other ways to skip phone prompts and email forms and go straight to a live person—is proof that many customer journeys are sliding off the rails.
Customers Expect You to Know Them—No Matter How They Communicate
Many organizations unknowingly alienate customers, forcing them to look for other options for great service and virtually ensuring defections to competitors. Customers often communicate in different ways with the companies they buy from:
73% use the phone
67% use help or frequently asked questions
58% use email
43% use chat
24% use SMS
22% use Twitter
A frequent customer complaint is that companies often have a hard time matching up communications on all of these channels with the customer who sent them. Nobody likes having to start all over again and be put in the position of re-explaining their issue. People also hate feeling like they're besieged on all channels by too-frequent sales contact via phone, email, social media, etc.
The bad news is that 69 percent of online consumers move to another channel when online customer service fails, and 89 percent of customers surveyed say they've switched to another provider due to a bad customer service experience.
The good news is that solutions are available now that will help companies:
Provide a smooth escalation path from the web—For example, proactive chat opens up a window when customers appear to be looking for a certain type of help, and directs them accordingly. In 8x8's system, you can even configure it to ask for language preference, and automatic language translation helps out when the agent and the customer don't speak the same language. This is particularly helpful for organizations running a global contact center.
Think out-of-the-box when it comes to phone experiences—New technology is available that helps you offer your customers better service. For example 8x8 Personal Connect lets customers reach an agent already familiar with their particular case, and integration with CRM systems such as Salesforce and NetSuite help agents instantly see a customer's entire experience at a glance. And virtual queuing, which lets customers give their number and save their place in the queue until an agent is available. No longer do customers have to do a slow burn while focusing on how long they've waited on hold; they can do other things while they wait for an agent to become available.
Focus on metrics as a way to improve.—Many organizations running global contact centers—commonly called "follow-the-sun" operations—find they need better metrics and reporting software if they want to be sure they're meeting customer needs. In particular, they often need company-wide metrics to see how the entire organization is doing, but they may only get regional or local reports. For example, an enterprise might have separate contact centers in Asia, America and Europe, but if they aren't integrated, figuring out how things are going becomes a data-sleuthing operation, especially if the contact systems aren't in the cloud—or even on the same system. For example, recently introduced contact center analytics help show global metrics for contact centers, but still preserve the ability to "drill down" and look at the performance of individual lines and agents, for instance.
These tips are helping organizations worldwide to refine customer journeys—and avoid customer rants on sites like GetHuman.com—because nobody wants to be famous for bad customer service.