10 Tips for More Effective Contact Center Team Meetings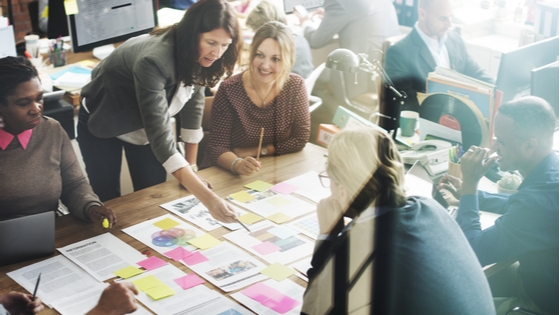 "It was the best of times! It was the worst of times!" While Charles Dickens was describing London and Paris in his book, "A Tale of Two Cities," that sentiment can also describe how some managers feel about running contact center team meetings. "They take too much time offline!" "They are boring!" "I have too much information to share in just 30 or 60 minutes" of a meeting. Yes, running an effective team meeting takes time and preparation. However, not doing that work means boring, morale destroying meetings that accomplish nothing. So, how can you ensure your team meetings are a success? Here are ten tips:
1. Have a goal
What are your goals for the meeting? Do you want to increase your agents' product knowledge, train them on a new process or improve teamwork? You have objectives for your agents' performance. What are your objectives for your own team meeting? Once you have a goal in mind, creating the meeting agenda and running the actual meeting become easier.
2. Build employee engagement at every meeting
A well-run team meeting offers the chance to increase employee engagement. Are your meetings fun? Do they motivate your agents? Do your agents feel appreciated and involved? Or, do you lecture at meetings under the guise of "information sharing" or "keeping agents up to speed." Instead, share complementary emails or positive social media comments from customers. Most of an agent's day is spent dealing with complaints from customers. It is important they also hear when customers are happy. So, they know they are making a difference.
3. Make your team meeting interactive
When I hear managers complain their team meetings take so much energy, it often means they are simply lecturing for the entire meeting. They are reading announcements, rather than sharing the announcement onscreen or giving it out ahead of time, and then asking for agent questions and comments. In one example, one manager mentioned they do not even ask for questions because if they did, agents would never stop asking questions. They thought asking questions was a bad thing. It is not. It is a sign that agents care and want to learn how to get better at their jobs.
4. Do not spend the entire meeting reviewing metrics
Do not spend the entire meeting reviewing KPIs (Key Performance Indicators.) While those metrics can identify performance gaps, those are simple clues to an underlying problem. For example, a high AHT (Average Handle Time) may indicate your agents have poor call handling skills. Or, it may mean your CRM (Customer Relationship Management) system is running slowly or has a poor navigation structure. At team meetings, focus on the underlying skill/knowledge/process gaps rather than just the numbers. Most importantly, establish a relationship between those metrics and what they reflect about your contact center.
5. Share a "reality check"
For many companies, less than 10% of customers call or write to complain each year. However, those inquiries are 100% of the interactions your agents have with customers. That can result in a type of, "Stockholm syndrome" where agents sympathize more with customers and assume the company (their employer) is always wrong and even morally compromised. Provide a perspective by sharing how many customers never complain. Or, share survey results where customers (the ones who never call to complain) love your products and services. Agents need that reality check because they live in such a "closed" ecosystem where customers always seem unhappy. Providing this reality check can improve employee engagement.
6. Provide industry information. So, Agents learn more about your company's industry
Educate agents about your company and your overall industry. While many agents know about your company's products and services, some may not understand your overall industry. Share details about where your industry is headed. You can ask your marketing team for that information. Help agents see the big picture regarding your industry.
7. Coach guest speakers from other departments
I remember how guest speakers from marketing, human resources and IT always thought contact center agents were, "Negative." I helped them realize Agents are not being "Negative" when they ask several, "What if" questions. They are asking because they know customers will ask those identical questions. One time, I watched a marketing manager respond to a, "What if" question by saying that the problem would occur in less than one-tenth of 0.01% of their products. But, that 0.01% of the customer base represents 100% of the Agents' interactions with customers. So, agents are trying to be prepared for those calls. Help your guest speakers from other departments understand that.
8. Vary your activities from meeting to meeting, to build Agent enthusiasm
You could play a great recorded call and explain why it is great. You can also ask the agent who had that great call explain how they helped their customer. Let your team know what "great" sounds like. You can also ask agents to share their best techniques. So, if someone is great at upselling a product, have them share their ideas at a team meeting. (If they are willing to do that.) Other ideas include the use of multimedia video clips, contests, role plays and interactive product knowledge games. The key is to build variety and fun into your meetings.
9. Bring food!
I know that is an old contact center standby. However, having food at a team meeting can boost morale, especially if you position the food as a, "Thank You" for good performance. If you do not have a budget for food, do you have any hats, t-shirts or other prizes with your company's logo on it? Or, you can provide a perk by holding your team meeting outside, if the weather is nice. The key is to think of ways to thank your team and make them feel appreciated.
10. Ask Agents for THEIR ideas
Facilitate a brainstorming session with agents, asking for THEIR ideas on how to streamline ops processes or better share information. Do not censor their ideas. Instead, encourage them to be creative. However, be careful of setting false expectations by NOT doing anything with their ideas. Instead, choose an easy to implement idea and do it to build agent buy-in. Some of the best ideas come from the people who talk to your customers every day. So, ensure team meeting discussions are a two-way street with your agents.
Remember, meeting with your team is a precious opportunity. Do not waste that time. Incorporate these ideas to build energy and employee engagement with your agents.
Want to get started today with a free video conferencing tool? Click here to learn more.