What is XCaaS?
Meghan Keough
May 18, 2021
Employee experience and customer experience. Both have changed dramatically over the past year and will continue to evolve at a rapid pace, more dependent on digital interactions and digital communications — and more connected to one another than ever before. As the number of communication channels grows, it's imperative that these experiences become or remain as efficient and effortless as possible. That's why we're introducing Experience Communications as a Service — or XCaaS.
With the introduction of XCaaS and the 8x8 XCaaS offering, we are responding to the new needs of businesses today and uniquely delivering on a single platform which includes fully integrated, cloud native contact center, voice, team chat, meetings and Communications Platform as a Service (CPaaS) capabilities. With XCaaS, we're delivering on the innovation that will advance our customers' increasingly connected EX and CX-focused communications, collaboration and engagement needs.
XCaaS Definition
Whether you're an 8x8 customer or partner, or you've come across the term and this post via the search engines, you're probably here to learn more about XCaaS.
Here's the definition of XCaaS as introduced by 8x8: Experience Communications as a Service (XCaaS) is a cloud communications deployment model that erases the boundary between Unified Communications as a Service (UCaaS) and Contact Center as a Service (CCaaS).
With XCaaS solutions, organizations can support the communications requirements of all employees as they work together to deliver differentiated customer experiences.
What Does XCaaS Mean for My Organization?
Now that we have XCaaS defined, let's talk about why it's important. It may not be a new concept or conversation, but it's certainly one that's risen to the boardroom level recently with the move to remote work and now hybrid workplaces: the ability to deliver a differentiated employee and customer experience no matter where the customer or employee is in the world, or what device they're using.
Organizations have been investing in customer experience (CX) solutions for several decades now, but never before has employee experience (EX) risen to the same level of importance, nor have the two been so connected. XCaaS (Experience Communications as a Service) solves for that connected X.
Talking with industry analysts recently, our CEO Dave Sipes noted, "As is in other markets, such as CRM and ERP, when organizations transitioned from legacy, on-premises systems to SaaS and cloud deployment models, fragmentation occurred resulting in multiple disparate solutions across the enterprise. XCaaS eliminates communications silos, brings the employee experience and customer experience back together, and helps drive the cloud communications industry forward significantly."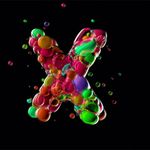 Winning with XCaaS
With the move to hybrid workplaces, having a 360 degree view of both employees and customers is now critical for overall organizational effectiveness and creating a competitive edge. According to Metrigy Research, companies that utilize integrated unified communications (UC) and contact center (CC) solutions from a single vendor reported a nearly 100% revenue increase, a 14% cost decrease, a 57% customer ratings improvement, and a 37% agent efficiency improvement. (Watch the webinar.)
The Kansas City Royals are a great example of organizations seeing early wins with an integrated UC and CC solution. Says their Sr. Director of Technology Brian Himstedt, "8x8's integrated cloud communications and contact center platform provides us the flexibility and resilience to quickly manage all employee and customer interactions from any location or device. With XCaaS, it's not just the operational value when it comes to the platform. It's the data insights and the ability to which you can make those insights readily available across the organization to help us provide a better customer and fan experience." (Watch the webinar.)
At 8x8, we're invested in our customers' success and their customers' success, and the innovation to ensure it continues. With the introduction of XCaaS and the 8x8 XCaaS offering, we are uniquely delivering on the innovation for their new and future business needs.
Read more about our recent XCaaS announcement here.
What's your goal today?
1. Experience our integrated cloud communications and contact center platform.
2. Get help making the most of 8x8.
3. Join the 8x8 team.