Power your chat experience with language translation
Simon Wilkinson
February 26, 2022
A polyglot is someone who can speak at least four languages. Although a topic for another time, the question for your polyglot friends is "Which language do you dream in?" For today, the question is "Is your contact centre chat capability a polyglot?"
To maintain the diversity of their campuses, higher education institutions recruit international students who may not speak the institution's primary language for administration and instruction. Data from the Higher Education Statistics Agency for the 2020/2021 academic year shows that there were 605,130 international students at UK Universities.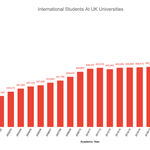 That's about 22% of the 2,751,865 students enrolled in Higher Education institutions in the UK. So about 1 in 5 students are international. Interestingly, about 75% of those international students are from outside of the EU (Studying-in-UK.org):
China 32%
India 19%
Nigeria 5%
United States 4%
Hong Kong 4%
Pakistan 3%
Malaysia 2.5%
Saudi Arabia 2%
Canada 1.5%
Singapore 1.5%
With a modern communications platform, Universities can improve the overall engagement experience by removing language barriers. One example is by enabling international students to use their preferred language, say Mandarin, while they conduct a live chat with a University's contact centre agent who is using English. 8x8's Multilingual Support for Chat enables exactly that experience.
With this capability, prospective students can chat in their preferred language. Agents can support those chat-based discussions in their preferred language, which may be different. 8x8 Contact Centre associates primary and one or more secondary languages of fluency to each agent. If the prospective student requests a chat in an agent supported language, the chat will be conducted in that language. Otherwise, the student can use their preferred language and the automatic translation capability will convert it to the agent's preferred language.
Languages supported include:
Arabic
Croatian
Danish
Dutch
English
French
German
Hindi
Italian
Japanese
Korean
Mandarin - Simplified
Mandarin - Traditional
Norwegian
Polish
Portuguese
Russian
Spanish
Swedish
Thai
Vietnamese
Welsh
How it works
This flow diagram shows how the experience works. Essentially, when the student initiates a chat with an agent, they select their preferred language. The chat application checks whether or not that language selection is one associated with that agent. If yes, then both the student and agent can chat in the student's selected language. If that agent does not speak that language, then the Auto Translate capability is enabled.