New Integration with Google Cloud Contact Center AI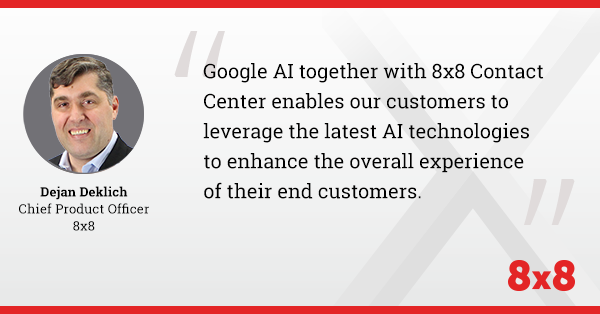 Have you heard about 8x8 X Series' new integration with Google Cloud's Contact Center AI? This integration makes solutions powered with artificial intelligence accessible to any company with 8x8's Contact Center, without having to invest in a home-grown artificial intelligence program.
"Contact Center AI empowers enterprises to use AI to augment and improve their contact centers."
-Rajen Sheth, Director of Product Management at Google
Here's what AI in the contact center could do for your business:
Use a Virtual Agent
A combination of 8x8's existing AI technology and Google's Contact Center AI gives you the ability to route simple questions to a virtual agent. The virtual agent can answer questions like "is part #7542 in stock" or "what time does the technician arrive?" Using AI-powered virtual agents makes more time for your live agents to handle more complex questions, while reducing caller wait times and costs.
Use Agent Assist
Leverage AI to help your agents perform better, even when the call is too complex to be handled by a virtual agent. Agent Assist will automatically locate relevant articles and knowledgebase documents for your agent, based on the conversation with the customer. This reduces the time the agent spends looking for information and also gives him or her instant context on the customer's request.
And more! We're already leveraging AI to provide detailed speech analytics, voice-to-text transcription and keyword/keyphrase searches of call topics and customer comments in a call center context. Integrating Google's AI expertise with our communications expertise give our clients an even better product that matches their need for communications at the speed of business.
This partnership with Google Cloud is new, will allow us to expand our artificial intelligence capabilities to new areas, and doubles down on our commitment to provide companies with a unified communications solution that creates a seamless, exceptional customer experience.
Love Your Feedback:
We're still in the early stages of our integration with Google Contact Center AI. If you'd like to participate in the testing, contact us at [email protected]. We'd love to hear your feedback on ways to leverage AI to speed up your business and provide the best customer experience, every time.