Build Business with VoIP Toll-Free Numbers
Toll-Free Numbers Do More Than Make Your Business Look Bigger
Research has shown that toll-free numbers help position you as a credible, successful company, and put you on the same playing field with large corporations. But did you also know toll-free numbers can aid your business by:
Making you more accessible
Expanding market reach
Giving your sales team a national presence
Improving your marketing efficiency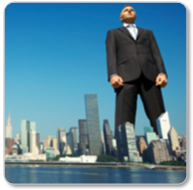 Be More Accessible
When you use toll-free numbers with your business, callers needn't worry about calling costs, and toll-free numbers help show that providing good customer service is important to your company. In addition to using a toll-free number as their primary number, many businesses use toll-free numbers to give their customers direct access to customer-facing departments without sending them through the auto attendant. Toll-free numbers are commonly used for direct access to Sales, Technical Support, and Customer Service departments.
Expand Market Reach
Toll-free numbers are location independent, making the entire US a local calling area for your customers. With toll-free numbers, callers get the impression your business is everywhere!
Give Your Sales Executives a National Presence
Give your sales executives their own toll-free numbers and watch their credibility soar. Since toll-free numbers are not associated with a local area code, they allow sales executives to project a more national presence. Toll-free numbers can easily be directed to individual extensions or virtual numbers and then, using 8x8 Advanced Call Forwarding, directed to the sales executive's cell phone, desk phone and home phone.
Track Marketing Campaigns
Track your incoming calls to see where business is coming from. Use a toll-free number with specific marketing campaigns to find out how well each campaign is performing. For example:
Identify unique promotional offers by assigning a different toll-free number to each campaign. Use one number to promote a "buy one/get one" promotion and another number to promote a "free shipping" offer. By assigning different toll-free numbers to each offer, you can track where your leads are coming from, even direct incoming calls to specific extensions to ensure the agents most knowledgeable about the promotion receive the call.
Track marketing sources and effectiveness. Use different toll-free numbers in promotional material to track the source of incoming calls. Use one toll-free number in your newspaper ads, a second for your radio ad, and a third in your online marketing. 8x8 allows you to run reports on each of your toll-free numbers to measure the activity generated by each number. This way you can pinpoint which campaign is performing best and generating the best return on investment.
8x8 offers special bundled toll-free minute plans that make toll-free VoIP numbers an attractive and affordable addition to your business. Ordering is as simple as picking up the phone. For more information, contact your 8x8 Account Manager or call 1800 854 171 .