NetSuite Integration with 8x8 Virtual Office
Leverage the power of NetSuite and 8x8 Virtual Office to dramatically increase customer loyalty and improve customer service.
8x8 and NetSuite have partnered to provide a cloud-based integration that combines the strengths of both products, right out-of-the-box. Enable NetSuite integration with just a few clicks of your mouse.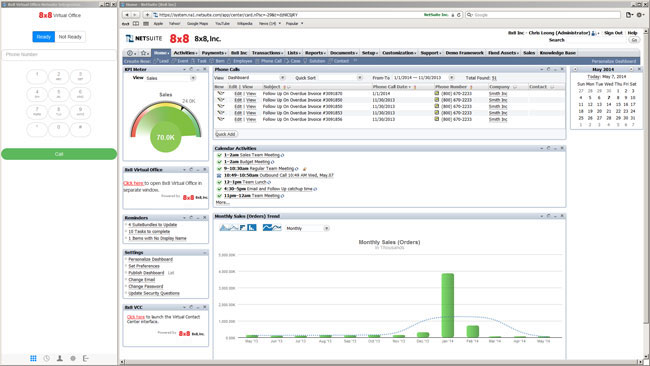 Grow Customer Relationships with NetSuite and 8x8
Instantly Sync 8x8 and NetSuite Contacts: It's easy to sync your 8x8 Virtual Office Contact Directory and NetSuite contacts so you can quickly find the number or person you are looking for.
Deliver Highly Personalised Customer Service: Virtual Office Caller ID service identifies who is calling, instantly matches them to a NetSuite CRM record before the call is answered, and pops the NetSuite contact record up on your screen. You then answer the call with all the details you need to deliver a more efficient, personal and enjoyable customer experience.
Keep Better Records with Automatic Call/Contact Logging: Whether your customer interaction was based on an inbound call or an outbound call, all call detail records are automatically logged to a customer case.
Make More Informed Decisions and Grow Revenue
The robust integration of 8x8 Virtual Office and the Netsuite CRM solution enables your business to capture key information on each and every customer interaction and deliver personalised, better-informed customer service. Build customer satisfaction to create long-lasting customer relationships and grow revenue.