NetSuite Integration with 8x8 Virtual Contact Centre
By combining the power of NetSuite and 8x8 Virtual Contact Centre, organizations can radically improve how they serve their customers.
8x8 and NetSuite have partnered to provide a cloud-based integration that combines the strengths of the two products out-of-the-box. Instead of requiring months of integration services, start serving your customers better in days!
Enhance Customer Relationships with NetSuite and 8x8
Single Sign-on: Make life easier and more efficient for your agents by allowing them to sign on only once and be logged into both solutions. This also saves significant IT costs and support hassles as well.
Match Customers to the Right Agent: Use Virtual Contact Centre's smart routing capabilities to ensure customers get routed to the agent who can best solve their problem.
Arm Agents with the Right Information: Pop customer information directly to the agent's screen based on the caller's phone number.
Better data: Be more informed with consolidated reporting and administrative information.
Fully Tested and Proven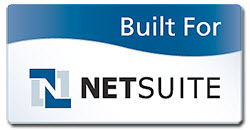 8x8 Virtual Contact Centre has passed the rigorous Built for NetSuite approval process, ensuring a secure, reliable integration between the two applications.
Consolidated Reporting for Insight into the Full Customer Journey
8x8 Virtual Contact Centre writes key information on each customer interaction into the NetSuite database giving you new insight into the full lifecycle of a ticket including not only just the various support steps but the different customer interactions along the way.
The 8x8-NetSuite integration gives you unprecedented insight into how you are treating your customers. See how long it took to bring an issue to closure and the steps involved in that process including how many different times the customer contacted you via a variety of different channels.
Download the Virtual Contact Centre NetSuite Integration datasheet.