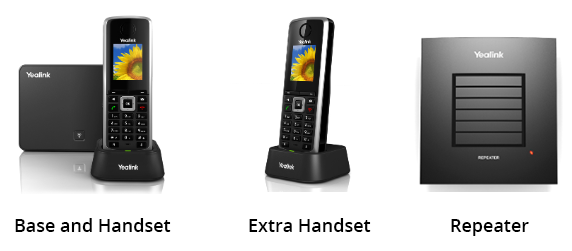 Yealink W52p DECT Phone
Yealink W52p  SIP DECT bundle includes a cordless handset (W52H) and a wall-mountable DECT base unit. The W52p is great for Small Office or Home Office sized businesses looking for an economical yet dependable DECT solution.  You can concurrently use up to 4 handsets on a base, by adding up to 3 more to the handset/ base bundle, and its non-blocking, handling 4 simultaneous calls.
The W52H DECT wireless handset, has a 1.8" color LCD. HD wideband audio (G.722) is supported.
The coverage area of the base unit is approximately 100-200 ft. indoors, depending on the environment. For greater range, there is an optional repeater, which can double the range, and multiple repeaters (up to 6) can be supported.
Highlighted features:
Supports 4 DECT handsets registered on each base, that can be used simultaneously.
Up to 4 concurrent calls can be active on each DECT base (non-blocking)
Up to 6 repeaters to extend range (can be connected to the base)
High-quality wideband voice is supported
A fully charged battery can support up to 100 hours standby time / 5-10 hours talk time
Documentation
DECT equipment supplied by 8x8 has been pre-configured and updated with software to support 8x8 service and 8x8 secure service activation.  Used or refurbished DECT equipment or customer supplied DECT equipment is currently not supported for DECT service.    Please refer to compatibility guide.