Ring Groups
A Ring Group is a way for a group of extensions to share the distribution of incoming calls. Ring groups are also commonly known as Hunt Groups.
A Ring Group is a great way for a business to share the distribution of incoming calls among employees. It is often used to efficiently distribute calls within specific departments such as Sales, Customer Support and Accounting. You can have all the phones in a ring group ring at once or set up a "round robin" approach where the extensions in the group ring in a specific order until the call is answered.
Nine ring groups are included with your Virtual Office account.
If more are needed, they can be ordered through the 8x8 Account Manger in additional sets of 6 and 15. Here's an example of how a business can use ring groups:
Small business—Set up a ring group to include all four employees. When a call comes in, all phones ring simultaneously, whoever picks up first takes the call.
Larger business—Set up a Ring Group for your sales reps. When a call comes in to your sales number, you can set it up to ring the reps in a certain order so they each get a turn to answer incoming calls.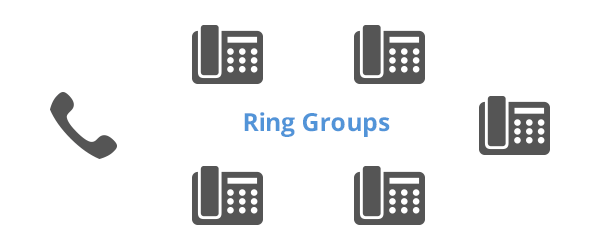 Each Ring Group can have any type of number assigned to it. The number can be a virtual number, toll free number, the main company number, or any other number in your system. It can also be answered by the auto-attendant or by another extension.
Ring Patterns
You can select from three ring patterns to configure your Ring Group.
Cyclic — Also known as rollover. A Cyclic pattern allows an equal distribution of calls, making sure all extensions in the Ring Group assist in answering the calls. You can set the number of times the call cycles through the extensions before sending it to voicemail.Example: For a 3-line Ring Group, the first call rings ext. 101 (no answer), then ext. 102 (answered). Second call rings ext. 103 (no answer), then ext. 101 (answered)
Cyclic Repetitive — A Cyclic Repetitive pattern allows calls to be distributed among all extensions in the group in the order that the extensions are entered. You can set the number of times the call cycles through the extensions before sending it to voicemail. Example: For a 3-line Ring Group, the first call rings ext. 101 (no answer), then ext. 102 (answered). Second call rings ext. 101 (answered). Third call rings ext. 101 (no answer), then ext. 102 (no answer), then ext. 103 (answered)
Simultaneous Ring — The Simultaneous Ring pattern ensures that all extensions will ring when a call is received. The first extension to pick up the phone will answer the call