8x8 Receives Frost & Sullivan 2012 Market Share Leadership Award
Award Recognizes 8x8's Dominance and Best Practices in Hosted IP Telephony and UC Services Market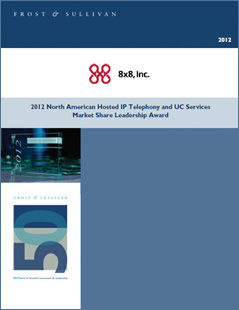 Frost & Sullivan has recognized 8x8, Inc. with the 2012 North American Frost & Sullivan Award for Market Share Leadership.

"In spite of rapid market share shifts in an extremely fragmented market, where more than 80 providers fiercely compete for new customers, 8x8 gained the top position with 7.9 percent share of installed lines in 2011 per Frost & Sullivan's independent analysis," said Frost & Sullivan Program Director Elka Popova. "8x8 has succeeded in this growing yet increasingly competitive market by keeping a laser focus on innovation and customer value."
The Frost & Sullivan Market Share Leadership is presented to the company that has demonstrated excellence in capturing the highest market share within its industry.