vs.

Every day, companies around the world switch to internet-enabled phones and modern, global communications systems. 8x8 offers more services than Vonage phone services and consistently beats Vonage VoIP phones on most objective tests. Here are eight reasons why customers choose 8x8 over Vonage VoIP for their VoIP phone service.
Built for the 21st Century digital economy, 8x8 VoIP infrastructure covers the planet with quality, support and backup, and offers consumer support in multiple languages.
8x8 covers over 90 countries (including local numbers).
Offers multiple languages; includung English, French (Fra), Spanish, Italian, German, Dutch, Portuguese (Bz), Finnish, Danish, French (Can).
1. Global Reach and Support
8x8 understands that VoIP technology delivers borderless, global communication.
"It was critical for us to integrate CRM into our phone system, and our previous solution couldn't do that. We also needed a phone system that could 'follow the sun' and connect our remote employees across countries and time zones."
- Joseph Doyle, IT manager, Illumio.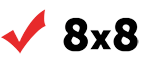 Vonage phone service covers fewer countries and offers less language support than 8x8 does.
Crystal-clear sound quality is non-negotiable. 8x8 strives to always deliver world-class VoIP quality that facilitates global communication.
In a testing situation, 8x8 delivered the highest score in 17 out of the 24 scenarios that were set up, comprehensively outscoring Vonage phone systems.
2. Call Quality
Ready to test our call quality? Speak to an expert at 1-888-331-9194.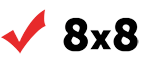 Issues with delayed voice signal
Occasional echos reported
Electrical interference issues reported to cause hissing and buzzing sounds
Integrated voice, text, email and chat applications on one platform lets consumers choose how to express themselves without 8x8 having to run multiple applications to manage the streams.
Breaking down silos, improving productivity and the customer experience.
3. One System of Engagement
"8x8's mobile app and portable VoIP phones let us take calls anywhere and everywhere," he says. "Recently I was backpacking in Spain, and I answered a business call on my iPhone. 8x8 gives us seamless connectivity around the world, which is huge."
— Damian Brennan, CIO of Artco Group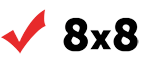 Vonage phone service relies on multiple platforms and limited integrations into its system. As a result, silos of information develop causing companies to experience throttled productivity and can lead to fragmented reporting and a growth in departmental silos which blocks communications.
Pay for only the services you need when you need them. Scale your services up and down quickly, depending on your sales cycle. Don't get locked into a single edition with a provider that can't adjust to your changing needs. 8x8 believes you should only:
Pay as you go.
Use one, simple global interface.
Pay for what you need.
Customize to each user's unique situation.
Pay a lower total cost of ownership.
4. Mix and Match Costs
"8x8 knows how to scale to meet the needs of smaller organizations. The technology is easy to use and manage, and the cost is phenomenally competitive, especially compared to do-it-yourself phone systems."
— George Zaferos, Business Administrator at St. Matthew's Lutheran School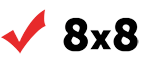 Vonage pricing starts at a similar level to 8x8, but it caps the number of users a business can include at 99. Anything larger than that moves into a higher payment category.
8x8 Compliance features a comprehensive list of Security and Compliance Standards to offer state-of-the-art security on all of your private and confidential data.
HIPAA BAA: A contract to protect personal health information (PHI).
Fisma 140-2: Security Compliance for Cryptography.
FIPS: A set of information technology standards.
CIPN: Information that telecommunications services acquire about subscribers.
Privacy Shield: An agreement for the transfer of personal data from the EU to US.
Cyber Essentials: A UK government information assurance scheme.
ISO 27001/9001: A specification for an information security management system.
UK Government ATO and PCI: Payment Card Information accreditation.
5. Security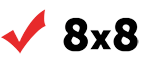 Guidance offered for HIPAA compliance
Vulnerable to spam, eavesdropping, and DoS attacks
When it comes to costs, the watchwords for 8x8 are simplicity and predictability. Users can plug and play quickly and all advanced features are instantly accessible at an affordable price. Our customers never experience surprise hidden costs and pay only one bundled fee for a full service package including technical maintenance and upgrades.
6. Superior Affordability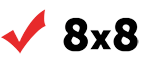 Not well suited for small business. Their focus is on large and midsize organizations.
Charges an extra monthly fee for a local main business number, integration with Salesforce and a conference bridge.
The Gartner Magic Quadrant is a report that evaluates vendors who offer unified communications as a service (UCaaS) according to their "completeness of vision" around innovative technology, plus their "ability to execute" on their promise. 8x8 was ranked as a Leader for seven straight years. Gartner said that "well over 50 percent of 8x8 customers purchase 8x8 CCaaS to complement their UCaaS deployments. The 8x8 CCaaS has such capabilities as omnichannel, interactive voice response (IVR) and quality management, and is well-integrated with UCaaS."
7. Recognized Leader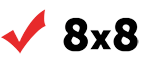 The Tolly Group provides hands-on evaluation and certification of IT products and services. Their proof-of- performance lets customers know they can buy with confidence. In a test which compared the voice quality of 8x8, RingCentral, Microsoft Skype for Business and Google Hangouts, 8x8's Virtual Office solution delivered the highest voice quality in the majority of the test cases: across scenarios, client platforms and impairment conditions.In the few cases where 8x8 results were not the highest, they were close to the other solutions tested.
8. The Tolly Report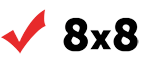 See For Yourself
All the big players in the communications industry have pros and cons. Facts matter, and that's why we've chosen to do a straight comparison with one of our competitors to show you how we are different and what you get when you choose a phone service from 8x8.
Ready to test our call quality? Speak to an expert at 1-888-331-9194.
When it comes to VoIP, 8x8 provides a reliable and compliant cloud solution at a demanding level rarely seen by other cloud providers. Don't take your chances with a subpar cloud-based telecom system.
Call 1-888-331-9194 or fill out an online form to request a no-obligation quote from an 8x8 product specialist.
Learn more about 8x8's cloud contact center platform. Call 1-888-331-9194 or fill out the form below to get a quote: