What is ACD (Automatic Call Distribution)?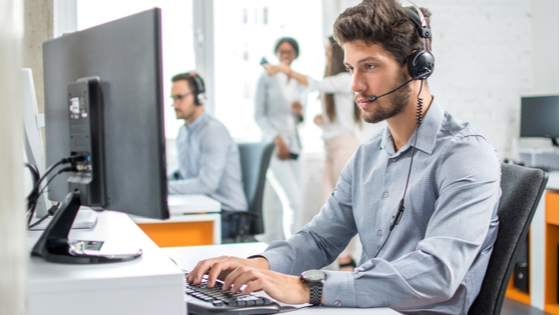 An Automatic Call Distributor (ACD) is a call center software system that routes incoming calls to a specific agent or group of agents in an organization. ACD is at the core of any good call center, as it vastly improves efficiency in communications.
How Does an ACD Work?
Computer Telephony Integration (CTI) systems and Interactive Voice Response (IVR) are both partners with the ACD system as it directs incoming calls to the destination that best fits their intent or need. By integrating these capabilities with more sophisticated features, ACD makes many call center problems obsolete. ACD can easily handle periods of agents being offline, high call traffic, and automated responses.
Whereas an IVR involves key or voice tones to route calls, an ACD uses a combination of IVR, pre-programmed and intelligent, dynamic rules to route calls, such as area code, caller repetition, time of call, and more.
ACD in Action
A savvy caller may witness ACD in action when, after navigating an IVR menu and selecting a menu option, they are routed to a more specific agent than their IVR choice may have indicated, e.g. a repeat caller selecting the "product questions" menu option and being routed to an account service specialist within that department.
Features of ACD Systems
User Data Acquisition
ACDs may automatically gather data for companies. This data may include information about call quantity and length, time spent waiting for a call or for an agent response, and end call survey responses.
Real-Time Priority Caller Response
Because ACD can be programmed to dynamically filter out high priority callers from more routine calls, ACD is capable of placing priority callers at the front of the queue or routing them to more specialized agents.
Intelligent Call Routing
ACDs route callers intelligently to the best fit destination. To do this, ACD systems may use caller information identification services such as Caller ID to gain information such as the caller's phone number, area code, name, and more. ACD systems may combine this knowledge with the caller's IVR menu choices to provide an intelligent, better-than-human routing service.
Call Monitoring and Agent Improvement
ACD systems accelerate agent improvement by allowing for call monitoring, barging, conferencing, whisper coaching, and more. Furthermore, data acquired by ACD systems facilitates additional agent improvement.
Automatic Call Back
Any caller who calls at a busy time may be given the option to receive a scheduled callback from a live agent instead of waiting on the line. This has the advantage of both freeing up call systems and making customers happy.
The above features are just a handful of the capabilities of ACD systems. It turns out, due to the combination of effective cross-technology integration and programmability, the list of what an ACD cannot do is much shorter than the list of things it can.
ACDs are able to make the correct routing choices 100% of the time, benefiting companies, customers, and agents.