For any business - large or small - communication is essential for every aspect of the operation. Unified communications solutions help connect agents and teams in real-time from anywhere in the world. If you truly want the best in class user experience, you can't beat 8x8's range of unified communications as a service (UCaaS) solutions, which delivers synchronized business communications technologies on one cloud-based platform. The benefits of using UCaaS solutions are reduced total cost of ownership, scalability, improved collaboration across teams, and quick deployment.
8x8 is a Gartner Magic Quadrant UCaaS leader and for the seventh year in a row, they've named 8x8 a market leader in its special report, "Magic Quadrant for Unified Communications as a Service (UCaaS) Worldwide" because of the completeness of the company vision and a proven ability to execute. But let's take a detailed dive into exactly what the Magic Quadrant is and how 8x8's X Series can be your all-in-one collaboration solution, making it easier to navigate between communication channels, scale your business needs, and incorporate existing social channels with your messaging solutions.
8x8 Gartner Magic Quadrant
A Gartner Magic Quadrant is a culmination of research in a specific market that gives you a better view of the relative positions of the market's competitors. A Magic Quadrant can help you quickly determine how well technology providers are performing based on their stated visions and how well they're performing against Gartner's market view.
A Gartner Magic Quadrant works by providing a graphical competitive positioning for four types of technology providers, in markets where provider variation is distinctive and growth is high. It can help you understand a market's competing technology providers and their ability to provide their end users with what they need in the present and in the future. Magic Quadrants can also help you compare a technology provider's strengths and weaknesses based on your specific needs, as well as understand how a market's technology providers are competitively positioned and the strategies they use to compete for end-user business.
8x8 Gartner Magic Quadrant uses six broad communications functions:
Messaging. Voicemail and unified messaging allow for voicemails to be sent to email applications.
Clients. Allows access to multiple communications functions from one compatible interface.
Meeting Solutions. Includes multi-party voice conferencing, video conferencing, and web conferencing capabilities, including screen sharing or application sharing.
Presence and Instant Messaging (IM). This allows employees to send text and other data to groups or individuals in real time. This service allows you to see the status of other people and resources.
Voice and telephony. Covers mobile, fixed, and softphone enterprise telephony, including PBX functionality.
Communications-enabled business processes. Allows for integration of the UC solution with the broader business application context. Integration options include work stream collaboration, contact centers, communications platform as a service (cPaaS) for digital business application integrations, ChatOps/workgroup applications, plug-in integrations for leading business browsers and applications, and integration with business analytics and artificial intelligence (AI) capabilities.
8x8 X Series
The 8x8 X Series is a system of engagement that provides employees with the tools they need to communicate, collaborate, and access the company's most valuable data and experts in one intelligent, easy-to-manage solution. The 8x8 X Series offers plans that you can mix and match depending on your needs in a cost-efficient manner.
Large Enterprises
With 8x8's X2, you'll enjoy integrated communications such as company-wide team messaging, one click from chat to voice to video meetings, and integration with CRM and business applications. You'll also get call recording, personal call analytics, mobile application, single sign-on, and additional integrations like SFDC, Dynamics, NetSuite, and ZenDesk.
The X4 is for smarter global engagement and includes supervisor & service quality analytics, unlimited global calling for UC across 47 countries, and the ability to streamline call handling with Switchboard Pro. In addition, you'll get smarter global engagement without too much added cost.
With the X6, you'd get everything that comes with X4, plus:
Customer engagement analytics
Voice-focused contact center
4,000 minutes per concurrent agent
One click subject matter expert access
Customizable dashboards/wallboards
Granular Search analytics
Interactive voice response
Post-call surveys
CRM Pop for Context
The X8 includes X6 capabilities in addition to:
Predictive outbound campaigns
Advanced speech and interaction analytics
Quality, collaborative performance management
Interactive social, email, voice, and web chat
Co-browse
@ Mentions for real-time agent feedback
Multi-channel contact center
Small and Medium Size Businesses (SMBs)
The X Series can enhance the customer experience and increase collaboration throughout your organization even if your company is classified as an SMB. The X Series for SMBs provides tools and resources to help you grow which includes some of the best-in-class call center features, such as instant screen sharing, conversation history storage, and other advanced phone features. With service plans for all kinds of budgets, you won't miss out simply because of cost.
The X2 provides your team with:
8x8 Team Meetings
8x8 Team Messaging
Desktop and mobile apps
Unlimited calling within 14 countries
G Suite, NetSuite, Office 365/Outlook, and Salesforce integrations
Auto attendant, click-to-dial and call queues
The X3 comes with X2 capabilities in addition to:
More storage
Operator switchboard
Unlimited calling within 32 countries
The X5 is for premium cloud communications and includes X3 capabilities. It comes with:
Supervisor analytics
Interactive voice response
Queued and web callback
Unlimited calling within 47 countries
Outbound predictive dialer
The X6 comes with a robust contact center solution and:
Customer experience analytics,
8x8 Expert Connect
Unlimited calling within 47 countries
4,000 contact center calling minutes
Post-call survey
Additional features include business SMS and texting, call recording, and unlimited Internet faxing on a desktop or mobile app.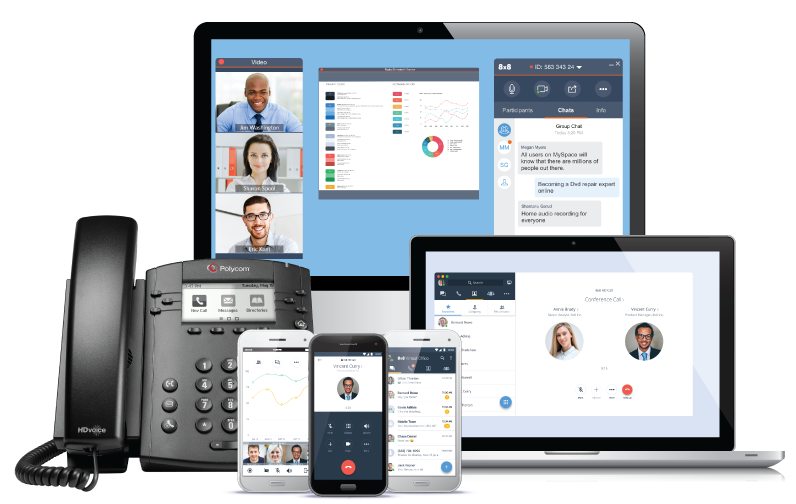 Conclusion
Consider a UCaaS solution for your enterprise-level business or SMB through 8x8. You already took the first step in reading through all of the benefits and features you'll get with a UCaaS solution through a leading provider in the industry. Don't wait another minute. Contact an 8x8 product specialist to walk through your options.