vs.

8x8 focuses on being the best so you can work on your business instead of in it. But even though 8x8 offers the best communication platform in the industry, there are competitors to choose from, like Zoom Conferencing.
Here are eight reasons why 8x8 comes out on top.
8x8 offers more than just a few web conferencing tools to keep your business running:
HD video and audio quality
Up to 100 participants allowed in meetings
Top-of-the-line security and compliance
Screen sharing across multiple windows and monitors
Integrated scheduling with your calendar
Record your meetings
Add co-hosts
Team and private chat options
Join via app, mobile, online browser, or conference room
Call-in features to quickly join the meeting
Join meetings without downloading an app
1. Features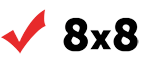 Video Webinar
Group Collaboration
Premium Audio
Integrated Scheduling
Zoom Video Meetings
ClFunctionality
Local Recordings
8x8 thinks businesses and customers should be treated as individuals and offers fully customized quotes and pricing so you can pick and choose the functionality and features you need most no matter what stage your business is in. That means no more paying for features you don't need.
2. Mix and Match
Ready to join us at 8x8 and take your business to the next level?
Request a free quote today at 1‑888‑331‑9194.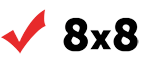 Zoom sells four static packages that don't offer much room for the individual needs of your growing business. They also require users to create multiple accounts in order to get the service they need.
8x8 thinks users should get the core features they need, when they need it, without compromising on quality service.
8x8 doesn't do hidden fees. Period. Your individual communication needs come with an individual and customized quote so you know exactly what you're getting.
3. Pricing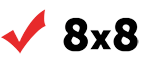 Zoom offers a free version, but problems with tech support and other limitations require customers to upgrade their service to get the features they want.
Necessary add-ons can end up being more expensive than your business planned for.
When you join 8x8, you can talk to your clients and contacts whenever you want without them ever thinking about your communication platform.
Clients don't need 8x8 software or devices in order to join your conference
The communication process looks and feels seamless on both ends of the conversation
4. Easy on Your Clients and Contacts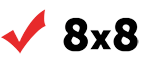 Your webinar attendees or participants will need to download Zoom to access your meeting.
There can also be headache-inducing technical issues if your attendee's devices aren't responding to Zoom.
8x8 knows that small businesses need to run smoothly while collecting data, analytics, and reporting to keep scaling and growing. That's why 8x8 offers in-depth reports so you know exactly what's going on with your calls and communication.
5. Robust Reporting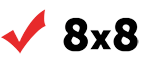 Zoom offers some reporting functionality, but not at the same in-depth level you'll enjoy with 8x8.
8x8 works on a variety of the most popular platforms like Windows, Android, iPhone/iPad, Mac, and web-based devices. That way users can run their businesses from anywhere they're working whether in the office or around the world.
6. Multi-Device Functionality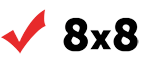 All of Zoom's functionality won't necessarily work on your favorite devices or integrate with your favorite apps, making it tough to run a conference when you really need to most.
8x8 prides itself on not just being an industry communications platform innovator, but a leader in customer service as well. 8x8 offers hands-on training and email, phone, live support, and ticket requests to help solve all of your communication platform needs.
7. Customer Support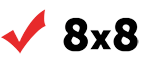 Zoom Conference also offers customer support, but at a limited capacity. They also don't offer hands-on training with a specialist like 8x8 does.
8x8 is dedicated to being the best so our clients always get the best quality communication platform. We're not ones to pat ourselves on the back, but 8x8's Tolly Report (the global leader in lab validation services for IT vendors and professionals. shows no poor quality scores. We plan to keep it that way.
8. Tolly Report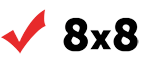 Zoom has no known Tolly Report score, making it hard for customers to know what kind of quality or industry standards they're really getting.
8x8 Wants to Keep it Simple So Your Business Can Be Successful
It shouldn't be hard to get the communication platform you really need up and running and ready to conduct business. Here's what it all comes down to — 8x8 believes customers should have amazing quality service with the ability to mix and match features to create a single communication platform that meets all your needs. And 8x8 offers it all at the best possible, transparent, customized price so you can focus on growing your business instead of worrying about your communication needs. So let 8x8 do what it does best by offering a reliable, quality communication platform so you can work on what you do best.
Get Your Custom Quote Now
8x8 thinks their customers are pretty special and hopes you'll sign-up. But the real question is, "Are you ready to prioritize your business?"
8x8 offers the best communication platform to take your business to the next level so you can focus on your company.
Join the thousands of companies that rely on the quality service of 8x8 by requesting a free quote today at 1-888-331-9194.