vs.

When you need a dependable unified communications solution for your organization, 8x8 is the best choice. 8x8 offers superior video and phone conference capabilities in all areas: security and compliance, cost and ownership, global reach and language options, industry reputation and user experience. Compared to the Webex Meeting product, here's how 8x8 stands out in every category.
Don't put your business at risk. Protect your business and your clients with the most secure communications platform available. Get comprehensive compliance for all Health Insurance Portability and Accountability Act (HIPAA), business associate agreement (BAA), Federal Information Processing Standard (FIPS), Federal Information Security Management Act of 2002 (FISMA) 140-2, Customer Proprietary Network Information (CPNI), Privacy Shield, Cyber Essentials, ISO/IEC 27001/9001, UK Government, Australian Taxation Office (ATO) and Payment Card Industry (PCI) compliance regulations.
1. Security/Compliance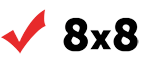 Webex Conference products meet compliance regulations for European Union General Data Protection Regulation (GDPR), HIPAA and ISO/IEC 27001.
Get the exact plan you need. Mix and Match, only offered by 8x8, allows customers to pay only for the capabilities needed. All service plans are optimized for each user's unique needs to provide the lowest total cost of ownership.
2. Mix and Match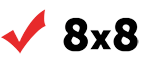 The Webex Video Conference product only offers pre-formed plans for annual subscriptions. This restricts users to pricing and forces them to choose from plans with features they may not need.
Communicate with essential contacts. 8x8 covers the countries you need to reach. Connect with users in more than 90 countries, including local numbers. Use multiple language options, including English, French (Fra), Spanish, Italian, German, Dutch, Portuguese (Bz), Finnish, Danish and French (Can).
3. Global Reach and Support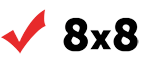 Webex Conference products only cover less than 50 countries. Language options are limited.
Get more intelligent communication. 8x8 provides one integrated communication platform. This breaks down silos, improves productivity and boosts the user experience.
4. User Experience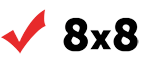 Users comment that Webex requires so much processing power on computers, it makes multitasking during meetings impossible. Calls are challenging because individuals can't be muted. Features are not intuitive. Video quality is poor. File sharing is difficult.
Save time and hassle. 8x8 offers a unified communications platform that doesn't require logging in to multiple apps. All company locations are on a single platform. Maintenance and upgrades take place in the cloud.
5. Unified Communications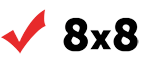 Instead of being unified communications-focused, the Webex Video Conference product works with other apps.
Don't pay for unneeded services. 8x8 is built to be affordable for all types of businesses. We provide exceptional service for the best price.
6. Competitive, Flexible Costs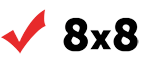 The Webex Video Conference product requires extra costs just to do what you need to, like a host license for everyone if you want to host meetings and a user license if you want your team members to have access to the Webex Teams app.
Never settle for less. 8x8 keeps your business running, as a recognized Leader for Unified Communications by Gartner. Our customer service team is always here to help.
7. Reliable Service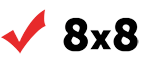 The Webex Video Conference product experienced major outages in 2018 that impacted its teams, meetings, calling, care and context services. When services did recover, it was a slow and problem-riddled process.
Get service from an industry leader. 8x8 was consistently the top service provider in the IP Voice Quality Report by third-party tester The Tolly Group.
8. Tolly Report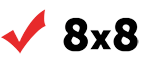 The Webex Video Conference product was not even featured in the Tolly Report.
The answer is clear —
8x8 checks off all the boxes in excellence, quality, security and user experience.
Let us show you how 8x8 is the top choice for the best Fortune 500 features for the best value. We'll be with you every step of the way as your company grows.
Benefits of 8x8 Unified Communications
For your business to stay competitive, global business communication can't wait. When you use a product that is slow, clunky, difficult to learn, a pain to launch and that features poor audio and video quality, your business suffers.
8x8 unified communications solutions provide reliable video conferencing and phone communication for clients and their employees around the world. 8x8 makes voice, video and chat communication, plus your contact center, all accessible in the cloud. Collaborate or access contacts whenever you want, from any connected device, in a secure portal that protects your business through compliant practices.
Easy-to-Use Unified Communications Features
8x8 unified communications solutions can be mastered by anyone to make communicating simple and easy. Check out some of our features.
One system of engagement
No need for multiple log-ins or platforms to keep track of.
One-click communication
Employees can go from video meetings to voice to chat with one click.
Enhanced meeting participant capabilities
Set up meetings for up to 100 participants.
Employee engagement
Get one-on-one messaging, team messaging and company-wide messaging to keep your employees in the loop.
Analytics
Detailed dashboards show active calls, talk time, abandoned calls and more.
Unlimited calling
Business never stops, so why should your communications? Call who you need to, when you need to, without having to worry about going over budgets or minutes.
Plus, each 8x8 product includes features like:
Voicemail
Auto attendant
Click-to-dial
Music on hold
Call recording
Media storage
Call queues
Mobile and desktop apps
Business SMS and texting
Unlimited internet faxing
8x8 integrates with G Suite, Office 365 / Outlook, NetSuite, Salesforce and Zendesk. Power up your communications with the business communication tools you're already using. Streamline your contact management systems. Work more intelligently with 8x8.
Choose the Unified Communications Plan that Works for You
One of the biggest ways 8x8 stands out among competitors is that we work with each individual client to help them find the absolute best custom plan for their needs. You may not want every amazing feature 8x8 offers, and that's OK. Depending on your business size, how many employees you have and how you prefer to communicate, we'll help you find a plan that works for your needs and is a great value for your budget.
Don't put your business communications at risk. Choose the dedicated team at 8x8 to provide you with the highest quality unified communications for your business.
Get a free quote by calling
1-888-331-9194
to talk with one of our friendly representatives now.
Learn more about 8x8's business video conference, VoIP, and PBX services. Call 1-888-331-9194 or fill out the form below to get a quote: