vs.

No matter what business you're in, having the right collaboration and communication tools is the key to boosting employee productivity, increasing cost-efficiency, and improving customer satisfaction.
Many businesses can benefit from a PBX (Private Branch Exchange,) a private telephone network that allows users to communicate internally and externally through a variety of communication channels, such as VoIP and video conferencing.
Setting up a business PBX involves a significant investment so make sure you're selecting the best service provider and package that's right for your company. Here's how the most popular providers — 8x8 and Skype for business — stack up:
Comprehensive compliance with many different industry standards, such as HIPAA BAA, FISMA 140-2, FIPS, CPNI, Privacy Shield, Cyber Essentials, ISO 27001/9001, UK Government ATO and PCI to ensure the safety of your data.
1. Security/Compliance
Cybersecurity is a major concern for businesses since data breaches are not only costly but could also erode trust and damage your company's reputation. Use a provider that meets a variety of industry standards to help you stay compliant.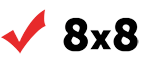 Compliance varies depending on the service package. For example, Skype for Business online is HIPAA compliant while Skype for Business on-premise isn't. In addition, users are responsible for navigating the compliance and data governance settings, which can be complicated and confusing.
You only pay for the capabilities you need with our mix-and-match packages, which offer service plans optimized for your specific needs so you can minimize the total cost of ownership.
2. Mix-And-Match
Select a cloud communication provider that offers a large variety of features and the flexibility to select those that suit your needs so you can switch up the capabilities and scale up or down easily to optimize your budget.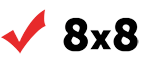 Video conferencing and other communication features are tied to Office 365, limiting the flexibility for users to choose the specific functionalities that are most suitable for their businesses.
International calling, which is included in most plans, covers over 90 countries (including local numbers) and offers multiple language options including English, French (Fra), Spanish, Italian, German, Dutch, Portuguese (Bz), Finnish, Danish, French (Can).
3. Global Reach and Support
In today's global business environment, having the right communication tools to collaborate with teams, partners and customers from all over the world is critical to success. Doing business internationally means you should have access to technical support around the clock to minimize downtime and disruption.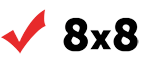 Local numbers are available for purchase at a flat fee for receiving inbound calls. It may get costly if you want to establish a local presence in multiple countries.
Achieved the highest score in 17 out of 24 scenarios.
4. Superior Call Quality
When you're conducting business via voice or video calls, consistent quality and uninterrupted services are essential. Poor Quality of Service (QoS) caused by latency, jitter, and packet loss can lead to disruptions and lapses in the audio and video calls.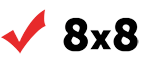 Users have reported inconsistent call quality and lags in video conference calls.
Ranked as a Leader for seven consecutive years in Gartner's UCaaS Magic Quadrant.
5. Recognized Leader
Selecting a vendor that's a recognized leader in the VoIP and UC market not only gives you high-quality and reliable services but also allow you access to the latest cloud-communication technologies that will keep you at the forefront of your industry.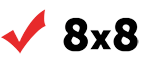 Ranked as a Challenger in Gartner's UCaaS Magic Quadrant.
Unified communication features (e.g., video conference, VoIP, screen sharing, messaging) are integrated with call center functions to provide an integrated communication platform that helps break down silos, increase productivity and improve customer experience.
6. One System of Engagement
By combining UC services (e.g., business phone, team messaging and video conferencing) and contact center into a single cloud platform, you can take advantage of the lower total cost of ownership (TCO), access to full customer journey analytics and revenue acceleration.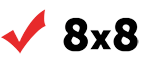 It's not a complete communication and collaboration solution. You still need to purchase other software applications, which may not integrate seamlessly for streamlined user experience.
Every 8x8 upgrade happens seamlessly without downtime.
7. Always Up to Date
Software updates bolster security and functionality. However, your business can't afford to lose hours of the workday waiting for an update to download.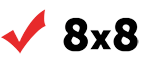 Skype for Business can be downloaded without downtime, but first users must be moved from on-premise to the cloud.
8. Tolly Report
Tolly Group, a third-party global lab validation leader in IT vendors and professionals, compared the voice quality of 8x8 Virtual Office against other major cloud vendors including Google Voice/Hangouts, Microsoft Skype for Business Online, and RingCentral Office.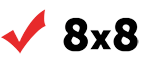 Lags behind 8x8 in most test cases.
See For Yourself
All the big players in the communications industry have pros and cons. Facts matter, and that's why we've chosen to do a straight comparison with one of our competitors to show you how we are different and what you get when you choose a phone service from 8x8.
Ready to test our call quality? Speak to an expert at 1-888-331-9194.
When it comes to VoIP, 8x8 provides a reliable and compliant cloud solution at a demanding level rarely seen by other cloud providers. Don't take your chances with a subpar cloud-based telecom system.
Call 1-866-879-8647 or fill out an online form to request a no-obligation quote from an 8x8 product specialist.
Learn more about 8x8's business video conference, VoIP, and PBX services. Call 1-888-331-9194 or fill out the form below to get a quote: