- vs. -

8x8 delivers a single, integrated platform for voice, video, chat and contact center. Mix and match service plans allow customers to select one plan for their entire company or several different plans that are optimized for particular departments, teams or individuals.
Product Offering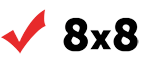 Jive has disparate product lines and does not have a unifying platform for all of its product capabilities.1 Jive and GoTo are independently acquired platforms, which parent company LogMeIn has not fully integrated. Jive provides calling, and GoTo provides meetings. These two platforms do not work seamlessly together. Jive does not allow customers to mix and match service plans.2
8x8 is a recognized industry leader in both unified communications and contact center. 8x8 is the ONLY company to be named a Leader in 2019 Gartner Magic Quadrant for Unified Communications as a Service, Worldwide for the 8th year in a row. 8x8 has an Excellent Rating from PCMag. 8x8 has also been recognized four years in a row in the Gartner Magic Quadrant for Contact Center as a Service.
Industry Leadership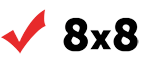 Jive is not a Leader in the 2019 Gartner UCaaS Magic Quadrant and is not even listed in PCMag's Best Business VoIP Providers for 2019.3,4 Jive has to partner for its contact center solution. Jive's parent company has an 80% subscriber renewal rate that was labeled "unacceptable" by analysts.5
8x8 consistently delivers the best voice quality according to The Tolly Group, a leading global provider of testing and third-party validation.
Leading Voice Quality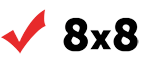 Jive makes claims of high voice quality but it does not have an independent party to back this up.6
8x8 integrates with more than 20 business applications including G Suite, NetSuite, Office 365 and Salesforce to help increase customer engagement and boost employee productivity.
Integrations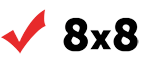 Jive lacks key integrations with G Suite, NetSuite and Office 365.7
8x8 sets the bar for security and compliance and has numerous certifications including HIPAA, FISMA and SOC.
Security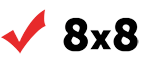 Jive lacks FISMA certification and its HIPAA certification is inadequate.8,9
8x8 offers unlimited calling to up to 47 countries and has 15 data centers located in geographically dispersed sites across the globe.
Global Reach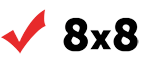 Jive has limited international calling coverage. Jive only has two data centers outside of the U.S.10
Sources: 1. Jive website 2. Jive website 3. 2019 Gartner UCaaS Magic Quadrant 4. PCMag 5. Seeking Alpha 6. Jive website 7. Jive website 8. LogMeIn 9. Healthcare IT Today 10. Jive website
Learn more about 8x8's solutions. Call 1-888-331-9194 or fill out the form below to get a quote: