vs.

Delivering the best-in-class customer experience is the key to success for today's businesses, no matter what industry you're in.
With so many call center software applications on the market, selecting one that's right for your company can be a rather daunting process. Here's how a couple of top contenders — 8x8 and inContact call center software — measure up:
Comprehensive compliance with many different industry standards, such as HIPAA BAA, FISMA 140-2, FIPS, CPNI, Privacy Shield, Cyber Essentials, ISO 27001/9001, UK Government ATO and PCI.
1. Security/Compliance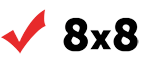 Compliance with PCI, FedRAMP, SOC 2, SOX, CPNI, Privacy Shield, and HIPAA. BAA is only available upon request.
Mix-and-Match service packages mean you only pay for the capabilities you need, with service plans optimized for your specific needs to maximize cost-efficiency.
2. Mix and Match Features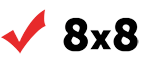 Siloed solutions offer less flexibility for combining different features, preventing you from optimizing your budget and streamlining your call center operation.
Services and international calling feature cover over 90 countries (including local numbers) and offer multiple language options including English, French (Fra), Spanish, Italian, German, Dutch, Portuguese (Bz), Finnish, Danish, French (Can), and more.
3. Global Reach and Support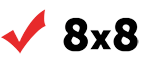 Services cover 50 countries with limited language support.
8x8's quality achieved the highest score in 17 out of 24 scenarios.
4. Superior Call Quality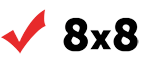 Customers complain about downtime, during which dropped calls aren't recorded for future review.
99.9999% core uptime means you can rely on us for all your business collaboration and communication needs at all times.
5. Reliable Services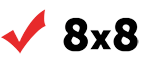 Customers have reported downtimes that lead to missed calls.
Ranked as a leader for seven straight years in Gartner's UCaaS Magic Quadrant.
6. Recognized Leader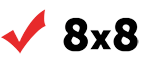 Ranked as a leader in Gartner's UCaaS Magic Quadrant for only four years.
An integrated communication platform combines call center functions with unified communication features to break down silos, increase productivity, and improve customer experience.
7. One System of Engagement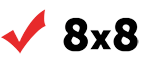 Call center functions have limited integration. Businesses need to use multiple platforms for other communication needs, leading to low productivity, departmental silos, and fragmented reporting.
No poor quality scores in the third-party lab validation report, which compared the voice quality of 8x8 Virtual Office against other major cloud vendors including Google Voice/Hangouts, Microsoft Skype for Business Online, and RingCentral.
8. Tolly Report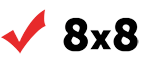 inContact is a white label version of the RingCentral software, which has 10 scores with poor quality.
Why 8x8 Call Center Service Is the Best inContact Alternative
8x8 offers a large variety of features with the highest degree of scalability and flexibility to meet the needs of businesses of all sizes. When compared to inContact call center software, 8x8 gives you an edge in these business-critical areas:
Seamless Call Transfer
8x8's auto-attendant function routes inbound calls through a phone tree to ensure that they're transferred to the right agent.
inContact has a complicated call transfer process that's often confusing and inefficient, leading to a frustrating customer experience.
Intuitive User Interface
8x8 provides an easy-to-use dashboard from which administrators can configure and manage the entire system via a single interface.
Some users find inContact's dashboard and interface quite complicated, especially for users not familiar with cloud communication technologies.
Uptime and Reliability
8x8's SSAE 16-certified secure data centers have multiple built-in redundancies so you can rely on a 99.9999% core uptime for all your customer communication needs.
inContact users have experienced downtime that causes calls to be dropped, which were not recorded for future reference and follow-up. This could lead to poor customer service and missed opportunities.
Efficiency and Productivity
8x8's "one system of engagement" allows you to have all internal and customer-facing communications consolidated on one single platform for optimal cost-efficiency.
inContact only offers call center functions so you'll need additional solutions for other communication needs. The limited integration increases cost, impacts productivity, and causes a less-than-seamless user experience.
Cost of Ownership
8x8's mix-and-match features and "one system of engagement" can help you optimize the cost of ownership across all communication and collaboration tools.
There's an upfront implementation cost for inContact's solution while the ongoing subscription is higher than most comparable call center software services.
Reporting Capabilities
8x8's proprietary features such as FAQ Knowledge, Personal Agent Connect, and Customer Experience give you the metrics and insights you need to improve agent performance, fine-tune communication processes, and increase customer satisfaction.
inContact has limited reporting capabilities and the customized reports can be hard to navigate.
Improve Customer Experience With the Best Call Center Solution
8x8 gives you contact center features used by Fortune 500 companies for the best value and are there with you every step of the way with extensive customer support.
Learn more about 8x8's cloud contact center software. Call 1-855-463-5199 or fill out the form below to get a quote: