vs.

Selecting a VoIP and UCaaS (Unified Communication as a Service) provider for your business can be quite an overwhelming process when you have to parse through the features, functionalities and plans of different vendors.
It's important to select a reliable and reputable provider that has extensive experience in delivering these services. If you're considering 8x8 vs. Grasshopper — two of the most popular VoIP and UC services — here are the key features you should consider when comparing the two companies.
Comprehensive compliance with HIPAA BAA, FISMA 140-2, FIPS, CPNI, Privacy Shield, Cyber Essentials, ISO 27001/9001, UK Government ATO and PCI.
Service can be adapted to meet various privacy laws, standards and policies.
Fully compliant with covered laws and standards for healthcare, finance and other high-privacy industries.
8x8 takes privacy and compliance very seriously, and we know our customers do, too. That's why our phone service offers a variety of compliant plans to meet different business needs.
1. Security/Compliance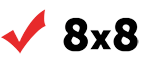 Not HIPAA compliant and limited compliance with PCI and FINRA.
Cannot sign a BAA.
Technical support team reserves the right to read all messages and view account settings, making Grasshopper Phone Service not compliant with all types of privacy laws.
Grasshopper VoIP Phones can't be used as-is for compliant industries such as healthcare, finance and others at this time.
Mix and Match allows customers to pay only for the capabilities they need, with service plans optimized for each users' unique needs for the lowest total cost of ownership.
8x8 offers customizable service you can adapt so you only pay for what your business actually uses.
2. Mix and Match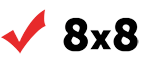 A single edition for all users. Grasshopper requires users to create multiple accounts and log-ins for different products in order to build a functioning communication system. For many businesses, this is simply not practical.
Covering over 90 countries (including local numbers)
Multiple Language Options: English, French (Fra), Spanish, Italian, German, Dutch, Portuguese (Bz), Finnish, Danish, French (Can).
A plan from 8x8 can help you make contact with countries across the globe. We also offer a significant list of languages so you can communicate with more people and expand your reach. Call your customers no matter where they live or what type of phone they have.
3. Global Reach and Support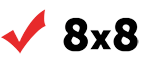 Covering fewer countries and offering limited language options.
Grasshopper VoIP offers only a few languages and covers a smaller number of countries. If you want to reach customers or talk with phone subscribers, you have to check the list to make sure you're covered.
Delivered the highest score in 17 out of 24 scenarios.
Great features and functionality you can count on for your business communications.
With strong call quality that sets 8x8 apart, it's no wonder so many companies choose us for their business VoIP service.
4. Superior Call Quality and Features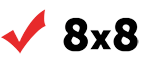 Limited features and functionality. To use additional features with your communications, you have to log- in to separate accounts and use different services together with Grasshopper VoIP phone service.
Unfortunately, not all plans and not every vendor is right for every business. Grasshopper phone service has very basic functionality that could limit communication for your business.
Ranked as a leader for seven straight years in Gartner's UCaaS Magic Quadrant.
8x8's call quality means your business gets the reliability it deserves from a phone service. Your company can depend on our service to give you a professional, polished and reliable image. Gartner's ratings are a reason to be confident in what 8x8 has to offer for your company.
5. Recognized Leader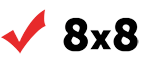 Not on Gartner's UCaaS Magic Quadrant list.
Grasshopper's VoIP service didn't make Gartner's Magic Quandrant list, and can't be expected to necessarily meet the same quality standards and service as 8x8. Without a rating from a reputable agency like Gartner, it's hard to know exactly what you're going to get with an unrated service.
One integrated communication platform breaks down silos, improves productivity and customer experience.
With 8x8, you can bring all of your communications into one single platform — no more disorganized, cluttered communications experiences.
6. One System of Engagement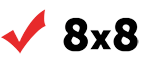 Multiple platforms and limited integrations lead to low productivity, departmental silos and fragmented reporting.
With Grasshopper, you have different accounts you need for different services, making it challenging to stay connected and communicate with others.
Fits the business goals of a variety of different industries, business sizes, and needs. Customizable plans and features for every business and budget.
8x8 has just what your business needs, and a whole lot more.
7. Best for Businesses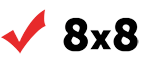 May fit some businesses, but doesn't necessarily meet the compliance, budget, functionality, or feature needs of every business. Subscribers may need to change vendors later as their communications needs change.
8x8 does not have any poor quality scores from Tolly Report analysts. You can count on 8x8 to offer superb quality consistently to phone service customers.
8. Tolly Report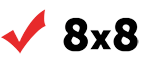 Not listed and not reported by Tolly.
Grasshopper isn't rated by a Tolly Report, so you can't find comparable information from Tolly to help you make a decision about Grasshopper's VoIP phone service.
VoIP Service That Does More for Your Business
For today's modern businesses, it's essential to have more than just phone service. Business VoIP can help your organization project a professional image, reach more customers and communicate more effectively.
In the past, phone service was necessarily expensive and had limited features. Not anymore. VoIP has transformed what's possible for phones, and the internet has given businesses a much greater selection of choices and communications opportunities.
With 8x8, you get more for your business than ever before. Today's VoIP phone service is better, faster, higher quality and feature-rich. There are so many vendors and plans to choose from — but keep in mind that no two VoIP plans are truly the same.
We'd like to think our track record and customer experience speaks for itself.
Request a Free Quote Today or Call 1-888-331-9194
Find out why customers trust 8x8 for high-quality, affordable and scalable phone service that's packed with the features your business needs.
Enjoy the features your company is looking for in a VoIP service plan:
One platform.
Support for more languages, international calling and long distance.
Plans and features that can adapt to different needs.
Support from specialists who know business VoIP.
When it comes to VoIP, 8x8 provides a reliable and compliant cloud solution at a demanding level rarely seen by other cloud providers. Don't take your chances with a subpar cloud-based telecom system. Call 1-888-331-9194 or fill out an online form to request a no-obligation quote from an 8x8 product specialist.
Learn more about 8x8's cloud contact center platform. Call 1-888-331-9194 or fill out the form below to get a quote: