vs.

Need to set up a GoToMeeting video conference? Or, a GoToMeeting conference call? If you're looking for the best GoToMeeting alternative, we did a breakdown of 8x8 vs. GoToMeeting. While both are popular alternatives, 8x8 wins hands down for features, pricing, and customer service.
Selecting a VoIP and UCaaS (Unified Communications as a Service) provider for your business can be a bit overwhelming. There are all kinds of functionality issues, features, and plans. But, that's where 8x8 can help. 8x8 has so much to offer and it includes several features your business can use as you grow and scale.
Let's take a look at 8x8 vs GoToMeeting and show you how much more 8x8 has to offer...
With more than 1 million business users, 8x8 clients include trusted leading enterprises like:
Allstate
McDonald's
iCruise.com
Regus
Shimano
Shutterstock
8x8 VoIP business phone solutions include integrations with:
Zendesk, ACT by Sage
eAgent, Netsuite
CRM, MS Outlook
Skype for Business
8x8 Web Dialer
Awards and Recognition:
8x8 is the only Leader in the 2018 Gartner Magic Quadrant for UCaaS also in the Magic Quadrant for CCaaS, North America
2018 Competitive Strategy Innovations and Leadership Award
8x8's Enterprise Engagement Management Platform: Moving Toward an Integrated Approach
1. Recognized Industry Leader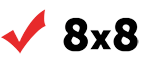 GoToMeeting includes customers like:
ProCirrus Technologies
Collect My Thoughts
GoToMeeting supports integrations with the following applications:
Slack
Slack Sales Cloud
Microsoft Office 365
Zapier
Awards and Recognition:
Best Productivity App 2016
Working with a communications provider that's an industry leader helps keep your business at the forefront of your industry. From reliable services to advanced technologies, you have robust tools for managing the communications your business needs.
8x8 works with the following available devices:
Android
iPhone, iPad
Mac
Windows
Windows Mobile
8x8 is ideal for the following business sizes:
Small Businesses
Medium-Sized Businesses
Large or Enterprise Businesses
Entrepreneurs or Freelancers
2. Best For Businesses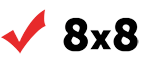 GoToMeeting works with the following devices:
Android
iPhone, iPad
Mac
Windows
Windows Mobile
GoToMeeting works with the following business sizes:
Small Businesses
Medium-Sized Businesses
Large or Enterprise Businesses
Entrepreneurs or Freelancers
8x8 offers unlimited international calling plans and global customer support. With VoIP phones, most calls domestically and internationally are free.
Other benefits include:
Unlimited Extension plans offer unlimited calling to the US, Canada, Puerto Rico, Guam, US Virgin Islands, France, Ireland, Italy, Spain, and the UK.
Global Extension plans include unlimited calls to 40 international locations worldwide.
If there's an office in another country, 8x8 VoIP phones can give them access to calls between offices and it's free!
8x8's User Satisfaction Score: 91%
8x8's Smart Score Evaluation: 9.3
Languages Supported:
English
Dutch
Finnish
French
German
Italian
Spanish
Swedish
and 8 other languages
Markets:
United States
Asia
Australia
China
Canada
5 Other Markets
3. Global Reach and Customer Support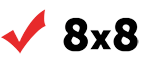 GoToMeeting call prices vary depending on the calling plan.
GoToMeeting's User Satisfaction Score: 87%
GoToMeeting's Smart Score Evaluation: 8.8
Languages Supported:
English
Dutch
Finnish
French
German
Italian
Spanish
Swedish
Markets:
United States
Asia
Australia
China
Canada
5 Other Markets
Today's global businesses need communication tools that will help them collaborate efficiently and effectively with teams, clients and customers. When working internationally, you should have helpful access to customer service support anywhere you, your clients, customers, or business partners are located.
8x8 offers unlimited international calling and four-digit extension dialing to any location on the planet in addition to:
Real-time communications analytics for global insights into staffing, sales, coaching, team performance, customer service and more.
Mobile apps
Customer service that supports telephony, chat with automatic language translation, email, web callback, proactive chat, virtual queuing, and customer callback.
4. Global Reach and Customer Support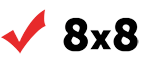 GoToMeeting's global support features include:
Toll-free numbers for over 50 countries
Mobile apps
Reservationless calls
Call recording
Integrated scheduling
Don't get tied up in data traffic! Having uninterrupted calls and videos can improve your communications globally. If there's poor quality, callers might experience latency or lags on the line that can disrupt the flow of business.
8x8 offers the highest call quality:
8x8 prioritizes data packets to ensure no interruptions or lags. This means every video and voice conference will have the fullest bandwidth available no matter where you are in the globe.
5. Superior Call Quality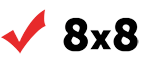 GoToMeeting provides helpful resources to troubleshoot problems that might affect call quality:
GoToMeeting has various troubleshooting recommendations to help with bandwidth, headsets, and audio playback features.
Cybercrimes cost businesses $600 billion globally and that's why cybersecurity should be a priority for every business. Data breaches of any kind can disrupt your business can cause stakeholders to lose trust in your organization. Ensuring you have encrypted protection that meets SSAE 16 standards can give you continuous access to voice and video without disruptions or breaches.
8x8 provides multiple layers of security protection to meets safety and compliance of mission-critical communications. 8x8 prioritizes data packets to ensure no interruptions or lags thereby allowing every video and voice conference to have the fullest bandwidth available no matter where you are in the globe.
8x8 Virtual Office and Virtual Contact Center solutions are certified as compliant with:
CPNI
Cyber Essentials
FISMA
HIPAA
ISO 27001 and ISO 9001
Privacy Shield Framework
UK Government ATO
6. Security/Compliance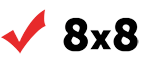 GoToMeeting offers HIPAA compliance for video conferencing to ensure privacy.
When your business can offer unified communication (UC) services like team messaging, video, voice, and business phones, you can scale faster. Having your communications in the cloud can help give you cost savings as you don't have to worry about servers and bulky hardware.
8x8 provides "one system of engagement." By providing UCaaS and CCaaS in one, unified communications and the contact center are combined into one platform in the cloud for business phone, team messaging, meetings, and the contact center.
Benefits include:
A reduced total cost of ownership
Complete customer journey analytics
Revenue acceleration
One cloud communications platform
7. One System of Engagement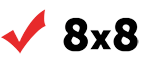 GoToMeeting offers a suite of meeting tools that include:
Messaging
One-click meetings
Smart transcripts
Smart meeting assistant
Note: Some features are only available for enterprise plan customers.
Consider third-party reviews from the Tolly Group, a reputable validation and certification service. Comparing 8x8 with other top VoIP and UC providers, the Tolly Group found that 8x8's Virtual Office delivered the highest voice quality in the majority of test cases.
8. Tolly Report
Tolly Group, a third-party global lab validation leader in IT vendors and professionals, compared the voice quality of 8x8 Virtual Office against other major cloud vendors including Google Voice/Hangouts, Microsoft Skype for Business Online, and RingCentral Office.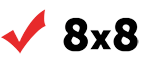 GoToMeeting was not included in the Tolly Group's report.
The Best Features Conference Calling Services Should Include
Often, factors that come into play when selecting a conference call service will include costs, features, and customer support.
Voice and video conference calling services should include:
Competitive Pricing: Services should offer low prices, several features and benefits, and a free trial.
Simplicity: When setting up voice and video conferences, it should be easy for anyone to set up voice and video calls and connect others. Software should also be easy to use and set up. And, customer support should be readily available to troubleshoot any problems.
Service Quality: Services should offer a clear voice and video quality with no lags or disruptions. And, voices should be clear with minimal background noise.
Call and Video Features: Options should be easily accessible. They should include features like call forwarding, remote calling, call waiting, mute, and volume control. Optional features might include call analytics, recording, and video playback.
Team Meeting Tools: Document sharing and team messaging can increase efficiency and collaborations.
Varied Package Plans: Another benefit a conference calling service should provide is package plans. This can help with small and mid-sized businesses. Or, for enterprises looking to scale phone services.
Customer Service: Having helpful support can ensure there are no problems with the service. Support offered via phone, text, and voice are also helpful. And, support available 24/7/365 is a big criterion for global businesses.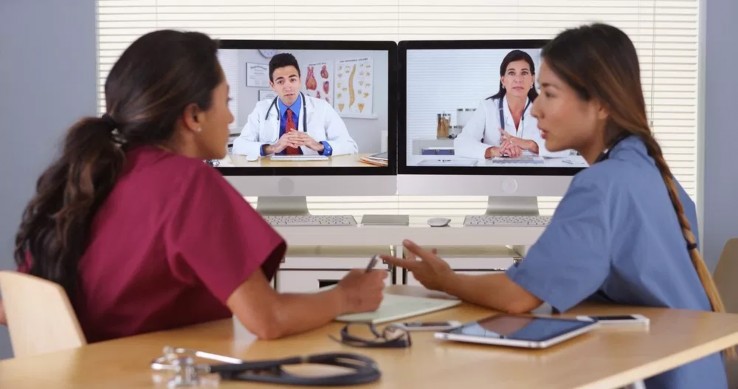 8x8 VoIP Business Phone Service
8x8 offers hosted VoIP business phone service and cloud solutions for businesses. Whether it's a small, mid-sized or enterprise business, 8x8 can transform customer and employee experiences. 8x8 uses one seamless system for voice, video, team collaborations and includes a convenient contact center. With superior technology, businesses can communicate faster and smarter to exceed customer expectations.
With conference calling, 8x8 is a far superior competitor. 8x8 offers:
Tiered pricing structures
Team collaborations
A host of free VoIP calling features
By using cloud and advanced management tools, 8x8 includes dedicated phone support 24/7/365. And with affordable prices, it ranks as one of the best communication solutions for businesses all over the world.
GoToMeeting Business Phone Service
GoToMeeting is a competitive conference calling service. It offers 4 tiered pricing plans and a free trial. A drawback is their free trial is limited to 14-days and only 50 participants. Another downside is the starter plans are limited to 10 participants and the free trial only allows features like 1-click meetings, screen sharing, and web audio. Additionally, to access advanced features like onboarding and training, customer success manager, and advanced webinar features, customers have to sign up for the enterprise plan.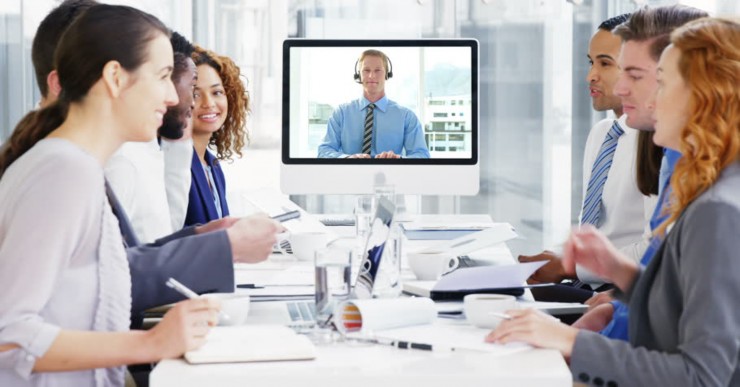 Bottom Line: 8x8 Ranks as the Best GoToMeeting Competitor
Ultimately, when comparing 8x8 against GoToMeeting, 8x8 has better features and a wider reach globally. If you're looking for the best GoToMeeting conference call competitor, 8x8 wins hands down and it allows businesses to host calls with multiple participants over the internet.
8x8 offers unlimited meetings, voice and video conference calls, and helpful team collaboration tools. With features like file sharing and team meeting tools, it's obvious why 1 million business users that include small, mid-sized, and enterprise businesses, rely on 8x8. Try 8x8 today and see the difference!
Learn more about 8x8's business video conference, VoIP, and PBX services. Call 1-888-331-9194 or fill out the form below to get a quote: