vs.

In today's competitive business environment, delivering the best-in-class customer service is the key to success for companies of any size.
Selecting a call center software that's right for your business can make a big difference in your customer experience and operation efficiency, which will directly impact sales and profits. Here's how a couple of top contenders — 8x8 and Five9 call center software — stack up against each other:
Comprehensive compliance with a variety of industry standards, including HIPAA BAA, FISMA 140-2, FIPS, CPNI, Privacy Shield, Cyber Essentials, ISO 27001/9001, UK Government ATO, and PCI.
1. Security/Compliance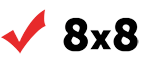 Compliant with ISO 27001/27002, COBIT, PCI DSS, and Cloud Security Alliance (CSA).
Only pay for the capabilities you need with our mix-and-match service packages. We optimize the service plan for your specific needs so you can minimize the total cost of ownership.
2. Mix and Match Features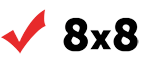 As a call center focused platform, it offers less flexibility to combine other functions for optimizing your budget and streamlining your operation.
Service packages include an international calling feature that covers over 90 countries (including local numbers) and offers multiple language options including English, French (Fra), Spanish, Italian, German, Dutch, Portuguese (Bz), Finnish, Danish, French (Can).
3. Global Reach and Support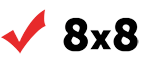 Partners with third-party carriers to provide international toll-free numbers for inbound calls. However, the application doesn't allow users to call numbers in certain countries, such as Israel or India.
Achieved the highest score in 17 out of 24 scenarios.
4. Superior Call QUality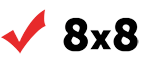 Customers have complained about lags, dropped calls, lost connections, missed calls, and downtime.
Ranked as a Leader for 7 straight years in Gartner's UCaaS Magic Quadrant.
5. Recognized Leader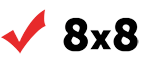 Ranked as a Leader for 4 years in Gartner's UCaaS Magic Quadrant.
Combines call center functions with unified communication features on one centralized platform so businesses can break down silos, increase productivity, and improve customer experience.
6. One System of Engagement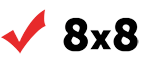 The software only offers call center functions. There's limited third-party integration and businesses need to use multiple platforms for other communication and collaboration needs, which could result in low productivity, departmental silos, and fragmented reporting.
Offers a variety of service plans at affordable rates to provide you with the flexibility to add features as your business grows and expands.
7. Best for Businesses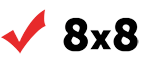 Cost is high and additional charges may apply to long distance and international calls.
7. Tolly Report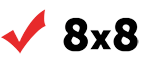 Not included in the evaluation.
Why 8x8 Call Center Platform is the Best Five9 Alternative
8x8 offers a large variety of Unified Communications (UC) features that integrate seamlessly with its contact center service (UCaaS) to meet the needs of businesses of all sizes. When compared to Five9 call center software, 8x8 gives you an edge in these business-critical areas:
Uptime and Reliability
8x8's SSAE 16-certified secure data centers have achieved 99.9999% core uptime thanks to multiple built-in redundancies. You can trust us for all your critical communication needs.
Five9 users have experienced downtime, glitches with voicemails, disconnected calls, poor routing, and lags. In addition, some users complained that calls were not recorded accurately. These mishaps could lead to poor customer service and missed opportunities.
Seamless Integration
8x8 offers a suite of communication and collaboration tools as part of its packages so users can move seamlessly from one feature to another via a unified dashboard, thereby eliminating limitations, errors, and inefficient workflows that are common in third-party integration.
Five9 doesn't have extensive UC features so businesses will need to purchase additional software applications for their communication and collaboration needs. Limited third-party software integration often results in a frustrating user experience.
Intuitive User Interface
8x8's dashboard offers an easy-to-navigate user experience from which employees can access all the features they need while administrators can configure and manage the entire system via a single interface.
Some users find Five9's dashboard and interface complicated to use. Workflows aren't streamlined to optimize efficiency and some users report having trouble in configuring the software so it'd function as intended.
Easy-To-Use Reporting
8x8's proprietary features such as FAQ Knowledge, Personal Agent Connect, and Customer Experience provide the metrics and insights you need to improve agent performance, fine-tune communication processes, and increase customer satisfaction.
Five9 offers limited reporting capabilities and some users have noted discrepancies in logged hours, which could lead to reporting errors.
Improve Customer Experience With the Best Call Center Solution
8x8 gives you contact center features used by Fortune 500 companies for the best value and we'll be there with you every step of the way with our extensive customer support to ensure seamless implementation and integration of your systems.
Learn more about 8x8's cloud contact center platform. Call 1-888-331-9194 or fill out the form below to get a quote: