vs.

8x8 is the top unified communications choice among users in all types of business sizes. From large-scale enterprises, to small-to-midsize businesses, to individuals and contractors, 8x8 provides reliable and clear communication from any device. We've also been awarded top honors by industry leaders. 8x8 has the widest global reach, the most affordable custom plans and cutting-edge technology that your business needs. We're in business to help your business succeed. Learn four reasons why 8x8 is the VoIP choice over Comcast Business VoIP PBX.
Communicate with who you need to, anywhere in the world. 8x8 covers more than 90 countries, including local numbers. Our unified communications products feature multiple language options, including English, Spanish, French (Fra and Can), Italian, German, Dutch, Finnish, Danish and Portuguese (Bz).
1. Global Business Capabilities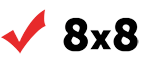 Comcast Business Phone focuses on American services. It isn't even available everywhere in the United States.
Pay for what works for you. The innovative 8x8 Mix and Match plan enables users to customize what they pay for based on their unique needs. We learn about your business to provide tailored recommendations. You save money and get the best VoIP value for a solution you can always count on.
2. Mix and Match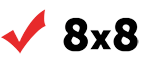 Comcast Business VoIP limits users to set plans that may not make sense for their businesses. You could end up paying extra for features you don't need.
Get clear, reliable, easy-to-use communication. 8x8 is designed for any user to master. Calls are easy to make. Meetings are simple to set up. Video and audio quality is impeccable. Qualities like these make 8x8 a brand that is consistently ranked as a leader of VoIP and unified communications options.
3. User Experience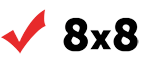 A few comments reported on ConsumerAffairs.org state that Comcast Business Phone drops calls regularly, confuses users and customers because of unclear caller ID, and makes the installation process difficult. From set-up to use, Comcast Business VoIP receives poor marks.
You get more than excellent VoIP — you get a partner you can trust. Customer service is everything to 8x8. Our reps are dedicated to the businesses we work with and are always here to help you with whatever you need. Ask us any question, get insights to unified communications, and gain a partner that will scale with you as you grow your business. Business never stops, and we make sure you get the help you need, when you need it.
4. Customer Service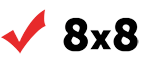 Again, complaints on ConsumerAffairs.org paint a dismal picture of Comcast Business Phone. Some of the most common complaints include unfair billing practices, dismal tech support and customer service representatives who give clients unclear responses and create more work for the businesses they're supposed to be serving.
Get service that is globally recognized. In 2018, Gartner recognized 8x8 in its Magic Quadrant Report, the industry standard of excellence for VoIP. This was the seventh year in a row 8x8 was recognized in this report as a Leader for Unified Communications.
5. Recognized Leader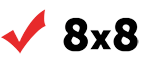 Comcast Business Phone was not even mentioned in the Gartner report. Additionally, a review on G2 Crowd complained about conference call feature glitches.
Get reliable service at a fair price. 8x8 works with your business to get you the best plan for your needs. We never overcharge. We provide affordable plans for all types of businesses.
6. Competitive, Flexible Costs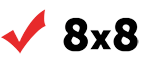 Comcast Business Phone services are among the most expensive that most other small business VoIP packages. Even basic services like voicemail are expensive with Comcast Business Phone.
Built for your business. Don't sacrifice high-quality service because you can't pay for it. 8x8 is the industry leader in exceptional service at the best rates for businesses of any size.
7. Cost Leadership and Affordability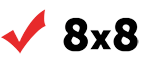 Comcast Business Phone is not tailored for small businesses. It costs more to add on essential features or to bundle for monthly pricing.
Partner with the most reputable VoIP provider. Third-party validation services provider the Tolly Group ranked 8x8 as the best provider in the majority of tests in its IP Voice Quality Report. Just another reason you can trust 8x8.
8. Tolly Report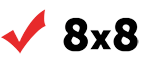 Comcast Business Phone was not even included in the Tolly Report.
Don't Leave Your Business Communications to Chance
Communication for your business is essential. Can you really risk unreliable VoIP, a confusing system for your employees and clients, and customer service that is spotty at best?
8x8 is the best VoIP solution for your business. We're dedicated to innovation and technology, so you can make and receive crystal-clear calls at all times. All our VoIP products are equipped with the best industry-grade security, so your communications meet compliance standards. The technology is simple and easy to use. Training time is shortened. You won't have to worry about wasting time trying to reach customer service that really isn't there for you.
We're here to help you now. Talk with one of our friendly representatives to learn about a custom plan that will work for your unique business needs. We'll learn about your business and the VoIP features that will help you work more intelligently so you can increase your revenue. When you work with 8x8 for VoIP, our team is always here to help you whenever you need it.
Call 1-888-331-9194 now to get a free personalized VoIP quote.
Get the best communications solution that will help you grow your business.
The reviews speak for themselves. From industry leaders to businesses that need secure and reliable VoIP, 8x8 is always the clear choice for unified communications you can count on.
Request a Free Quote Today or call 1-888-331-9194
Let us show you how 8x8 is the company to give you the best Fortune 500 features
for the best value, and be there with you in the future as your company grows.