vs.

When you're selecting a new VoIP service, you need to gather facts and figures before you make your decision. How good is the Avaya phone system? Does it serve my particular needs? All service providers have pros and cons, but when it comes to a straight comparison, 8x8 is consistently proving itself to be head and shoulders above the competition. 8x8 has put together a compelling list of reasons why you should select it as your cloud-based service provider over Avaya.
Here are the reasons 8x8 is consistently ranked as one of the best VoIP systems in the world.
It's time to connect your entire global workforce under one system, operating without borders or limitations. With a few clicks of a button, on one dashboard you can connect with a colleague or supplier who sounds like they are right down the corridor, not halfway across the globe.
With support in multiple languages — and a footprint on every continent — 8x8 has global ties and then some.
8x8 offers language support in English, French (Fra), Spanish, Italian, German, Dutch, Portuguese (Bz), Finnish, Danish, French (Can)
15 global Data Center locations
Patented geo-routing algorithms
8x8's patented Global Reach Network® provides an immediacy to international communications that other cloud providers can't match. First, we've located our top-tier servers strategically around the globe, with 15 data center locations for quick, clear transmission. Next, we use innovative, patented geo-routing algorithms to route communications quickly and efficiently to the closest available data center. The result? Crystal clear connections.
Read more about our Global Reach Network.
1. Global Reach and Support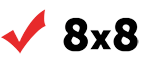 Avaya has struggled to make the transition from on-premise to a cloud solution. Avaya's UCaaS system has not been recognized by any major analysts.
How do you measure call quality? What does 8x8 do differently to make it superior.
For 8x8, it's not just about technical quality — it's about agent performance. Crystal-clear call quality should be a given. But what comes after that? We offer contact center quality management that can:
Quickly and efficiently search through thousands of calls in seconds
Filter transactions on a variety of criteria, including agent name, queue, customer name, transferred calls, transaction codes, custom fields and more
Easily find noteworthy interactions using a simple search tool
In order to implement these kinds of measures, we use QoS-enabled routers to help you manage traffic and even give priority to certain data, like voice. We lean heavily on top-tier servers situated strategically around the world, with 15 data center locations for quick, clear transmission. And the data we carry travels through innovative, patented geo-routing algorithms that search for the quickest routes to travel.
2. Call Quality
"I find Avaya easy to use, but I am not a beginner. I think it is much more difficult for beginners unless the administrator has some basic programming skills."
— Michelle Vanderband, Business Analyst, Atos.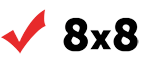 When it comes to Avaya, an overlap of multiple products has diluted their focus.
Multiple clients with different functionality are confusing for users and costly to deploy and support.
You can save your team the hassle of switching between apps, or from handset to mobile, browser window to email and back by using unified communications. With 8x8, one single platform brings all your communication streams together in one easy-to-use package.
Unites all company locations on one communications platform
Reduces management hassles; all upgrades and maintenance taken care of in the cloud Consolidates features, such as phone, fax, meetings, videoconferencing and contact centers
3. Unified Communications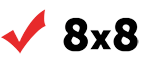 Avaya's new cloud strategy is still untested by major analysist
An overlap of multiple products has diluted Avaya's focus.
No two businesses are alike — and no two VoIP Phone Services are alike, either. 8x8 offers flexible cloud-based phone system plans and pricing in three different packages that can be configured to your specifications.
Simple administration
Mobile apps
Secure and reliable
Unlimited calling with expanded international calling
4. Competitive, Flexible Costs
ITQLICK conducted a comprehensive back-to-back study and concluded:
"Bottom line: Avaya IP Office is more expensive than 8x8 Virtual Contact Center."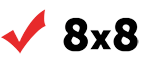 With Avaya, it's very important to factor in costly hardware purchases, and upgrade fees.
Considerable upfront costs for the on-premise systems.
Nobody out there takes security and compliance more seriously than 8x8. Its Virtual Office and Virtual Contact Center solutions are certified as compliant with the following standards:
HIPAA BAA - A contract to protect personal health information (PHI) in accordance with HIPAA guidelines
Fisma 140-2 - Security compliance for cryptographic methods
FIPS - A set of standards that describe document processing, encryption algorithms and other information- technology standards
CIPN - Information that telecommunication services, such as local, long distance and wireless telephone companies, acquire about their subscribers.
Privacy Shield - An agreement between the EU and U.S., allowing for the transfer of personal data
Cyber Essentials - A UK government information assurance scheme
ISO 27001/9001 - A specification for an information security management system
UK Government ATO and PCI - Payment card information accreditation
Dig deeper into their Reliability, Compliance and Security Record.
5. Security
"These days, you can talk to patients in the office, in the car, at home — almost anywhere. And everywhere and every way you communicate with patients has to be secure and meet HIPAA requirements. With 8x8, we're covered across the board."
—Cheryl Long, Dental Practice Office Manager.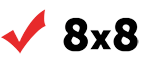 It is incumbent upon the company who runs Avaya's system to ensure compliance.
On-premise solutions require regular IT department maintenance.
When it comes to comparing services between companies like Avaya VOIP and 8x8, there's no more important measure than the Gartner Magic Quadrant, a report that "evaluates vendors who offer unified communications as a service (UCaaS) according to their 'completeness of vision' around innovative technology, plus their 'ability to execute' on their promise."
Here is what Gartner had to say about 8x8 in 2018:
8x8 has a track record of successful deployments in the 1,000- to 5,000-seat enterprise market.
Gartner believes that well over 50 percent of 8x8 customers purchase 8x8 CCaaS to complement their UCaaS deployments, with capabilities like omnichannel, interactive voice response (IVR) and quality management which integrate well with UCaaS.
The 8x8 platform received multiple enhancements last year, including the IT administration portal, user interface, WebRTC video, workstream collaboration and enhanced analytics.
6. Recognized Leader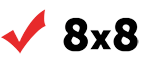 An overlap of multiple products has diluted Avaya's focus.
Several unified communications solutions and a variety of contact center platforms for IP Office and Aura add to the confusion.
8x8 has effectively streamlined its cost structure with a simple, predictable monthly bill. That way, there are no unpleasant surprises to deal with and hidden costs in the way of upgrade fees, technical maintenance costs or service limits to negotiate.
Upgrades via 8x8 happen seamlessly and automatically in the background while the service is running.
7. Cost Leadership and Affordability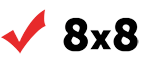 Avaya relies on license agreements that come in the form of on-premise systems.
Significant upfront costs can be expected.
Hardware costs and upgrade fees form part of the regular costs associated with Avaya systems.
The Tolly Group, a leading global provider of testing, third-party validation and certification services, tested the voice quality of four different services across a variety of conditions. They subjected the services to packet loss, jitter (delay), bufferbloat and other conditions that can potentially degrade voice quality.
8x8 quality was measured against Microsoft Skype for Business and Google Hangouts.
8x8 enjoyed the highest voice quality in the majority of the test cases:
Across scenarios
Client platforms
Impairment conditions
Download the IP Voice Quality Report from The Tolly Group
8. Tolly Report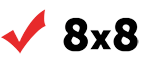 Avaya's cloud offering is still relatively new and unproven in the market by several customers or analysts.
A Fledgling and Innovative Global Leader
8x8 is innovating and growing every single day into a global leader of quality, security, connectivity and value. Measured up against other industry leaders, 8x8 is seen to deliver consistently and to make a big impact for its clients of all sizes.
When it comes to VoIP, 8x8 provides a reliable and compliant cloud solution at a demanding level rarely seen by other cloud providers. Don't take your chances with a subpar cloud-based telecom system.
Call 1-888-331-9194 or fill out an online form to request a no-obligation quote from an 8x8 product specialist.
Learn more about 8x8's business video conference, VoIP, and PBX services. Call 1-888-331-9194 or fill out the form below to get a quote: