vs.

Comprehensive compliance with HIPAA BAA, FISMA 140-2, FIPS, CPNI, Privacy Shield, Cyber Essentials, ISO 27001/9001, UK Government ATO and PCI
Meets tough privacy and security standards to meet the needs of your business
Ready for healthcare and finance
1. Security/Compliance
8x8 offers a variety of different plans to meet the compliance needs of your business, whether your industry happens to be healthcare, finance, or another high-privacy field.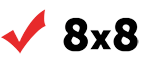 Limited compliance with PCI, FINRA and HIPAA
BAA is limited to the customer size and only for the Premium and Ultimate tiers
Mix and Match allows customers to pay only for the capabilities you need, with Service plans optimized for each users' unique needs for lowest total cost of ownership.
Easily access great business communications and bring your team together.
2. Mix and Match
With 8x8, it's easier to get the plan you need without messing with multiple accounts and logins. A single, comprehensive platform does it all.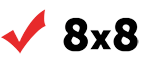 A single edition for all users. Requires user to create multiple accounts. For many businesses, this isn't practical and may result in higher costs for less service.
Covering over 90 countries (including local numbers) Multiple Language Options: English, French (Fra), Spanish, Italian, German, Dutch, Portuguese (Bz), Finnish, Danish, French (Can)
Great international coverage and support you need to do business in more places.
3. Global Reach and Support
Doing business in many different places? 8x8 has you covered with international service and amazing support — even in other languages.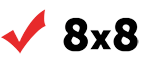 Covering less than 40 countries. Limited language – English, French, Spanish, Italian, German, Japanese, Portuguese (Brazilian)
Delivered the highest score in 17 out of 24 scenarios. Consistent call quality your business can count on in more situations.
4. Superior Call Quality
8x8 ensures subscribers have the call quality they need to get down to business and stay connected with customers, vendors, coworkers, and the public. Since call quality matters, 8x8 has you covered.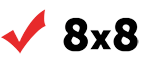 Had the highest score in 4 out of 24 scenarios
Ranked as a Leader for 7 straight years in Gartner's UCaaS Magic Quadrant. Proven quality and service businesses can count on.
5. Recognized Industry Leadership
8x8 has been recognized in Gartner's UCaaS Magic Quadrant for seven straight years (and we're planning to make it eight).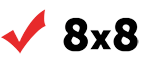 Only 4 Years. RingCentral Phone service hasn't been recognized as long as 8x8 business VoIP.
One integrated communication platform breaks down silos, improves productivity and customer experience to bring more of your team closer together.
6. One System of Engagement
8x8 brings your communications into a single platform and helps business teams unify by staying in touch.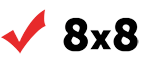 Multiple platforms and limited integrations lead to low productivity, departmental silos, and fragmented reporting
Small-business-friendly features and functionality that grows with businesses
7. Best for Businesses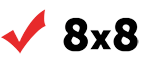 Features and plans for businesses are best for larger organizations
The Tolly Group's Report showed 8x8 to have the highest voice quality in the majority of the test cases.
8. Tolly Report
With the proven quality your business deserves, 8x8 helps companies boost their communications.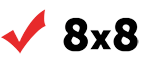 10 scores with poor quality
Let us show you how 8x8 is the company to give you the best Fortune 500 features for the best value, and be there with you in the future as your company grows. 8x8 is a strong RingCentral alternative that's designed for your business.
VoIP Service That Goes Further for Business
Phone service doesn't have to be complicated. Find out just how friendly, easy-to-use, and affordable business VoIP can be.
Although phone service used to be expensive and confusing for businesses, VoIP has transformed corporate communications with phone service that's more flexible and cost-effective than ever. Today's businesses can find the tools they need to thrive thanks to powerful Internet phone service.
Business VoIP can help your organization do more. When customers are calling, having a professional image and a strong customer experience is essential — 8x8 helps small-to-medium sized businesses (SMBs) as well as large enterprises. Every industry, every business size.
Request a Free Quote Today or call 1-888-331-9194
Learn why so many companies trust 8x8 for reliable, high-quality phone service. Scale your cloud-based business VoIP solution to fit your organization's needs.
Find the great features your business is looking for:
Just one platform
Plans and features that grow your business
All the support you need for more languages, international calling, and long-distance
8x8's legendary expertise in business VoIP
Get the scalable solution more businesses use and gain access to affordable Fortune 500 features that grow with your business. Connect with our business VoIP experts to learn more and get a custom quote.
Request a Free Quote Today or call 1-888-331-9194
Let us show you how 8x8 is the company to give you the best Fortune 500 features
for the best value, and be there with you in the future as your company grows.