vs.

Mix, Match, & Save
Mix and match allows our customers to buy the right license level for each user. Maximize each dollar by paying only what you need or cut costs and save when you don't. The choice is yours.
1. Better ROI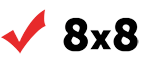 Unnecessary Upgrades for All
RingCentral requires customers to buy the same license level for all users. If one user needs more than 4-person conferencing, or internet fax, customers are forced to buy a more expensive license level for ALL users.
Industry Leading Tech
8x8 leads the UCaaS industry in deploying a QoS overlay that optimizes call quality for each call in real time. For example, our proprietary algorithm optimizes congested networks by rerouting call paths for a smoother conversation.
2. Superior Call Quality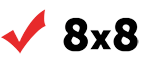 Cost of Quality
Options for improving QoS come at a cost with add-ons to support SD-WAN-based traffic optimization or increasing internet services to handle the additional bandwidth requirements.
More Control & Better Security
Owning our own tech-stack gives our customers confidence knowing there are no inherited security breaches or surprise partner price increases. Our integrated platform for voice, video, and contact center gives a single point of record for analytics, management, troubleshooting and more.
3. One Platform, Many Benefits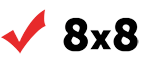 Partnerships and Risks
Core communication elements are provided through partnerships with Zoom for video and inContact for Contact Center. These partnerships are likely to dissolve in 2020 forcing RingCentral customers to migrate systems again.
Included with X2 Plans and Up
International calling is included in our X Series for X2 plans and up. 8x8 offers local service in 47 countries and DID #'s in 145 countries. From local number porting, to connecting to local national carriers, 8x8 has the best global service.
4. Global Reach and Support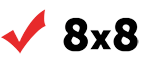 Not Included with Plans
RingCentral user levels require an additional subscription license for international calling. For UK customers, RingCentral can be a risk without a UK-based datacenter.
Trusted by Government Sectors
8x8 leads the industry with over 8 up-to-date certifications and is trusted and compliant with security-sensitive sectors such as healthcare, finance, and governments. Including: HIPAA, SOC2 II, PCI DSS, UK ATO, NIST 800-53
5. Security & Compliance
Outdated & Costly
Becoming HIPAA compliant requires upgrades to Premium or Ultimate tiers and excludes customers with < 20 users. In the last year RingCentral's meeting platform was found to have 3 security holes and has outdated PCI DSS compliance (3.1 vs. 3.2.1).
Request a Free Quote Today or call 1-888-331-9194
Let us show you how 8x8 is the company to give you the best Fortune 500 features
for the best value, and be there with you in the future as your company grows.