Halfway
Herd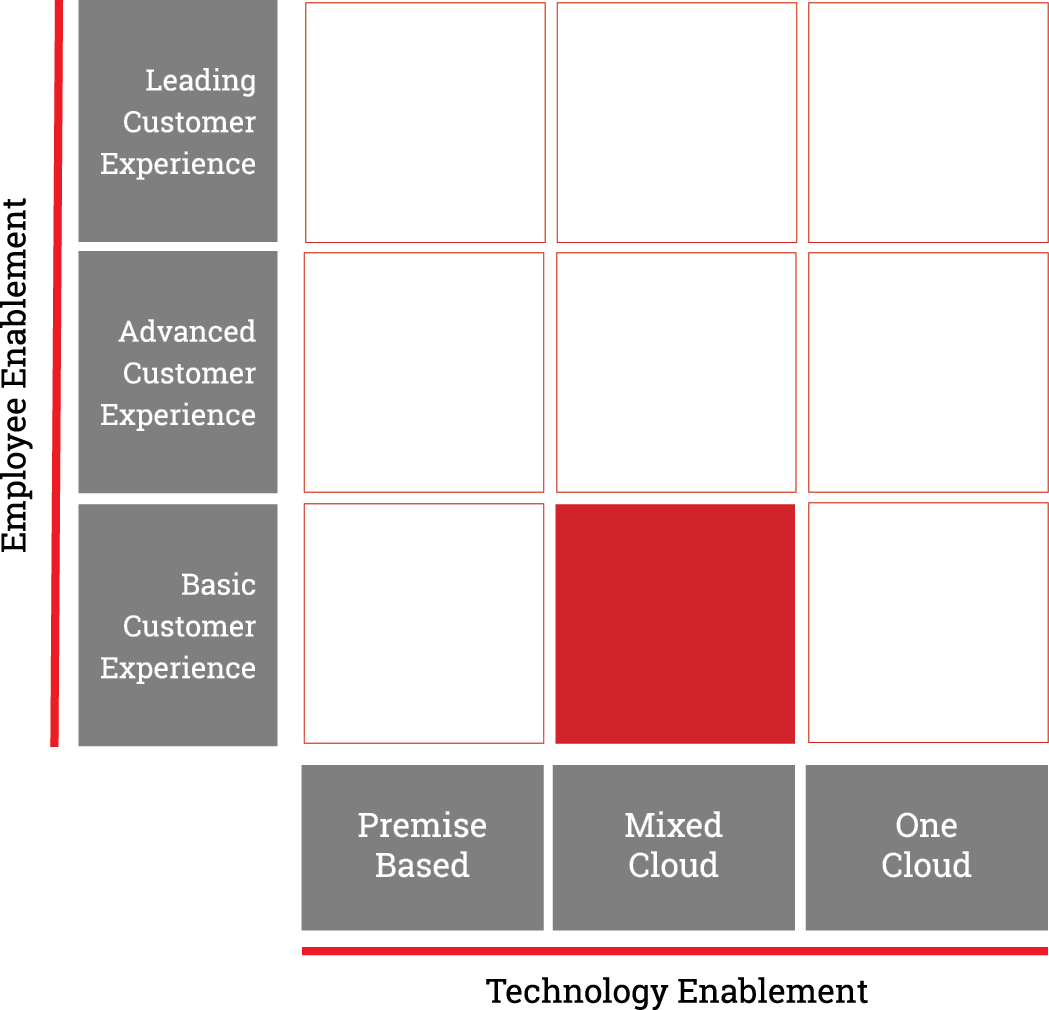 Your company falls into the Halfway Herd category. Companies in this category typically deliver a basic customer experience and have above average costs for their communications and collaboration systems.
Summary
Your company falls into the Halfway Herd category. Companies in this category typically deliver a basic customer experience and have above average costs for their communications and collaboration systems. 
Tech stacks of the Halfway Herd typically consist of a heterogeneous mix of systems. This can fall into two buckets: 1) a mix of on-premise systems and cloud systems, or 2) a mix of point cloud products. This mixed salad of vendors is typically procured under the guise of buying best-in-breed software. They do not have a contact center solution and infrequently use communications analytics to drive business decisions.


Companies who fall into this category tend to see the value of the cloud and have partially or fully committed to it with multiple cloud vendors.
Challenges
Companies who fall into this category tend to see the value of the cloud and have partially or fully committed to it with multiple cloud vendors. For those with on-premise systems as part of their mixed salad, IT may try to stay "in control" by hosting the system in their own environment, but this often leads to more problems as they try to "keep the lights on" (yes, we've actually seen this on IT's whiteboards for goals). These companies tend to move systems to the cloud when their on-premise maintenance contracts run out or they want to reduce system outages. There are typically disagreeing stakeholders - those that want to move everything to the cloud and those that want to maintain more on-premise systems. Oftentimes, the "cloud-only" party eventually wins.
When the cloud-only party wins, or if this has already happened in your organization, the company enjoys the benefits of the cloud such as reduced TCO, higher uptime, and increased agility. Integrations between the point cloud products can become complicated and an app explosion occurs where users are asked to use many products for various use cases. Such an effort can be cumbersome and makes it difficult to reach people, leading to lower productivity. Training people on multiple products becomes a hardship, leading to a myriad of IT support tickets and low user adoption rates.
Halfway Herds haven't yet made the leap to a full contact center solution, perhaps because it's difficult to show a specific ROI against the added investment. Oftentimes, they hack together ring groups / hunt groups and auto attendants to create a "lightweight" contact center. Unfortunately, piecemeal solutions don't scale well. Additionally, they can impede an employee's ability to help a customer in three key ways:
Calls are not answered by the right person to begin with, causing unproductive cycles as the employee searches for the right answer, transfers the call, or even forces customers to call back
Employees may not have access to a CRM record screen pop for context
Employees are restricted to voice channel only, which does not serve the customer if they chat or email into the company for help.
The data quality is generally poor and spread across systems. Typically, only small tables of data are automated into the enterprise data warehouse, making analytics cumbersome or nonexistent. The lack of engagement insights makes it difficult for the business to anticipate needs or to improve their internal processes - in essence, there is no data-driven decision making.
Because employees have to juggle moving between multiple systems to perform different tasks, they often find the systems confusing and hard to use. It is challenging for them to collaborate internally because people may be spread across apps, and this can lead to problems. Islands of communication develop across chat, voice, video, and email. This causes cross-functional team cooperation to decrease.
All of the above hinder the customer experience. Subject matter experts are inaccessible leading to moments of responding "I don't know" when customers ask tough questions. When this happens, customers become frustrated that they aren't getting the help they need. Customers become reluctant to do business with you or they may leave at any point and turn to a competitor who offers a better customer experience. This is even more prevalent today: 82% of customers stopped doing business with a company after one bad experience. (source: KPCB Mary Meeker's 2017 Internet Trends Report)

To improve your enterprise engagement maturity, we'd recommend you take these next steps in the following order:
Move to One Cloud
Deploy a contact Center
Put your Data to Work
Opportunities
To improve your enterprise engagement maturity, we'd recommend you take these next steps in the following order: 1) Move to One Cloud, 2) Deploy a Contact Center, 3) Put Your Data to Work. Moving to one cloud should be your first step, because then your company's analytics can automatically span the full customer journey across contact center and employee communications.
1. Move to One Cloud
Further Reduced TCO – Making the jump to the cloud most likely brought your organization TCO benefits. Those savings can be extended even further by moving to one cloud engagement vendor instead of managing multiple point cloud products. Typically, the integrated cloud engagement vendor is able to pass on their cost savings to the customer and provide a lower TCO due to having a unified architecture, technology, and support team.

One System of Intelligence – Having one cloud provider allows a company to have full customer journey analytics integrated across systems. With multiple point cloud solutions, it is not possible to track metrics such as revenue conversions across a customer's interactions such as a transfer from a contact center to a retail store phone. With one cloud system of engagement, it is now possible to track metrics and conversion rates across any mode of engagement, because it is all part of one set of data in one system of intelligence.

Revenue Acceleration – Employee's productivity increases when everything is readily accessible, leading to acceleration of revenue. Less clicks are required to move between modes of communication, and full context can be served up with every live interaction, allowing Sales to close leads faster and Support the ability to upsell. In addition, subject matter experts become accessible with one click, allowing the full company to contribute to delivering customer and prospect requests.
2. Deploy a Contact Center
Multi-Channel Engagement – Using unified communications (UC) solutions alone for customer engagement risks giving your customers inconsistent (and frustrating) experiences if they contact you through different channels. Unfortunately, UC alone limits your customers to the voice channel. A contact center solution allows your staff to field voice and digital customer inquiries all with the same user interface, contextual awareness, and reporting, thereby delivering a consistent customer experience (CX) no matter what channel your customer prefers.
Route Calls to the Right People – Today, your routing may be random - just get the call to someone who will answer the phone. Call routing is one dimensional and inefficient. Calls are blindly forwarded to blocks of extensions that either ring simultaneously or in some cyclic fashion. Adding contact center routing technology will direct incoming interactions to the best resource based on product knowledge, languages spoken, priority of customer and customer service representative (CSR) status. When integrated with your CRM system, routing gets even better. Is the Chairman of the Board calling? Route her to your CEO right away.
Call Metrics Reporting – You can't fix what you can't see. With a UC solution, you are likely blind to the number of calls waiting in queue, average hold times, etc. Without this information, how can you be expected to improve customer experiences? Contact center technology will deliver dashboards and wallboards unveiling where and when customers are waiting on hold so that you have a fighting chance of organizing your staff correctly to field all calls quickly and efficiently.
3. Put Your Data to Work
Trust in Your Data – Having trusted data is the first step in upleveling any analytics. A governed single source of truth increases the data quality as employees can have confidence in the data with no doubt as to the accuracy. Over two thirds of time spent on analytics is actually spent on data cleansing and data preparation. This number is often even higher when dealing with big data, such as that found in communications systems. Using a single cloud engagement system enables you to have trusted data from the start - the system does the work and provides pristine data quality to the business.
Data-Driven Decision Making – Move from decisions based on gut feelings to decisions based on data. Data-driven decision making often increases employee productivity and company revenues. In time, this actually causes the culture of the company to make more rigorous decisions. This is further enhanced by a single cloud engagement system because all of the relevant insights across channels are integrated into one single view for quick and easy decision making.
Use Advanced Analytics – Enhancing the types of insights your company uses is key to furthering engagement maturity. See through all of the noise and find the true signals that lead to actionable insights. Instead of only viewing analytics on what transpired in the past, advanced analytics enable a company to look forward by creating actionable prescriptive insights. A company can now know what they should be doing in the future based on historical and real-time data. Recommended actions are proactively served up so the company knows when and how to make improvements. As companies move into even more advanced territory, companies can start to incorporate artificial intelligence (AI) and machine learning (ML) into these workflows to create even more intelligent, contextual interactions.
Cloud Engagement Maturity Model
© 2019 8x8, Inc. All rights reserved.