Controlling Cosmo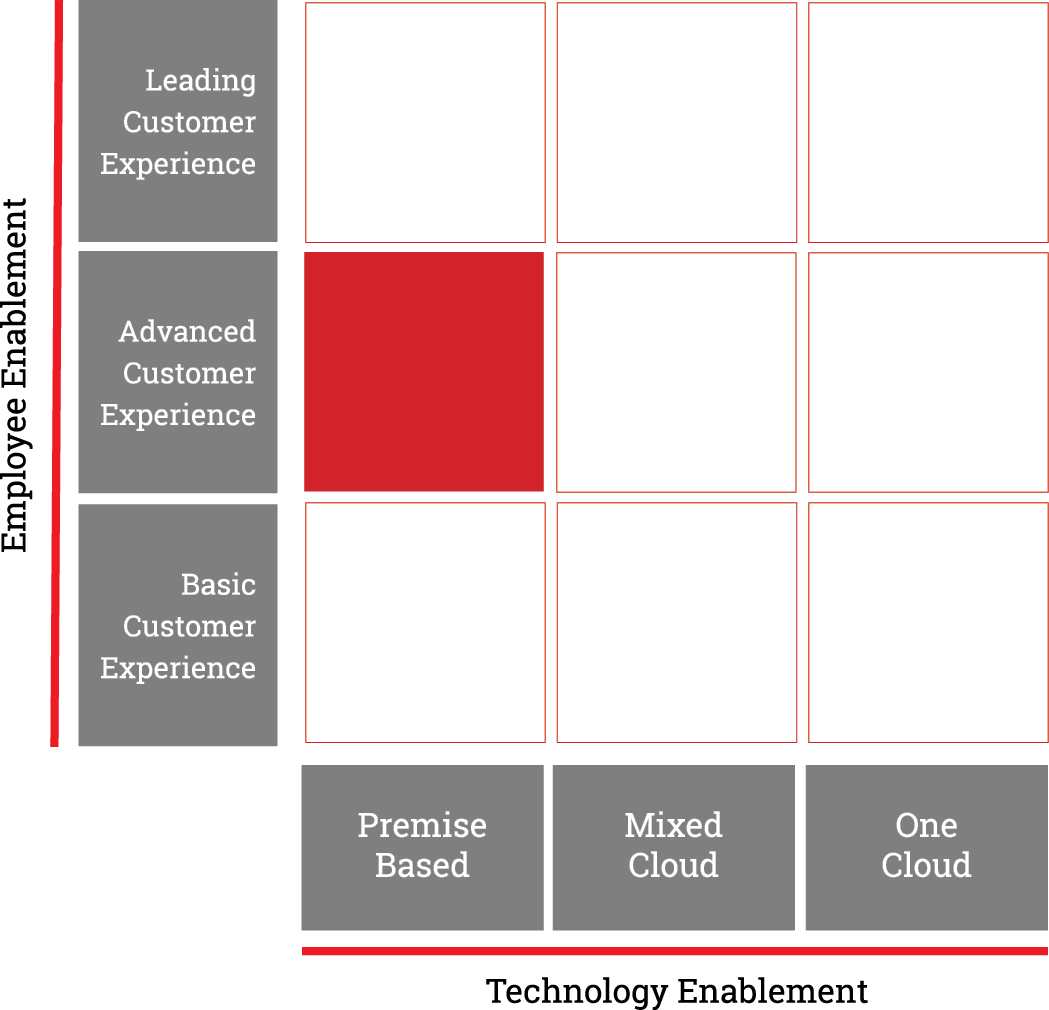 Your company falls into the Controlling Cosmo category. Companies in this category are sweating their assets.
Summary
Your company falls into the Controlling Cosmo category. Companies in this category are sweating their assets. The CFO typically wants to run the on-premise systems through to maintenance contract completion. Financial numbers often triumph over employee and customer experience. Controlling Cosmos typically deliver an average customer experience and have highly above average costs for their communications and collaboration systems. 
Tech stacks of the Controlling Cosmos typically consist of all on-premise systems for their telephony, video conferencing, team collaboration, and contact center solutions. They infrequently use communications analytics to drive business decisions. 
Controlling Cosmos wisely use a full contact center solution and are most likely seeing the benefits of this from a customer experience perspective. This usually enables them to route every call to the right person, have contextual conversations, engage with customers across multiple channels, and allow customers to perform self service functions.
Companies who fall into this category tend to avoid investing in their communications and collaboration systems.
Challenges
Companies who fall into this category tend to avoid investing in their communications and collaboration systems. They are able to limp along with their existing systems. Although IT may feel in control because they are hosting the system in their own environment, the motto of the team is "keep the lights on" (yes, we've actually seen this on IT's whiteboards for goals). Systems could falter at any point and a big outage could cause an employee's job security to be called into question. Updates or product enhancements usually require professional services on top of expensive maintenance contracts.
Although they have lots of data from their UC and CC systems, Controlling Cosmos typically only use basic descriptive analytics. This typically is focused on historical call detail records and analysis is performed in Excel. Occasionally, a Controlling Cosmo may also analyze the number of calls waiting in queue or average hold times in a BI tool. However, data quality is generally poor and found in pockets here and there. Typically, only small to medium sized tables of data are automated into the enterprise data warehouse, making analytics cumbersome. Having limited engagement insights makes it difficult for the business to anticipate needs or to improve their internal processes - in essence, there is limited data-driven decision making.
Because employees have to juggle moving between multiple systems to perform different tasks, they often find the systems confusing and hard to use. It is challenging for them to collaborate internally because people may be spread across apps, and this can lead to problems. Islands of communication develop across chat, voice, video, and email. This causes cross-functional team cooperation to decrease.
All of the above hinder the customer experience. Subject matter experts are inaccessible leading to moments of responding "I don't know" when customers ask tough questions. When this happens, customers become frustrated that they aren't getting the help they need. Customers become reluctant to do business with you or they may leave at any point and turn to a competitor who offers a better customer experience. This is even more prevalent today: 82% of customers stopped doing business with a company after one bad experience. (source: KPCB Mary Meeker's 2017 Internet Trends Report)
To improve your enterprise engagement maturity, we'd recommend you take these next steps in the following order:
Move to the Cloud
Put your Data to Work
Opportunities
To improve your enterprise engagement maturity, we'd recommend you take these next steps in the following order: 1) Move to the Cloud, 2) Put Your Data to Work. 
1. Move to the Cloud 
Reduced TCO – Moving from on premise to the cloud often produces huge savings. With this lower TCO, IT is now able to invest in other crucial initiatives. The cloud eliminates not only on-premise hardware and software but also many hidden costs that may exceed the huge upfront investment. These include everything from licensing to upgrades to telco connectivity such as T1, POTS and PRI lines - or MPLS between locations. Everything works in the cloud, eliminating the time IT staff waste maintaining old technology or managing complex telco connectivity, as your service travels securely over the internet. 
Increased Uptime – Unplanned outages and downtime severely hamper employee productivity and customer service. Moving to the cloud creates a greater level of uptime and availability that can leave you with peace of mind. Check with cloud engagement vendors on the number of nine's of uptime they offer. Typically, uptime SLAs can range from 99.9% to 99.9999%. 
Increased Agility – With the cloud, you can be a more agile organization. Easily flex up or down your number of users and rapidly adapt to new business models without being held down by outdated systems. Instead of costly upgrades and professional services to access new features and releases, it all happens automatically for you by the SaaS vendor. Now your teams will always be using the most up to date technology at no pain to you. 
2. Put Your Data to Work 
Trust in Your Data – Having trusted data is the first step in upleveling any analytics. A governed single source of truth increases the data quality as employees can have confidence in the data with no doubt as to the accuracy. Over two thirds of time spent on analytics is actually spent on data cleansing and data preparation. This number is often even higher when dealing with big data, such as that found in communications systems. Using a single cloud engagement system enables you to have trusted data from the start - the system does the work and provides pristine data quality to the business. 
Data-Driven Decision Making – Move from decisions based on gut feelings to decisions based on data. Data-driven decision making often increases employee productivity and company revenues. In time, this actually causes the culture of the company to make more rigorous decisions. This is further enhanced by a single cloud engagement system because all of the relevant insights across channels are integrated into one single view for quick and easy decision making. 
Use Advanced Analytics – Enhancing the types of insights your company uses is key to furthering engagement maturity. See through all of the noise and find the true signals that lead to actionable insights. Instead of only viewing analytics on what transpired in the past, advanced analytics enable a company to look forward by creating actionable prescriptive insights. A company can now know what they should be doing in the future based on historical and real-time data. Recommended actions are proactively served up so the company knows when and how to make improvements. As companies move into even more advanced territory, companies can start to incorporate artificial intelligence (AI) and machine learning (ML) into these workflows to create even more intelligent, contextual interactions.
Cloud Engagement Maturity Model
© 2019 8x8, Inc. All rights reserved.