Deployment
One of the greatest challenges for manufacturers is updating multiple locations distributed over a large geographic distance. Companies can't afford to have their offices disrupted for long periods of time or for communications deployments that take several quarters to roll out.
Understanding this unique need, 8x8 has a variety of deployment packages designed for the unique nature of multi-site businesses. The deployment options also take into account the availability of existing resources, whether internal or from a designated third-party. Occasionally, manufacturers take a blended approach, with some locations deployed using internal resources, others are handled by 8x8 or by third-parties, depending on cost, expertise and location.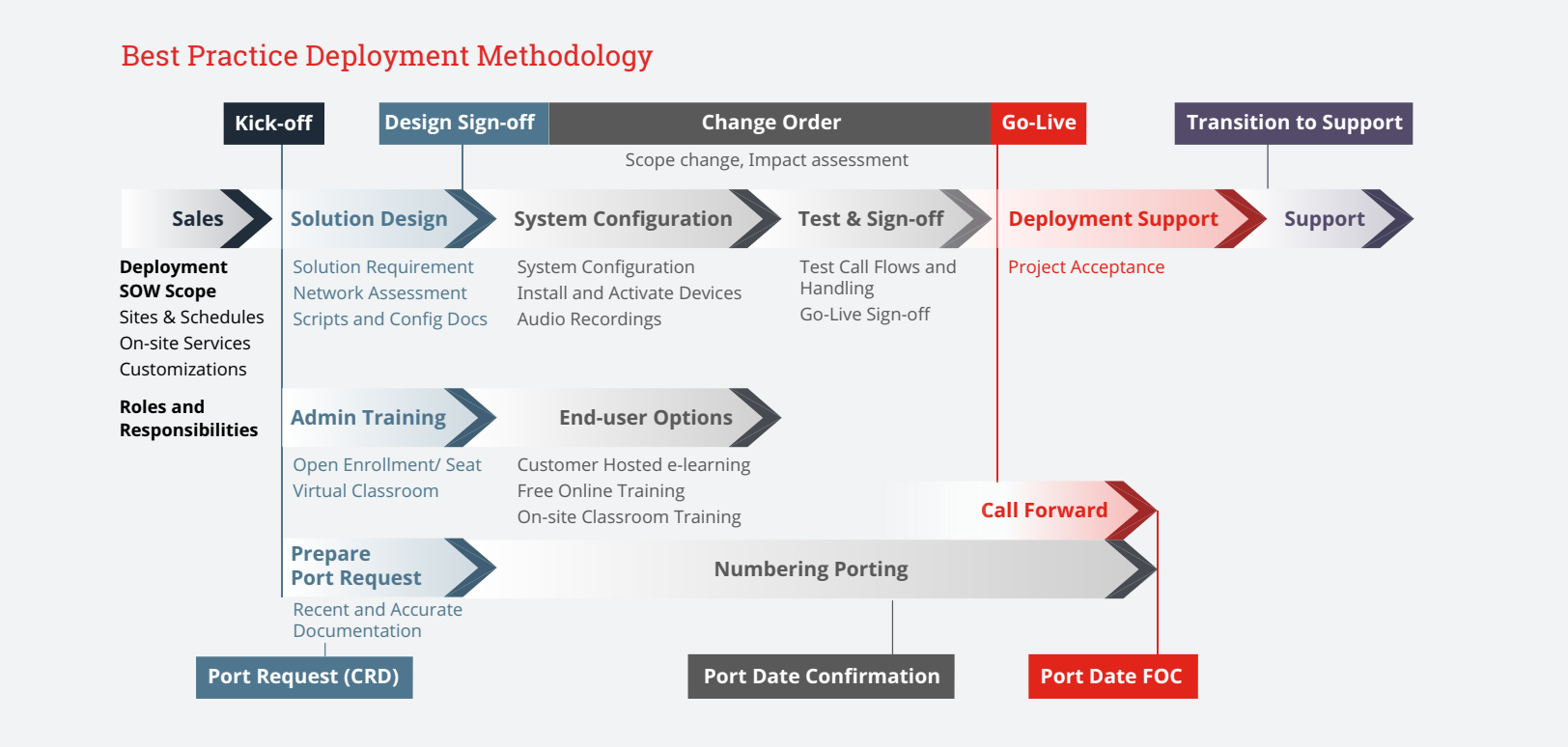 Managed implementation. Using a world-class methodology, 8x8 provides a standard implementation process to deliver communications solutions in a distributed workforce environment. This option uses a standardized, best-practices-based implementation at a lower per-user price point, making it ideal for cost-saving initiatives.
Tailored implementation. For manufacturers with more complex requirements, 8x8's custom implementation service offers a tailored approach. Given the importance of customer experience design and the coordination across multiple factory, warehouse and office sites, this option is ideal for global companies and companies who want to include their contact center as part of the deployment.
A la carte services. One or even two sizes do not fit all. For unique requirements, 8x8 offers a choice of implementation, on-site services and customization services on an a la carte basis.
Proven deployment at scale. No matter which deployment method is right for your company, 8x8's proven deployment methodology has been honed over more than 50,000 deployments to ensure quick time-to-value and minimal disruption to your operations.
Learn more about manufacturing communications solutions and how you can increase operational efficiencies and enhance the customer experience.